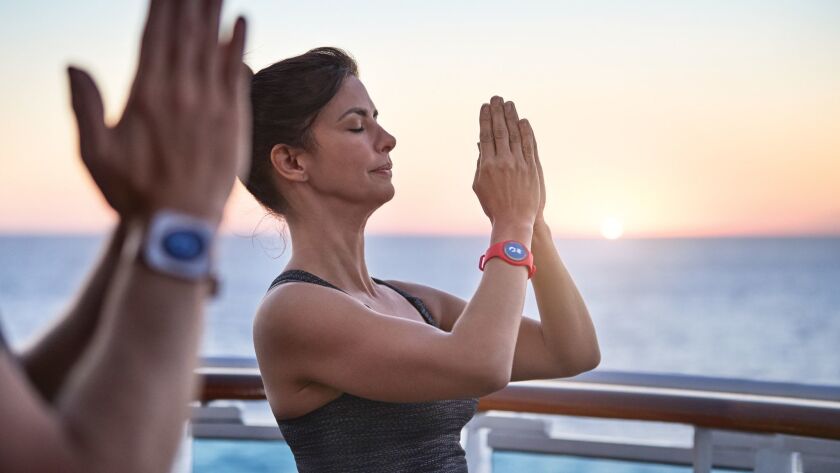 Royal Princess, one of Princess Cruises' largest ships, sailed into the Port of Los Angeles over the weekend for an open house and tour. The company wasn't showing off the ship's regal lines or its wow-factor glass walkway suspended high above the ocean. Instead, visitors had a chance to become familiar with OceanMedallion, a wearable device meant to streamline your cruise experience.
Among the perks: No more long waits to board, personalized maps to help you find restaurants or other locations on board the ship, and an app that lets you order drinks and snacks on your smartphone.
It all starts with a 1-inch plastic medallion that can be worn on a lanyard or necklace, on a wrist band or clipped to a shirt. As passengers move around the ship, the medallion, in essence a digital license plate, pings off sensors. You can order a drink in the casino, walk outside to the pool and the drink will be served at your new location.
It also allows keyless entry to your stateroom and a touch-less credit card that gives cruisers an easy way to pay for purchases. Looking for an event? The technology offers a calendar you can scroll through to check on upcoming functions.
Princess Cruises and its owner, Carnival Corp., used the Royal tour to promote the technology, with Arnold Donald, Carnival chief executive, on board, as well as Jan Swartz, president of Princess Cruises.
Arnold said the new tech gives cruisers "a customized travel experience. Whether that means being able to spend more time with your kids or just having more time to do the things you want to do, we believe it will enable you to have the most outstanding vacation of a lifetime."
The technology is only available currently on Royal Princess, Caribbean Princess and Regal Princess. Later this year, it will be added to Crown Princess and Sky Princess. It is expected to eventually spread to the entire fleet and also to the other Carnival Corp. brands such as Holland America and Carnival.
Showing off technology isn't as easy as promoting a pool deck ride or game, but the tour made it clear many cruise ship hassles could be avoided by using the Medallion.
Improved WiFi is one of the perks, said officials, crediting it to the technology aboard that's necessary for the Medallion to function.
Another improvement is in boarding. Passengers who arrive at the terminal with travel documents such as passports uploaded to their profile have an expedited check-in process, according to spokesmen.
Royal Princess is new to the Southern California region. It departed on its maiden voyage from the Port of Los Angeles to Mexico in late March and sailed that route through the end of April. It is now headed north to Vancouver, British Columbia, Canada, for a season of Alaska trips before returning to Los Angeles in September where it will homeport for six months, continuing cruises to Alaska, the Mexican Riviera and along the California coast. Princess officials are calling it "L.A.'s hometown ship."
Royal Princess, which holds 3,560 passengers, first debuted in Southampton, England, in June 2013, and was officially named by Catherine, the Duchess of Cambridge. The original Royal Princess (1984) was christened by Princess Diana.
Info: Princess Cruises, (800) 774-6237 or contact a travel agent
---