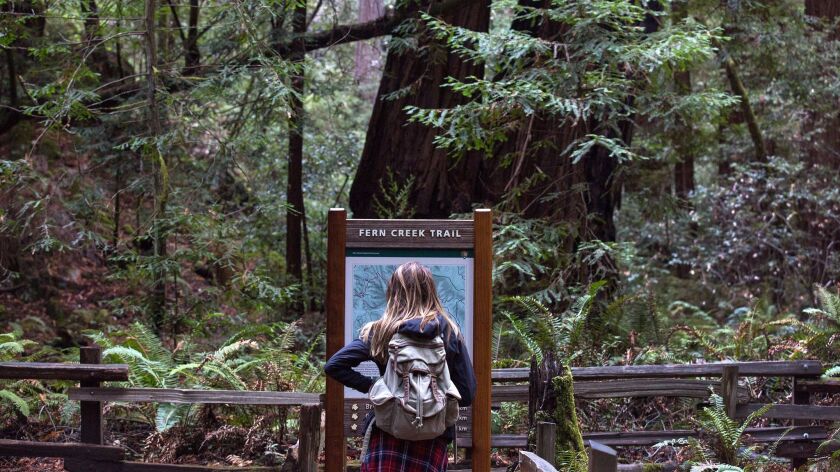 Muir Woods National Monument in Mill Valley, Calif., simply gets too many visitors. Overcrowding, traffic congestion and parking woes are why officials have decided to require all visitors to have parking or shuttle reservations starting in January.
The roughly 550-acre forest filled with old-growth coastal redwoods receives an estimated 1.2 million people every year. With the new reservation system, the park, which is part of the Golden Gate National Recreation Area, hopes to reduce that number to fewer than a million visitors, a Nov. 16 news release said.
Reservations will be required starting Jan. 16.
Visitors will be available to book one of the park's 232 parking spaces ($8) or a shuttle seat ($3) online or by phone for an arrival time up to 90 days in advance, starting Jan. 1.
In addition, visitors 16 and older pay a $10 admission fee.
Shuttles pick up from the Pohono Street Park & Ride Lot in Mill Valley and the Sausalito Ferry Terminal. They'll run weekends and holidays starting Jan. 20 and also on weekdays during busy summer months. (You'll need to reserve free shuttle seats for children when you make a reservation.)
Visitors may stay as long as they like after entering at the reserved time, the release said. Those who enter on foot or by bicycle don't need to make a reservation.
Info: Muir Woods National Monument, (415) 561-2850
ALSO
Celebrating our national parks: 12 adventures, from the Statue of Liberty to American Samoa
Beginner lesson, rentals, lift ticket for $69 at Lake Tahoe ski resort
Just in time for the holidays, a family-friendly weekend escape to California's Columbia State Historic Park
Americans traveling in Europe during the holidays should be cautious, State Department alert says
---