Here's a chance to go deep into the backcountry of one of Canada's most beautiful national parks this summer — and save money too. Trail Riders of the Canadian Rockies organizes horseback tours into Waterton Lakes National Park in Alberta.
The deal: The weak Canadian dollar drives the savings on these trips. Five years ago, currencies in the U.S. and Canada were about equal. As of Friday, the rate was $1 U.S. to $1.33 Canadian, mostly because of low oil prices.
Americans can really stretch their dollars on these all-inclusive tours that begin in Calgary, Alberta. A six-day ride costs $2,775 Canadian or $2,076 U.S.; five days, $2,500 Canadian or $1,870 U.S.; and four days, $2,225 Canadian or $1,664 U.S.
When: Four-day rides are scheduled for July 17-20 and July 31-Aug. 3; five-day rides, Aug. 8-12; and six-day rides, July 24-29 and Aug. 14-19. (Rides may be added, based on demand.)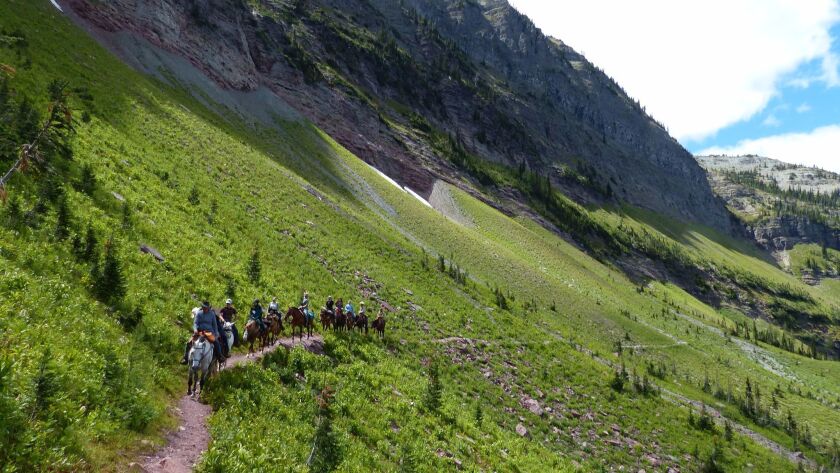 Details: What are the rides like? "It's kind of like a cruise ship. We do everything for you," the nonprofit organization's president, Stuart Watkins, says.
Participants sleep on cots with mattresses, take hot showers and chow down on four-course dinners. Horse, tack, guides, camp accommodations, meals, in-camp entertainment (square dancing, cowboy poetry, etc.), ground transportation and more are included in the cost.
Group size is limited to 20; minimum age is 8 years old. Participants don't have to be experienced riders or campers, though you would do well to brush up on riding skills.
By the way, Waterton's southern border connects with Montana's Glacier National Park. In 1923, the two parks formed Waterton Glacier International Peace Park, the first of its kind in the world.
Info: Trail Riders of the Canadian Rockies, (844) 560-5522
ALSO
This is what the storm damage in Yosemite looks like, and this is what it means
Things in D.C. are so overheated that the cherry blossoms are popping prematurely, forcing an earlier start to the festival
The coast in west Oahu is beginning to boom, with accommodations rivaling Waikiki's. Now, there's more to come
National parks saw a record-setting number of visitors last year. Were they too much of a good thing?
---