Sure, go to Dallas for the football, but there's plenty more to do on a weekend escape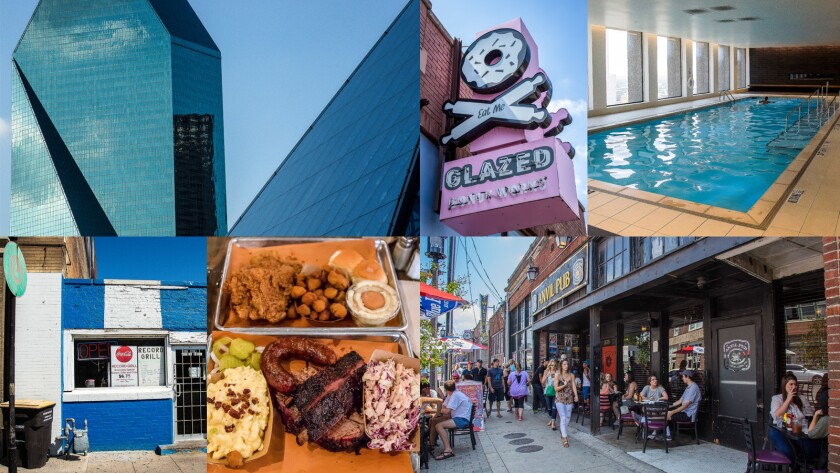 I did not go to Dallas for a weekend escape. I went for football. But a three-day weekend gives you time to explore and, sure enough, I found plenty to see and do in downtown Dallas. The tab: Three nights at the Westin Dallas Downtown came to $774; breakfast for two at the Record Grill was $17 with tip; lunch at Pecan Lodge was $56; and round-trip coach airfare for two on American ran us $556.
The bed
The Westin Dallas Downtown opened last year, and its urban-modern interior, spacious rooms and fabulous views (all 326 rooms are on the 23rd to the 31st floors) make it ideal for a Dallas stay. The spectacular indoor pool on the 32nd floor is the highest pool in Texas, and the adjacent workout room has a long row of treadmills and ellipticals looking out over the Dallas cityscape. The location is excellent; the Dallas West End Historic District, the century-old Neiman Marcus Building and infamous Dealey Plaza are all within walking distance.
The meal
No one seems to know when the Record Grill opened for business, but legend has it this is where Bonnie Parker met Clyde Barrow, which would put it in the 1930s. Whatever the date, if you didn't know where to look you could walk past this hole in the wall without noticing it. It's open only for breakfast and lunch, and the meals are simple (scrambled eggs, bacon and hash browns), tasty and cheap. The place is packed with locals on the weekends and businessmen during the week. Lunch at Pecan Lodge is a process. The doors open at 11 a.m. Tuesdays-Sundays, but if that's when you show up you're in for a long wait. My wife and I arrived at 10:20 on a Sunday morning, and 50 people were already ahead of us. Almost two hours later, we were sitting down to a tray (plates are too small) of brisket, pork ribs, homemade sausage and fried okra, along with a second tray of fried chicken, mac 'n' cheese and Aunt Polly's banana pudding. We washed it down with a couple of glasses of Fire Ant Funeral amber ale from the Texas Ale Project. Pecan Lodge made the wait worth every minute.
The find
The Deep Ellum neighborhood, adjacent to downtown, was a commercial district developed in the late 19th century. Today it is an arts and entertainment area, with numerous clubs, bars, galleries and food establishments (including Pecan Lodge). One specialty shop not to be missed is Glazed Donut Works, where you'll find creatively topped and filled donuts. Menu items include Saigon Sugar and Vegan Coconut donuts, but the must-have is the Donut Grilled Cheese With Bacon. It's exactly what it sounds like: a glazed doughnut cut in half, grilled with cheddar cheese, filled with bacon and served like a grilled cheese sandwich. And, yes, even after the massive feast at Pecan Lodge, we had to try one for dessert. It's a heart attack on a napkin and unbelievably delicious.
The lesson learned
Although it's great to follow your team on the road, it's especially rewarding when the road leads to a city with so much to offer. I don't know when my team plans to be back, but chances are I'll be back soon.
Westin Dallas Downtown, 1201 Main St.; (972) 584-6650. Wheelchair-accessible.
Record Grill, 605 Elm St.; (214) 742-1353. No wheelchair accessibility.
Pecan Lodge, 2702 Main St.; (214) 748-8900. Wheelchair-accessible.
Glazed Donut Works, 2644 Elm St.; (214) 741-2275
---
Get inspired to get away.
Explore California, the West and beyond with the weekly Escapes newsletter.
You may occasionally receive promotional content from the Los Angeles Times.