Your chance to see Southern California's epic wildflower bloom is running out. Here's where to go
Photos of Southern California's epic wildflower bloom have probably flooded your Instagram and Facebook feeds for weeks. The recent healthy rainy season has transformed the region's usually brown hills into brilliant shades of red, orange and lavender.
But as spring turns to summer, you may have only a few weeks left in some areas to see it yourself. Below are a few places to start your search. Before you go, we recommend calling the Wildflower Hotline at (818) 768-1802, Ext. 7, open until May 26, for the latest updates.
---
Lancaster
Antelope Valley California Poppy Reserve
The blinding orange blooms on the east side of the park and the soft purple lacy phacelia started fading the first week in April. Poppies are starting to bloom in the western slopes, and they could last into late April or early May. Check out the road-side blooms outside the reserve; they're just as impressive.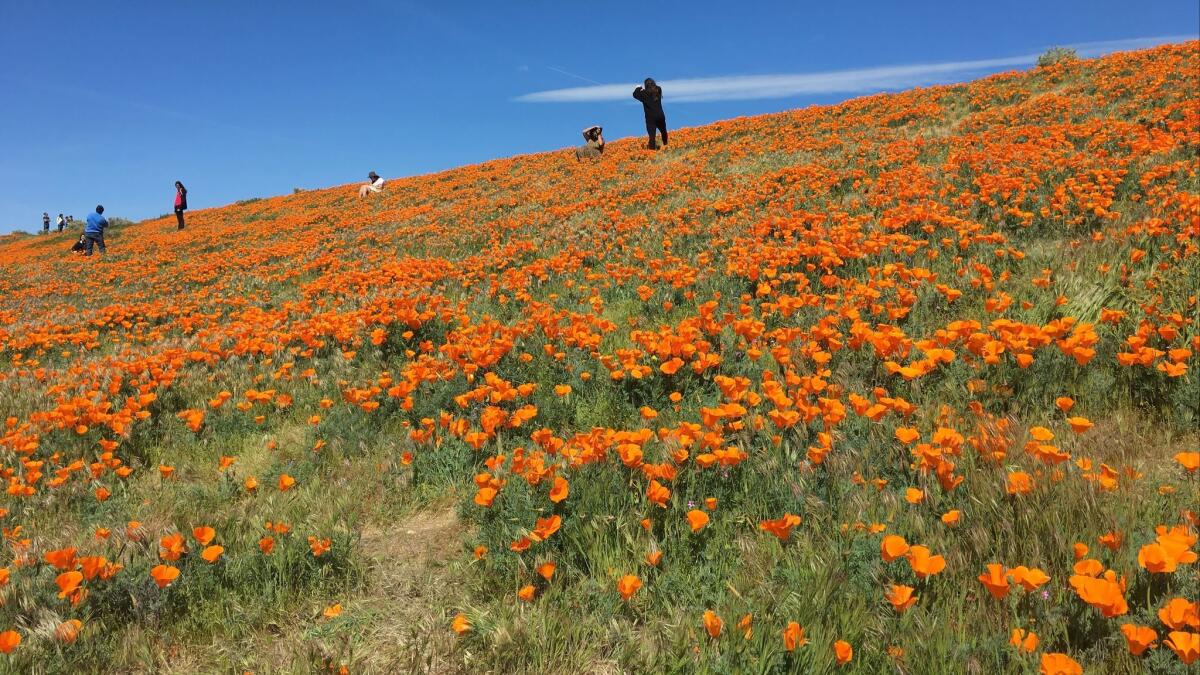 Borrego Springs
Anza-Borrego Desert State Park
As of early April, most of the desert lilies, sand verbena and desert sunflowers that put on a super-bloom show had faded. They started at the end of February and peaked in mid-March. But that doesn't mean the show is over. You can catch yellow stands of brittlebush, red-tipped ocotillo and cactus blooming in the desert. Those who hike to higher elevations above the desert floor may find some wildflowers just starting to pop.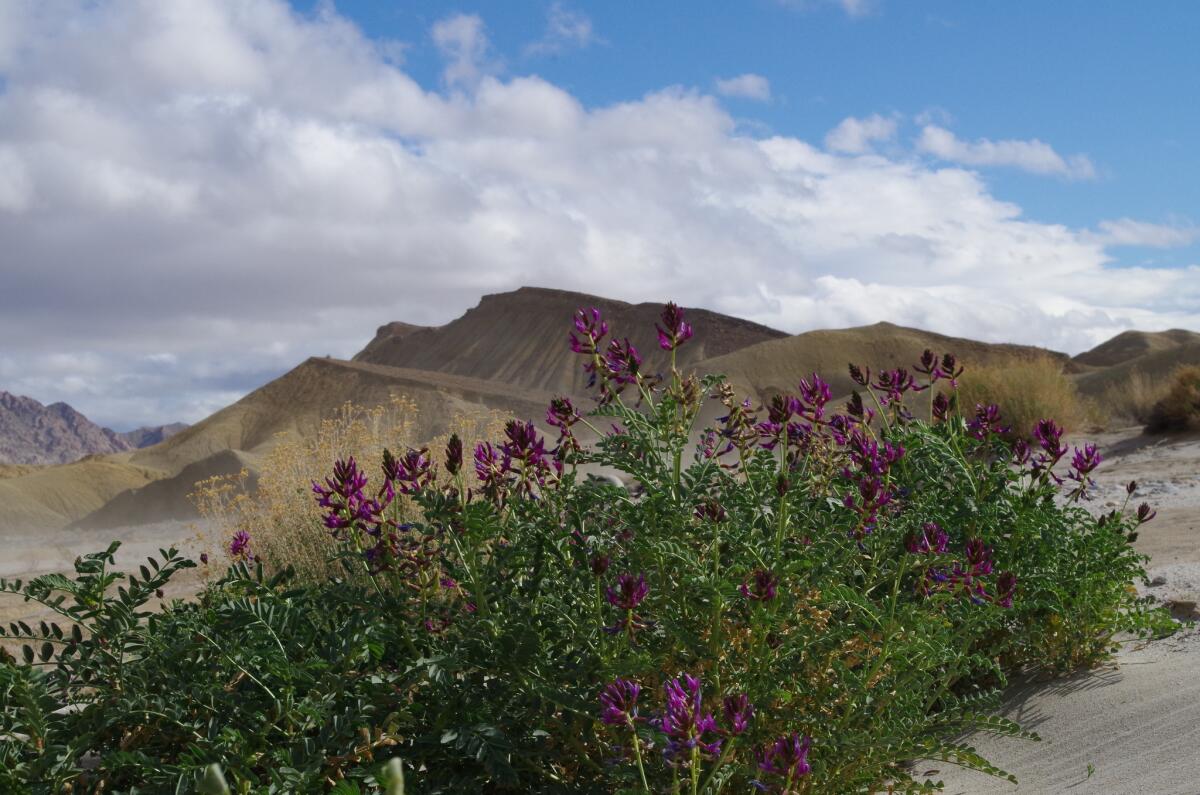 Santa Margarita
Carrizo Plain National Monument
The wildflowers blooming on the plain and surrounding foothills have been nothing short of epic. They'll stick around only until the third week in April. Go now if you have any hope of seeing hillsides that look like they've been touched by an artist's paintbrush.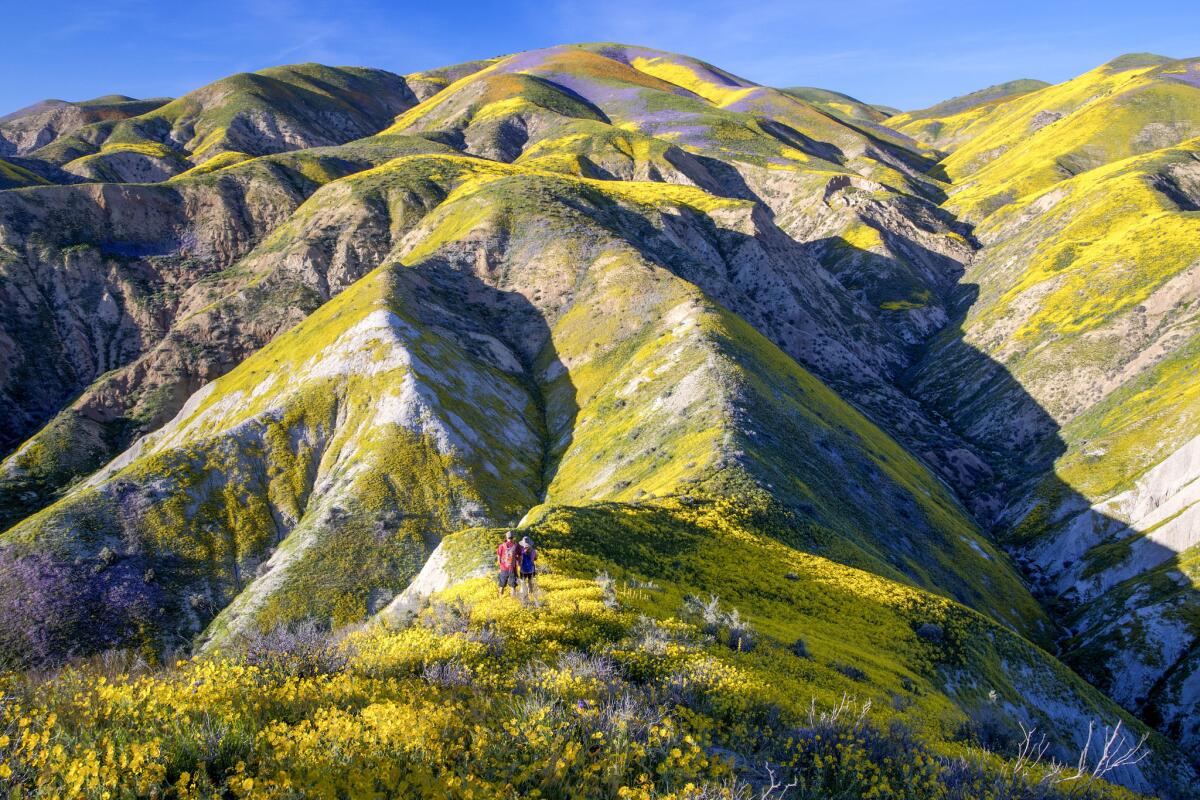 Chino Hills
Chino Hills State Park
The poppy fields that put on a great show in March are pretty much gone. In early April, the park's Facebook page noted there are a few patches of wildflowers along Bane Canyon Road. For the most part, the show's over.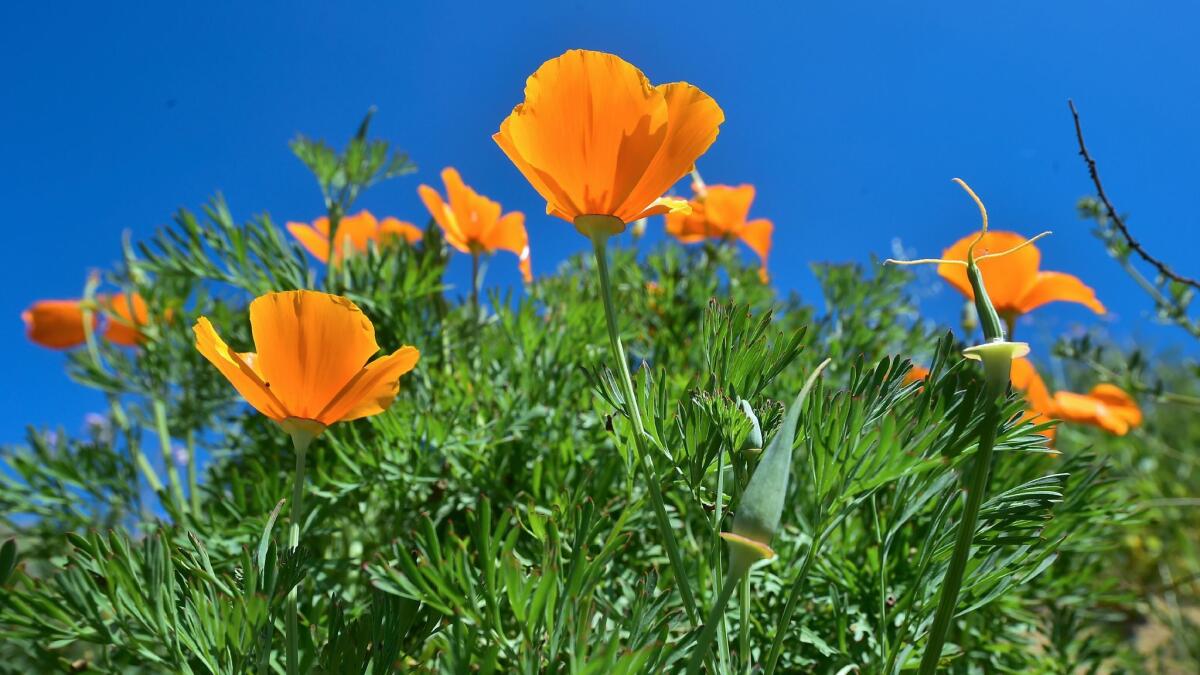 Carlsbad
The Flower Fields at Carlsbad Ranch
These aren't California wildflowers but they sure are stunning. Brightly colored ranunculus put on an amazing show in fields you can stroll through and snap selfies. The fields are open until May 14.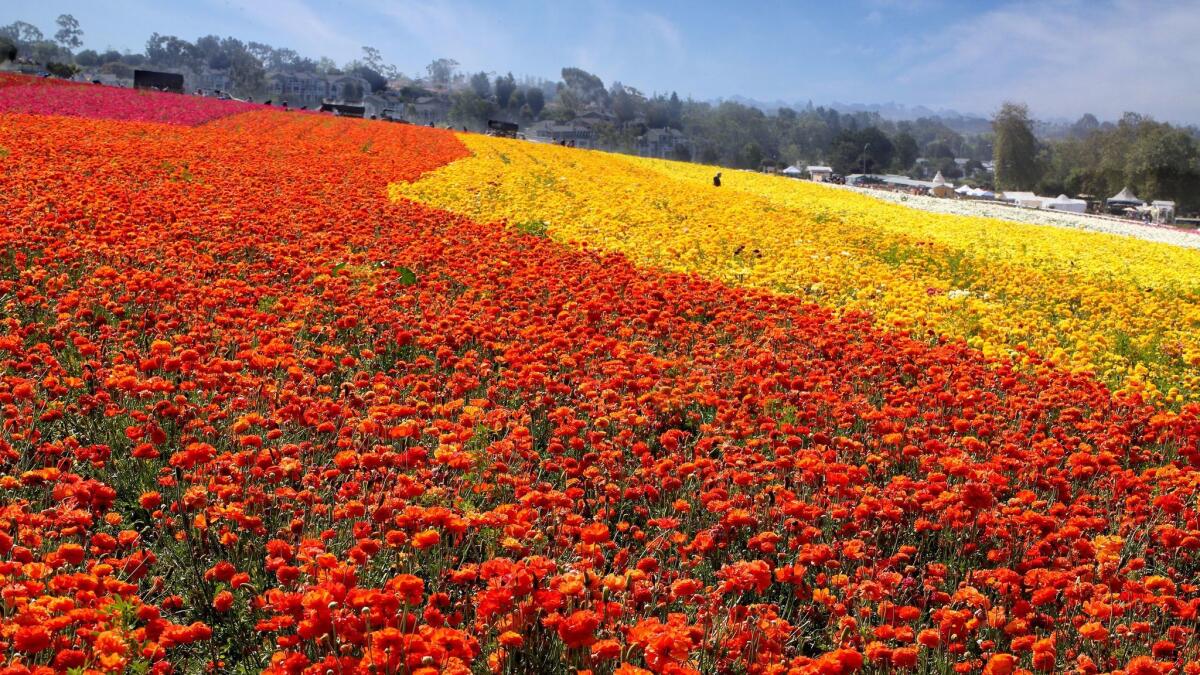 Joshua Tree
Joshua Tree National Park
Desert wildflowers are past peak but you may find some holdouts along the trail to Mastodon Peak where poppies and blue chia put on a nice display. Head out on the easy quarter-mile loop trail at the Cholla Cactus Garden to catch some showy blooms amid the prickly plants.
Malibu
Point Mugu State Park
The fields of poppies and shooting stars are past peak in many parts of the park, but shrubs like sage and ceanothus keep the show going. Flowers such as paintbrush, phacelia and everlasting likely will be blooming later too. Best to hike into other parts of the Santa Monica Mountains as more plants start to pop.
San Juan Capistrano
Ronald W. Caspers Wilderness Park
Ronald W. Caspers Wilderness Park in San Juan Capistrano has California poppies but also varieties of lupine, bright red coastal paintbrush and big white swords of chaparral yucca. The place to see it all is the East Ridge Trail.
ALSO
In search of wildflowers? Chances are there's some great craft beer nearby
SoCal wildflowers get the star treatment, thanks to actor Joe Spano. Just listen
The California Bucket List: Your daily guide to the best adventures and experiences in the Golden State
Get our L.A. Goes Out newsletter, with the week's best events, to help you explore and experience our city.
You may occasionally receive promotional content from the Los Angeles Times.