Where to watch Kilauea's lava flow hit the ocean on Hawaii Island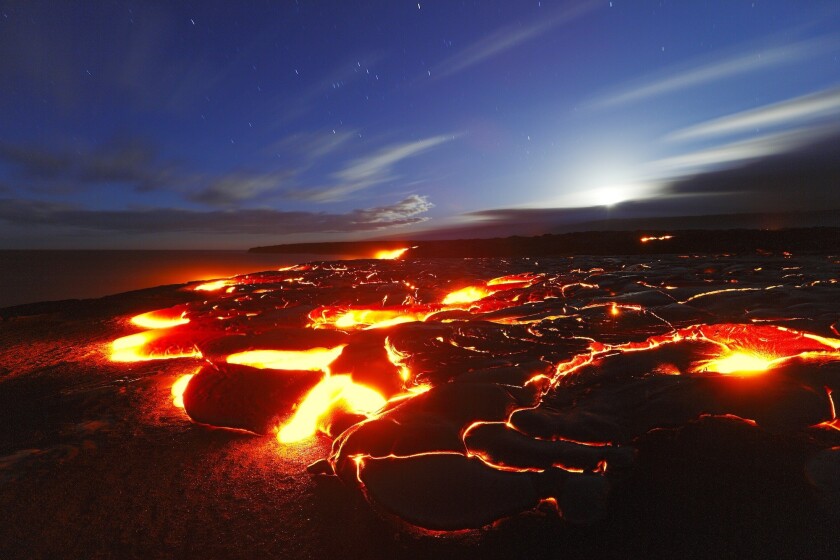 Molten lava is making a big splash on Hawaii Island as it enters the Pacific Ocean for the first time in nearly three years. Visitors can witness the lava flow from the Kilauea volcano by land or from the air with experienced guides.
The Hawaiian Volcano Observatory says lava from Kilauea's Pua Po'o lava tube reached the ocean at 1:12 a.m. Hawaii time Tuesday morning. It's the first time lava from the volcano has emptied into the sea in three years.
Using experienced guides, KapohoKine Adventures' Lava Expedition Tour offers a rare opportunity to witness blasts of steam as the molten rock splashes into the water on the southern tip of Hawaii Island.
Guests get as close as is safe to the Pua Po'o lava tube before striking out on foot for a six- to eight-mile round-trip treks. You should be in good shape to make what a news release described as a "strenuous" hike.
Along the way, participants will see the red lava through "skylights" in the rock and will hear the hissing of escaping gas.
The tour costs $129 for guests in Hilo and $209 for people being picked up from resorts in Kailua-Kona and Waikoloa.
You can make the trek on your own, but experts at the Volcano Observatory caution would-be thrill seekers. "There are additional significant hazards besides walking on uneven surfaces and around unstable, extremely steep sea cliffs," the observatory's website notes.
"Venturing too close to an ocean entry exposes you to flying debris created by the explosive interaction between lava and water. Also, the new land created is unstable because it is built on unconsolidated lava fragments and sand."
For those who want to see the lava light show from the air, several helicopter companies offer aerial tours, including:
— Hawaii Volcanoes Helicopter Tours
Prices range from a 45-minute tour with Safari for $207 to a one hour and 45-minute tour with Sunshine for $560. In some instances, you can find discounts online.
Keep up to date with volcanic activity at the Hawaii Volcanoes National Park's website.
MORE
Soberanes fire in Big Sur: State park campgrounds in the area shut through Aug. 6
Is Meow Wolf an art complex? Maybe, but it's more like an immersive Twilight Zone in Santa Fe
With Tour de France over, how about a hill-grinding Tour de Sonoma?
Century Boulevard pothole fixes and repaving could thwart your next trip to LAX — starting now
---
Get inspired to get away.
Explore California, the West and beyond with the weekly Escapes newsletter.
You may occasionally receive promotional content from the Los Angeles Times.