Hawaii: Best places to see Kilauea's latest fiery lava flows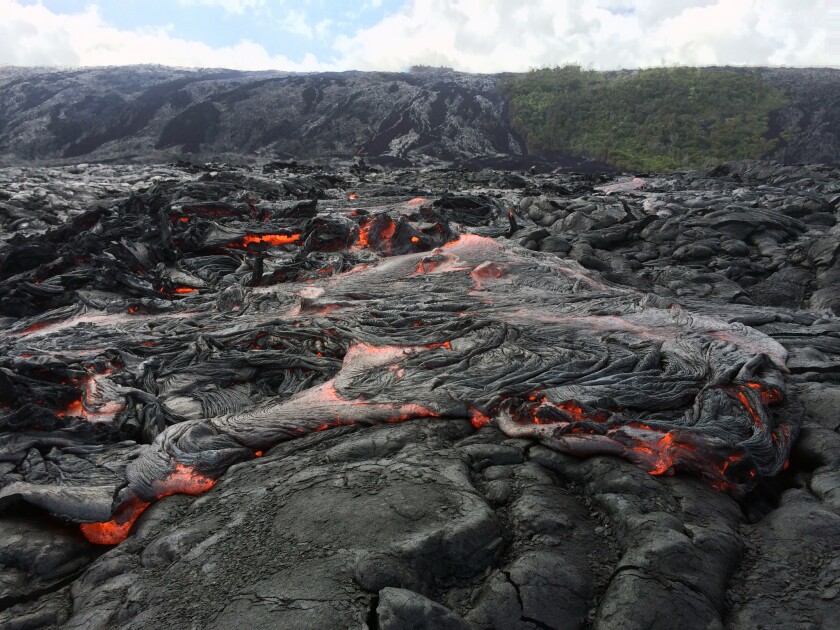 Pele, the mythical Hawaiian goddess of fire, is putting on a dramatic performance once again in and near Hawaii Volcanoes National Park.
The Puu Oo vent of the active Kilauea volcano has seen recent and ongoing eruptions of red and orange molten lava snaking across the volcano's south flank toward the ocean.
The Kalapana Lava Viewing Area outside the park opened in late June to allow visitors to see the fiery flow called 61G. It's nearly 5 miles long, according to the Volcano Global Update Center.
You can look from the viewing area's parking lot or walk 6 miles round-trip along a designated route. The area is on Highway 130 and open 3 to 9 p.m. daily.
"The flow can be seen starting from just beyond the parking lot all along the viewing area route," a July 3 statement from the County of Hawaii's Civil Defense Agency says. Sturdy shoes, plenty of water and flashlights are recommended for the trek.
The recent eruptions are taking place in a remote part of the national park, which is near the southern tip of Hawaii Island. And it's drawing large numbers of tourists too.
"There's definitely been an increase in injuries since the 61G lava activity amplified," chief ranger John Broward said in a news release.
The Fourth of July weekend saw rangers responding to calls from people suffering from twisted ankles, dehydration and lacerations caused by the razor-sharp rocks in cooled lava fields.
Though it's not illegal to walk across those fields to get a closer look, park officials discourage it, especially after dark. They say it's easy to get disoriented, injured or become overcome by toxic fumes from the volcano.
Within the park, rangers suggest driving to the end of Chain of Craters Road past the Holei Sea Arch to get good views of the lava. However, visibility may be hampered by volcanic gas.
Also, you can see the lava glow from Kilauea's summit, from the Jaggar Museum overlook and other stops along Crater Rim Drive, according to the park's website.
Viewing within the park is accessible 24 hours a day. Additional hiking tips are available online.
Info: Hawaii Volcanoes National Park's volcano updates; U.S. Geological Survey's volcano updates
ALSO
Joshua Tree National Park's enduring draw – and beauty
A safari from East to West: Olympic and Everglades national parks
As the National Park Service turns 100, a look back – and forward
---
Get inspired to get away.
Explore California, the West and beyond with the weekly Escapes newsletter.
You may occasionally receive promotional content from the Los Angeles Times.