How to reserve a campsite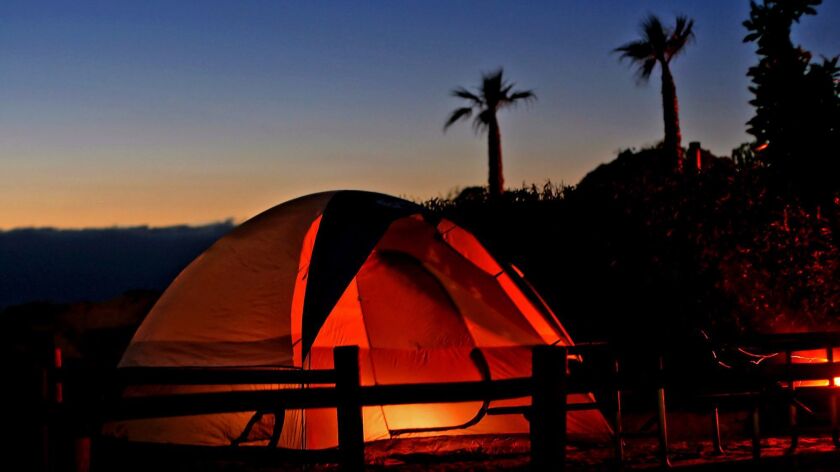 Ready to go camping? Don't start packing the car just yet. Your trip begins with your computer and/or your phone.
"Campsites in California are very popular and can book up quickly, so making reservations as far in advance as possible is recommended, especially for national parks like Yosemite and Joshua Tree," Scott Ammons, REI's Southern California outdoor programs and outreach manager, said in an email.
"Each park system has different policies about how far in advance they will take reservations, so go online and take a look."
Online booking sites let you reserve by showing you the location and sometimes photos of individual sites. (Do you really want to camp next to the outhouse?)
The best strategy is to find out when the reservation window opens for the campground you want and try to book on that day.
What about just showing up? If you arrive early, you may get lucky and snag a site. But it's best to have a Plan B campground in mind, especially on Fridays and Saturdays.
Here are the best places to start your campground search.
Recreation.gov, (877) 444-6777: This is the go-to place for reservations for campgrounds in parks from Yosemite to the Great Smoky Mountains National Park. You have 60,000 facilities and services to choose from at national parks and lands managed by the Bureau of Land Management, U.S. Fish & Wildlife and other federal agencies.
Expect to pay $9 to $10 in nonrefundable fees besides the cost of your campsite.
Tip: You can generally make reservations up to six months in advance. For Yosemite, the 15th of each month opens reservations for five months hence.
ReserveAmerica, (800) 444-7275: The Dallas-based company handles reservations for private and public campgrounds throughout the U.S., including many state parks nationwide. ReserveAmerica processes camping reservations for California state parks. Starting Aug. 1, ReserveCalifornia will handle state park reservations. Expect to pay an $8 nonrefundable fee.
KOA Campgrounds: KOA is the big dog in the private campground world, particularly for families. The company has 500 campgrounds in the U.S. and Canada, some with pools, kiddie parks and more. There's an app to make reserving even easier.
Camp-California.com: This website is a great resource for finding and booking private California campgrounds. For example, options abound in the Yosemite National Park area that are good alternatives to hard-to-reserve campsites inside the park.
For inspiration, go to the website, check out the regional campgrounds and order a printed copy of "Camp-California! The Camper's Guide to California."
HipCamp: This website offers intel on all kinds of campsites, including those on public lands and private farms. It's a great place to browse and get inspired. And yes, it's a booking site too.
Guidebooks: The old-school approach works too. You'll find a good selection of hiking and camping guidebooks at REI or Adventure 16 stores, where you can chat with staff members about their favorite picks.
MORE
8 great campgrounds in California
Tried and tested camping tips for first timers
Did my family survive first-time camping?
---
Get inspired to get away.
Explore California, the West and beyond with the weekly Escapes newsletter.
You may occasionally receive promotional content from the Los Angeles Times.