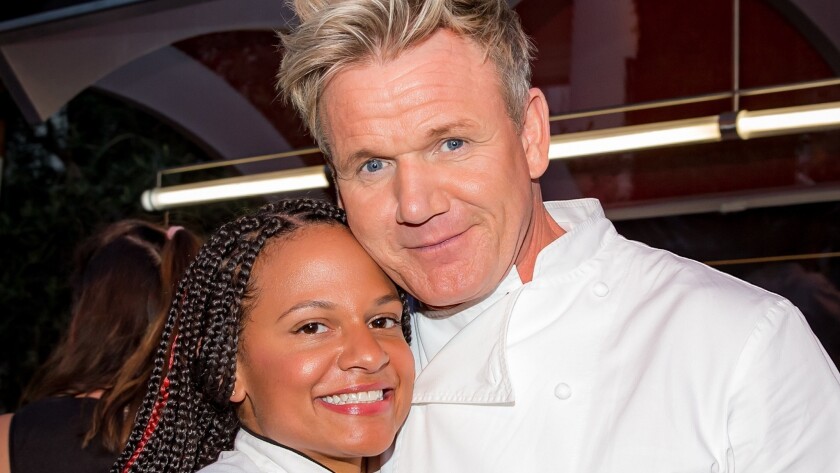 There's a new head chef on the Las Vegas Strip, one who will be familiar to "Hell's Kitchen" TV show fans. Ariel Malone takes her new post at BLT Steak at Bally's starting Monday.
Having impressed Gordon Ramsay in a Los Angeles TV studio, Malone won the job — plus $250,000 cash — in April during Season 15 of "Hell's Kitchen."
On the show, Ramsay praised Malone, saying her "creativity and attention to detail has been second to none."
In Las Vegas, the 27-year-old New Jersey native starts out by introducing weekly blackboard specials to the steakhouse fare.
For the week starting Monday, she will be serving a cucumber tomato salad ($11) prepared with romaine lettuce, shallots, garlic, parsley and lemon.
The following week, she will be serving a seared scallops entree ($45) with black bean puree and summer corn salsa.
Malone began her kitchen experiments at her home in Teaneck, N.J., when she was a teenager. While not formally trained, she learned on the job at various restaurants before trying out for the reality TV show.
She now spends most of her time in the kitchen at the Las Vegas restaurant, though she tries to get out to the dining room to greet customers and pose for pictures, according to a news release.
BLT Steak is open 5 to 10 p.m. Sundays through Thursdays, and 5:30 to 10:30 p.m. Fridays and Saturdays.
Info: BLT Steak (702) 967-7258
MORE
Is Meow Wolf an art complex? Maybe, but it's more like an immersive Twilight Zone in Santa Fe
With Tour de France over, how about a hill-grinding Tour de Sonoma?
Century Boulevard pothole fixes and repaving could thwart your next trip to LAX — starting now
Need to complete your TSA Precheck application? Pop-up site near LAX opens for five days
---