Las Vegas gave Elvis Presley an early birthday present. The city that helped propel him to stardom named a street for the King of Rock 'n' Roll, who was born 82 years ago this Sunday.
Street crews replaced former Riviera Boulevard signs with new ones reading "Elvis Presley Blvd." in late December.
The street, which links Las Vegas Boulevard with Paradise Road, runs past the site on which the Riviera resort stood for decades. The hotel, where Presley played in 1956, was imploded last summer to create additional convention space.
Erik Pappa, a spokesman for Clark County (the Strip and surrounding areas are outside the city limits of Las Vegas) says the name change followed a request from the Westgate Las Vegas Resort & Casino.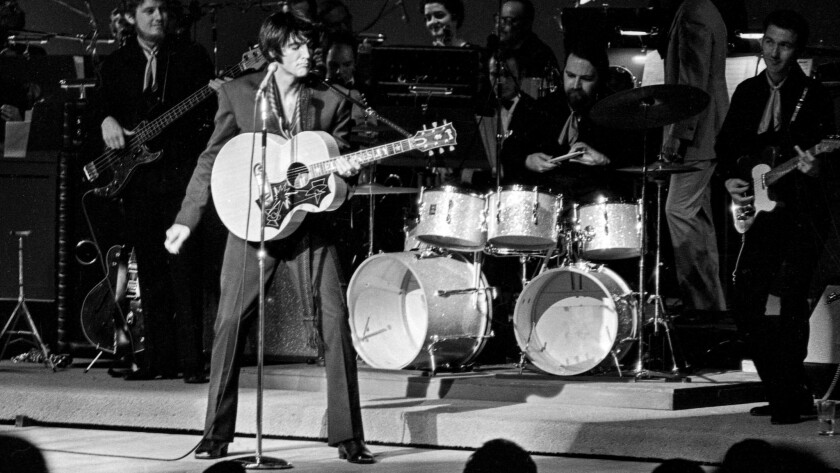 It's the hotel at which the King performed 837 consecutive performances between 1969 and 1976. In those years, the property was known as the International and, later, the Las Vegas Hilton. Fittingly, it is located at the eastern end of Elvis Presley Boulevard.
Presley first performed in Vegas in 1956.
He joins a long list of celebrities with streets named for them along or near the Strip. They include Rat Pack members Sammy Davis Jr., Dean Martin and Frank Sinatra plus Tony Bennett, Jerry Lewis, Mel Torme and Debbie Reynolds, who died Dec. 28. Through the decades, all were A-listers in Sin City.
Elvis fans will observe his 82nd birthday Sunday. He died in 1977 at the age of 42.
ALSO
Can't get into Consumer Electronics Show? Check out a virtual-reality lounge, Echo-equipped rooms in Las Vegas
After last week's fire, some rooms reopen, but 500 remain shut at Rio casino-resort in Las Vegas
A dreamy Death Valley landmark, Artists Palette, to close temporarily
There's a new route to see spewing lava in Hawaii. But it's long, filled with sharp lava and challenging
---