Comic-Con is over, but one Spider-Man is still hanging out at the airport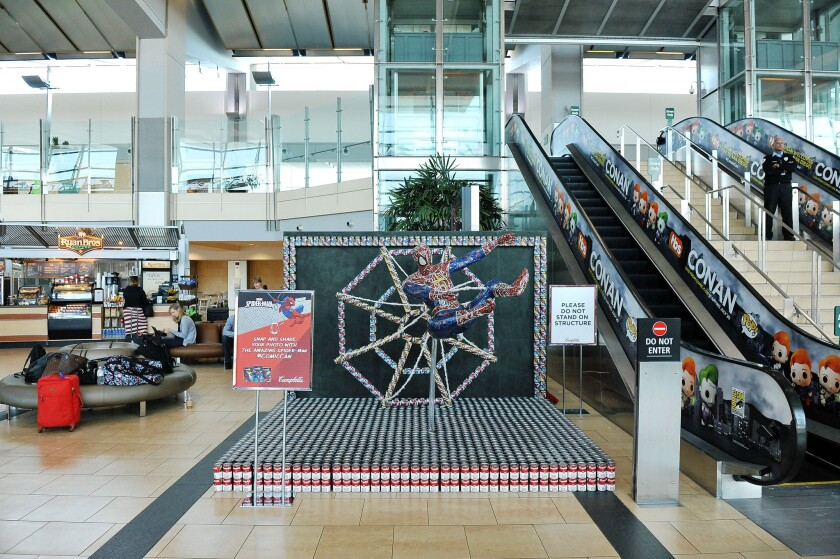 One of the big reveals at Comic-Con International last week was a peek at the film "Spider-Man: Homecoming," due out next year, and news that his nemesis would be the Vulture.
For those who need a Spidey fix before then, the Marvel hero is still spinning a web in — of all places — the baggage claim area of San Diego International Airport's Terminal 2.
But this model of Spider-Man is more soup-er hero than super hero.
That's because it's covered with labels from a "special edition" Spider-Man soup from Campbell's set to come out this fall. (It will be filled with pasta in shapes of the super hero, webs and his emblem.)
In all, more than 1,000 soup cans — some the traditional red-and-white labels favored by artist Andy Warhol — were used to create the model built in Nashville and shipped to San Diego for Comic-Con.
The Spider-Man model will stand at the airport until Sunday.
MORE
Will Disney's 'Guardians of the Galaxy' ride anchor a Marvel themed land?
Why you're still stuck on the plane after landing at LAX — and what you can do about it
Where to dine with your doggie in Las Vegas
Deal: Third night free at Rome's luxury Grand Hotel Via Veneto
---
Get inspired to get away.
Explore California, the West and beyond with the weekly Escapes newsletter.
You may occasionally receive promotional content from the Los Angeles Times.