Love the ocean? 7 things travelers can do to care for whales, sea turtles and other sealife
Whether you swim, snorkel, whale-watch or enjoy walking barefoot in the sand, nothing beats an ocean escape.
And since the ocean can't escape us, Jim Covel of the Monterey Bay Aquarium thinks travelers — and really everyone — should think about adopting ocean-friendly measures at home and on the road.
"The ocean starts at your house," says the aquarium's director of guest experience training and interpretation. "What goes down the drain and on the ground at your house winds up in the ocean faster than you can imagine."
Consider the Great Pacific Garbage Patch, a swirling trash heap around the waters between the West Coast and Japan,.
Here are seven ways travelers can help protect marine life at home and on the road.
1. Avoid helium balloons at your next celebration, and don't release them into the air because they may wind up in the ocean.
Marine mammal researcher Alisa Schulman-Janiger has frequently picked up balloon trash on whale watches with Monterey Bay Whale Watch. She says sea turtles and marine mammals, including dolphins and whales, may mistake balloons and plastic bags for jellyfish or squid and eat them. Balloon and plastic trash can make them feel full and clog their digestive systems while they are slowly starving to death.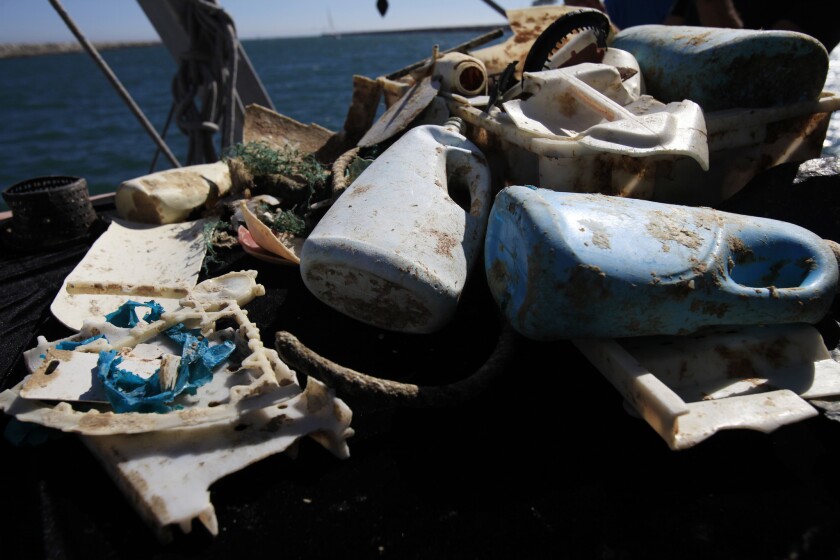 2. Use "reef safe" sunscreens with natural sun blockers like titanium or zinc oxide. The ultraviolet light absorbers oxybenzone or benzophenone 3, and other chemicals in many sunscreens, can awaken dormant viruses that kill coral.
3. When snorkeling, tide pooling or exploring the shore, don't feed, pick up or move marine life. Be careful about touching anything unless you are with a knowledgeable guide.
4. Eat sustainable seafood. The Monterey Bay Aquarium offers its Seafood Watch guide online and as a free app for iOS and Android.
5. "Be careful what you flush, because the toilet leads to the ocean. Storm drains lead to the ocean. Do not flush medicine down the toilet. Do not flush cat litter down the toilet; it winds up in the ocean," says Schulman-Janiger. Sea otters have been known to get sick from viruses in cat litter.
6. Kate Spencer of Fast Raft says: "Avoid single-use plastic water bottles, plastic straws and plastic bags." Covel told me about the Last Plastic Straw campaign, which devotes a page to alternative straws. Monterey Bay Aquarium frequently blogs about plastic pollution.
7. Support sustainable, environmentally friendly tourism. Marinebio.org describes eco-tourism as "leisure travel that provides tourists with an educational and adventurous experience visiting complex and fascinating ecosystems and their associated cultures and traditions."
ALSO
Dogs traveling in the airline cabin: The fur is flying
National park tips: It stinks, but this Yellowstone spring is one of my favorite places
Want to hike Point Reyes? Try this four-day backpacking trip
Unplugging at Point Reyes National Seashore, home to a famous lighthouse, pristine beaches and off-the-grid peace
---
Get inspired to get away.
Explore California, the West and beyond with the weekly Escapes newsletter.
You may occasionally receive promotional content from the Los Angeles Times.