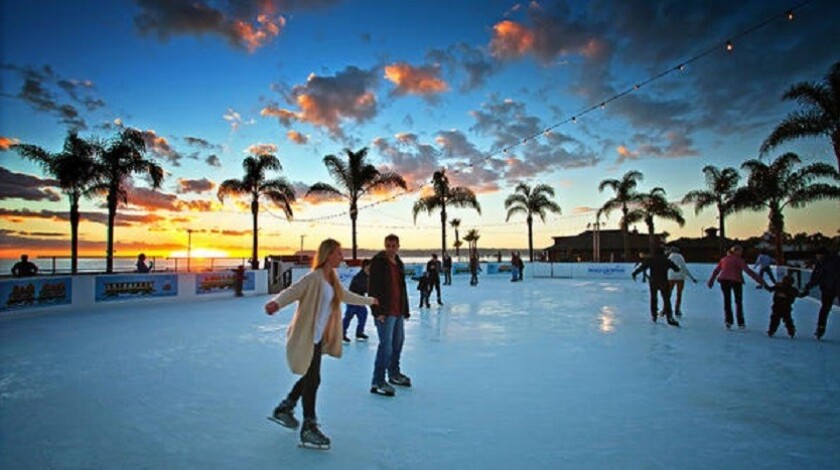 We like TravelChannel.com's list of top holiday attractions for its blend of activities near and far. Our fave (of course), Dublin's "12 Pubs of Christmas."
The site's editors relied on a panel of experts to compile its list of best holiday attractions. Check out their list below, which includes an icy and attractive San Diego activity as well (in alphabetical order by location):
Dyker Heights Lights - Brooklyn, N.Y.

"This neighborhood transforms into a holiday spectacle where you can see the most delightful, delirious and over-the-top Christmas decorations," says Travel Channel host Samantha Brown, who takes her family to this Brooklyn neighborhood every year. Displays include life-size ice skating figurines and 70-foot-high toy soldiers. The site says the best times to experience the lights are weekends in mid-December from 5 to 9 p.m.
12 Pubs of Christmas - Dublin, Ireland

The "12 Pubs of Christmas" revelers make their rounds to – you guessed it -- 12 different pubs and guzzle a pint at each one. As the evening progresses, Irish step-dancers perform, shaking the entire pub into a frenzy. Tacky holiday sweaters are encouraged.
Sponza Palace - Dubrovnik, Croatia

With Old Town festooned with twinkling lights, the Christmas fair in this 1,000-year-old city becomes a scene right out of a storybook. It all starts on St. Lucy's Day on Dec. 13, when artisans, musical performers, singers and traditional dance performances turn out. Some of the holiday dances are more than 300 years old.
"George Balanchine's The Nutcracker" - New York City
In a city bursting with holiday classics, one of the most treasured traditions is seeing the spectacular dancers of the New York City Ballet perform "George Balanchine's The Nutcracker" at Lincoln Center. The Nutcracker runs from the day after Thanksgiving to Jan. 2. Of course, don't miss Macy's holiday window displays and ice skating in Central Park.
Yes, Virginia, there really is a North Pole. The Fairbanks suburb's biggest attraction, Santa Claus House, has been putting smiles on millions of faces since 1952. This gift shop features tons of ornaments, a 42-foot-tall Santa Claus statue and real reindeer. Children can also receive a personal letter from Santa Claus.
Christkindlesmarkt - Nuremberg, Germany
More than 180 decorated wooden stalls sell Christmas decorations and treats galore, including Nuremberg bratwurst, gingerbread and mulled wine. "I always imagine it being like walking through one of those model villages in department stores' window displays," says Brown. Don't miss Christkindlesmarkt's famed Nuremberg Plum People, miniature figures made from prunes.
With its vivid winter wonderland landscape, Reykjavik is a sensational Christmas destination. Visit the Christmas Village in Hafnarfjordur or Reykjavik's main Christmas market in Ingólfstorg Square for traditional Nordic holiday gifts, mulled wine and Yuletide music. Don't miss the northern lights that illuminate the sky this time of year.
Santa Claus Village - Rovaniemi, Finland
Visiting Santa Claus in the Arctic Circle. Rovaniemi is a very popular place in December where the story of Christmas comes to life. Families can send letters to friends around the world with the assistance of Santa Claus' official postal elves and, after you meet him, ride a sleigh pulled by reindeer.
Skating by the Sea - San Diego

San Diego's landmark Hotel del Coronado offers an ice rink on the lawn with breathtaking ocean views. Skating sessions are offered daily from Thanksgiving through Jan. 4. Of course, San Diego's extensive kid-friendly attractions, prepped for the holidays, add to the allure.
Dubbed "America's Christmas Hometown," Santa Claus is open every day of the year. Family-owned since 1946, the town's popular amusement park, Holiday World, gets more than 1 million patrons annually. It boasts three of the world's top 10 wooden roller coasters.
Follow us on Twitter @latimestravel
Like us on Facebook
---