Brussels Airport to remain closed through Friday; U.S. issues travel alerts after attacks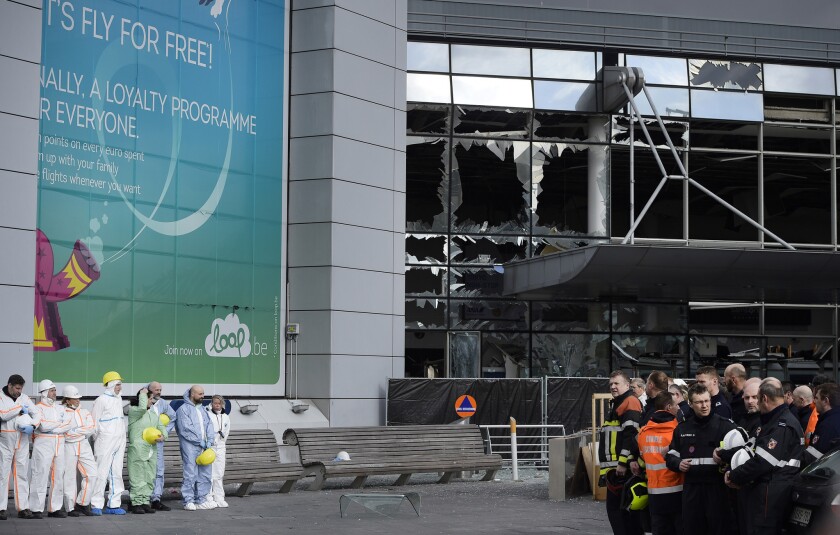 Brussels Airport will remain closed at least through Friday after deadly terrorist attacks in which two bombs exploded in the airport's departures hall.
The Islamic State claimed credit for Tuesday's attacks that killed more than 30 people and injured more than 260 in bombings at the airport and at a metro stop in the Belgian city.
The airport closure in Brussels comes during one of the busiest travel times throughout Europe. Holy Week, which started March 20, culminates Sunday on Easter.
Americans traveling in Europe should avoid crowded places and be particularly careful about their safety "during religious holidays and at large festivals or events," according to a U.S. State Department alert issued Tuesday.
Airport officials in Brussels haven't returned to the departures area because of the ongoing investigation, a statement on the airport's website says. "Until we can assess the damage, it remains unclear when we can resume operations."
Flights to and from Brussels are being diverted to other European cities or rescheduled.
Travelers who have tickets to fly in, out or through the airport this week should check with their airline to find out the status of their flights. Some airlines are waiving change fees for those who want to postpone travel to Europe and issuing refunds for canceled flights.
The nation's carrier Brussels Airlines will rebook or refund tickets free for fliers affected by the airport closure, even if they're holding nonrefundable tickets.
United Airlines updated its policy by waiving change fees and differences in airfares for those who want to rebook travel to Brussels through April 12 (assuming the airport reopens by then).
Fliers who were heading to Brussels may opt to fly in or out of Amsterdam, Dusseldorf and Frankfurt in Germany, London, Luxembourg or Paris. The change fee will be waived for those who want to postpone until after April 12, but fare change costs may apply.
American Airlines and Delta Air Lines also offer passengers an opportunity to change their ticket without penalty.
Regarding other parts of Brussels, public transportation isn't fully operational and some streets in the city remain closed because of police activity.
The State Department tells Americans traveling in Europe to be prepared for additional security screening and unexpected disruptions while they're overseas.
The agency also recommends signing up with the Smart Travel Enrollment Program, or STEP, to receive up-to-date travel alerts and warnings from the State Department.
The Europe Travel Alert expires June 20.
MORE
Terrorist attacks in Brussels: What you need to know if you're planning to fly to Europe
Renew your passport now and beat the 2017 crowd
The facts on Real ID and TSA-compliant ID cards for senior citizens
---
Get inspired to get away.
Explore California, the West and beyond with the weekly Escapes newsletter.
You may occasionally receive promotional content from the Los Angeles Times.