Still reeling from flash floods in Death Valley, Scotty's Castle may be closed a year or more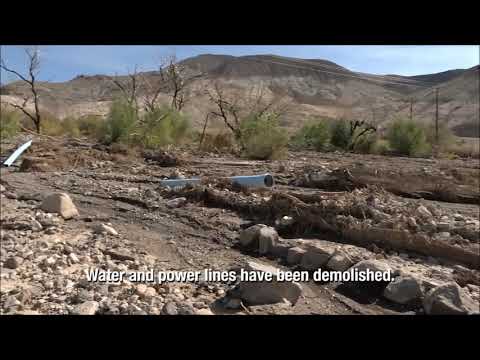 On Oct. 18, a flash flood wreaked havoc on Death Valley, leaving mud and debris and damaging roads.
Scotty's Castle, one of the most popular landmarks in Death Valley National Park, will be closed for at least a year because of an Oct. 18 flash flood that sent a raging river of water and mud through the park.
Hardest hit was Grapevine Canyon, the home of Scotty's Castle at the northern end of the 5,270-square-mile park, which is only slightly smaller than the state of Connecticut.
The Oct. 18 storm dumped 2.7 inches of rain, more than the region typically gets in a year.
Scotty's Castle, an ornate mansion built as a vacation getaway in the 1930s, suffered serious damage. So did the two-lane, paved highway leading to the attraction. Ten miles of roadway was destroyed.
"It took us a while to get up to Scotty's because the road was gone," said park spokeswoman Linda Slater. "The road was completely washed away."
The castle continues to be slathered with mud and debris. Slater said up to a foot of mud settled inside the visitor center, where exhibits are either heavily damaged or destroyed.
The losses are still being calculated.
"I'm just not ready to give a figure yet," she said, noting that structural engineers were visiting there on Tuesday. "It will be tens of millions of dollars."
The cleanup, restoration and rebuilding of roads will be not only costly but lengthy.
"I think it [the castle] will be closed for a year minimum," Slater said. "We will not have it open for this winter, which is our busy season."
At the opposite end of the park, mud and debris also cover Badwater Road, which leads to Badwater Basin, a salt flat that is the lowest point in North America, 282 feet below sea level.
Slater said the 17 miles of road linking the basin to Furnace Creek Resort should reopen within a couple of weeks.
The significant rainfall predicted for this winter is a harbinger of a spectacular bloom of spring wildflowers that lures large numbers of visitors to the park each spring.
The park service website notes that annual rainfall averaged 1.6 inches a year for the first 65 years that records were kept. But for the last 30 years, the average has increased almost an inch.
ALSO
In Death Valley, a Jeep, back roads and a whole new perspective
For $300, you can live two nights like a bird in Big Sur (BYO pillows)
Ready for a little hot air? No, not presidential debates. Try a balloon fest near Lake Powell
Follow us on Twitter at @latimestravel
Get our L.A. Goes Out newsletter, with the week's best events, to help you explore and experience our city.
You may occasionally receive promotional content from the Los Angeles Times.