Weekend Escape: For $300 you can live two nights like a bird in Big Sur (BYO pillows)
Sand Dollar Beach, just three miles north of Treebones, is less crowded than Big Sur's Pfeiffer Beach. It has a long strand of sandy coastline and is a favorite among surfers.
(Skyhobo / Getty Images)
There's camping, there's glamping and then there's the best of both — sleeping in a human-sized nest overlooking the ocean and the Big Sur coast, where you're exposed to the elements without worrying about pitching a tent. Twigitecture artist and Big Sur resident Jayson Fann designed the nest for Treebones Resort off Highway 1 so guests could interact with nature in a new way. "The nests are art pieces, yet beautiful and functional," said Fann, who runs an arts program called Big Sur Spirit Garden. Treebones is a family-owned resort about 275 miles north of Los Angeles, a scenic half-hour drive past Hearst Castle. The tab: $300 for two nights in the nest, which included a gourmet breakfast, plus $225 for meals and drinks.
The bed
The nest, reached by a ladder, sleeps two adults (children are not allowed) and is made of eucalyptus branches bleached by sun and sea air. The nest felt as though it sat on the edge of the world, open to the vast ocean and sky with 180-degree views. At night, moonlight seeped through the branches; in the morning, tendrils of fog swirled through the nest. Nearby are 16 yurts, a treehouse and five campsites for tents. Treebones (71895 Highway 1, Big Sur; [805] 927-2390, www.treebonesresort.com) fills up about six months in advance, especially in summer and fall. I booked our two weekday nights for late August in early March (weekends were taken). The nest can fit two carry-on suitcases and includes a futon mattress. Bring pillows, sleeping bags, a flashlight for bathroom trips at night, and anything else to keep warm. If there's rain, Treebones suggests pitching a tent near the nest. The resort is open year-round; yurts are heated, as is the small outdoor pool and hot tub. There's no cell service but there's spotty Wi-Fi in the main lodge/dining room. Yurts are locked; the nest is wide-open, making losing a room key impossible.
The meal
Everyone goes to Nepenthe (48510 Highway 1, Big Sur; [831] 667-2345, www.nepenthebigsur.com) 33 miles north of Treebones on Highway 1. We dined there on a tuna steak and a burger, which came with salads (plus appetizer, beer and tea; $103 before tip). The view is spectacular, but we appreciated the fresh food at Treebones more, where Monaco-born chef Serge Marchale integrates the bounty of its onsite organic garden into classic dishes. The grilled portobello sandwich ($14) was one of the most flavorful versions I had ever tasted.
The find
At check-in, Treebones' staff provided us with a list of favorite beaches and hikes to check out. It included words such as "major hairpin turn" and "aggressive uphill." We wanted something more tranquil, so I asked where they hung out, and all mentioned Sand Dollar Beach, just three miles north of Treebones. Far less crowded than Big Sur's Pfeiffer Beach, Sand Dollar is a long strand of sandy coastline and is a favorite among surfers. It's open for day use only; there is a $10 entrance fee per vehicle. From the parking lot, walk a flat, less-than-a-quarter-mile trail to a 99-step stairway leading to the Pacific. The southern end of the beach is Plaskett Rock Point. Walk the length of the beach; the view and solitude are worth it.
The lesson learned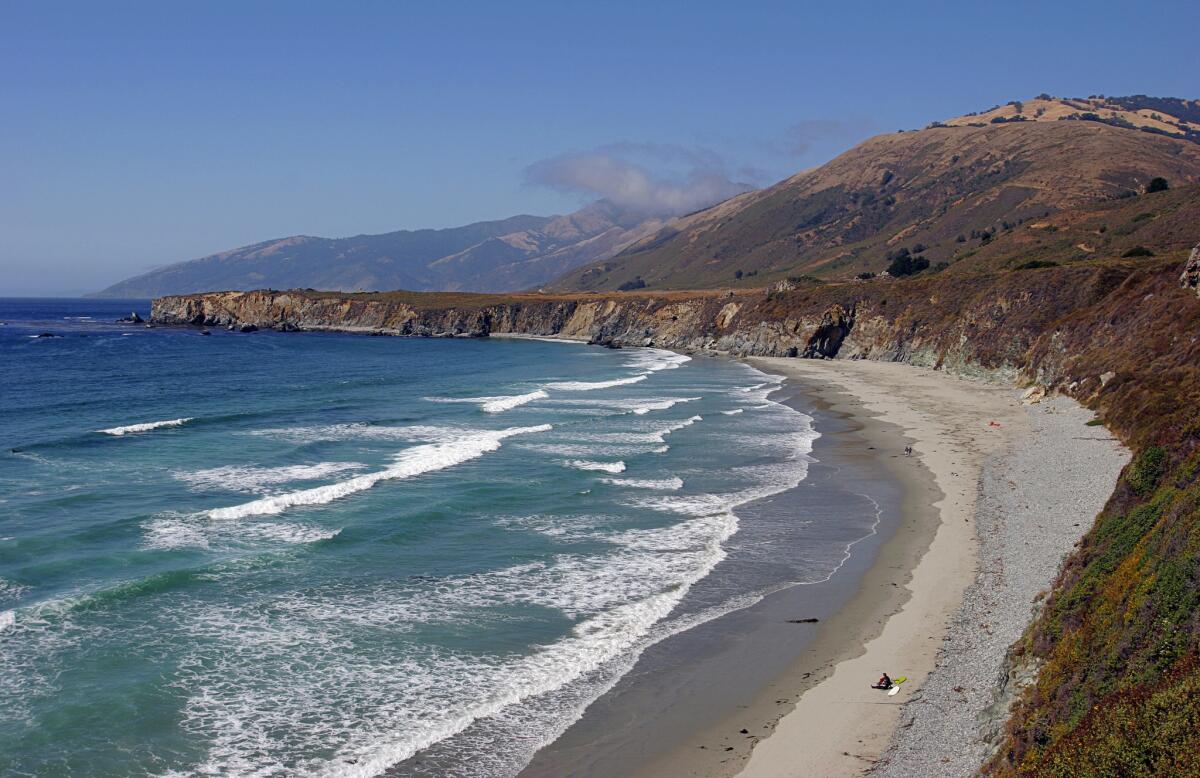 Treebones has an onsite gift/convenience shop with snacks, souvenirs, clothing and some camping gear in case you forget anything, but what the resort doesn't sell is bottled water. Bring your own water bottle, or buy one there for $15 (as we did), and fill up from pitchers of crystal-clear mineral water always on hand at the bar and flavored with lemon verbena, camomile and nasturtium.
MORE WEEKEND ESCAPES:
Avoid crowds but indulge your inner teenager in a weekend getaway to Oregon beaches
For a tranquil weekend getaway, try wine country -- in Carmel Valley
Boats, sea breezes, sun basking and food, food, food in San Diego
Get our L.A. Goes Out newsletter, with the week's best events, to help you explore and experience our city.
You may occasionally receive promotional content from the Los Angeles Times.