Barbie fans, check out these fantastic takes on the 57-year-old doll (not that she looks her age).
There's a circus-style Barbie with an outfit designed by superstar American designer Bob Mackie, and Barbie dressed in a gold gown studded with Swarovski crystals and designed by Faberge.
The Barbie Expo displays more than 1,000 dolls -- each a one-of-a-kind creation -- and is located in downtown Montreal.
(Barbie Expo)
Barbie with the sleek pink bob is called "tokidoki" and was designed by the Japanese tokidoki brand which creates creatures and logos.
(Barbie Expo)
Barbie in fur suit with matching hat is called "Ekaterina" and designed by Robert Best. This outfit was inspired by Russian glamour.
(Barbie Expo)
Barbie in the gold-patterned gown is called "Adele Blauch-Bauer I" designed by Linda Kyaw. The doll is inspired by a famed Gustav Klimt portrait.
(Barbie Expo)
"Faberge Imperial Elegance" is the title of this Barbie take designed by Faberge with real Swarovski crystals in her gown.
(Barbie Expo)
Barbie in the gray suit with the big hat is called "Publicity Tour." It's one of the dolls on display at Barbie Expo in Montreal, Canada.
(Barbie Expo)
This Barbie is called simply "Eiffel Tour" for the French landmark imprinted on her dress. It's part of the Landmark Collection at the Barbie Expo.
(Barbie Expo)
Cabaret-like Barbie is called "Circus," in an outfit designed by Bob Mackie, the American designer that usually dresses Hollywood stars and celebrities.
(Barbie Expo)
Barbie with a red dress, blue cape and carnival mask is called "Venetian Opulence," which is part of the Masquerade Collection.
(Barbie Expo)
Barbie, wearing black-striped pants and a kimono-style top, is called "Ayako Jones" and was created by Byron Lars Design Group.
(Barbie Expo)
This Barbie with water lilies pattern on her dress is called, appropriately, "Water Lily." It's inspired by the paintings of French artist Claude Monet.
(Barbie Expo)
"Brazilian Bazaar" puts Barbie in a flower-bedecked dress with long black hair. This Barbie on display at Barbie Expo was designed by Dakotas Song, who has created many one-off Barbies.
(Barbie Expo)
Barbie as "Farrah Fawcett," at the Barbie Expo in Montreal.
(Barbie Expo)
The Barbies -- some hip, some classic, some inspired by famous art works, some pop culture cuties -- are part of a 1,000-strong collection that recently opened as Barbie Expo, a new museum in the heart of Montreal.
Style website wwd.com says "one of the best-loved dolls of the 20th century celebrates haute couture history" in the collection that brings Barbie to the forefront of fashion.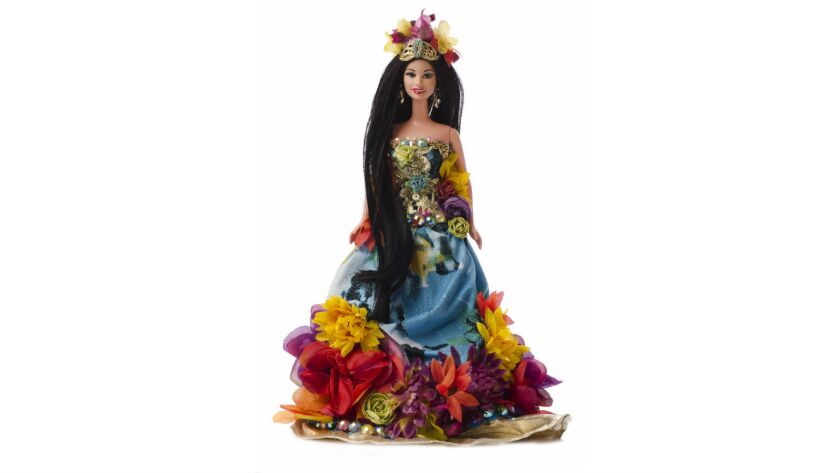 The sleek display area holds the permanent collection of Barbies dressed by fashion houses, transformed into entertainment personalities (there's an awesome Barbie-turned-Farrah-Fawcett in a red bathing suit) and portrayed in film roles.
The museum is owned not by Barbie creator Mattel but by the Soltron Group, which also owns the upscale shopping center Les Cours Mont Royal, where the museum is located.
The dolls were donated by collectors and designers from around the world, a museum statement says.
Admission is free, but travelers are invited to make a donation to the Make-A-Wish Quebec charity when they visit the museum.
Info: Barbie Expo
MORE
How to use crazy good trip-planning tools from Google and Lonely Planet
Now you can use Alaska Airlines loyalty miles to pay for TSA Precheck
Carnival will be first in 50 years to sail cruise ship from U.S. to Cuba
Want to go swimming at Francis Ford Coppola's wine-country pool? $35 gets you a day pass
---