From Elvis' hometown, a tale of a birthday gift that changed history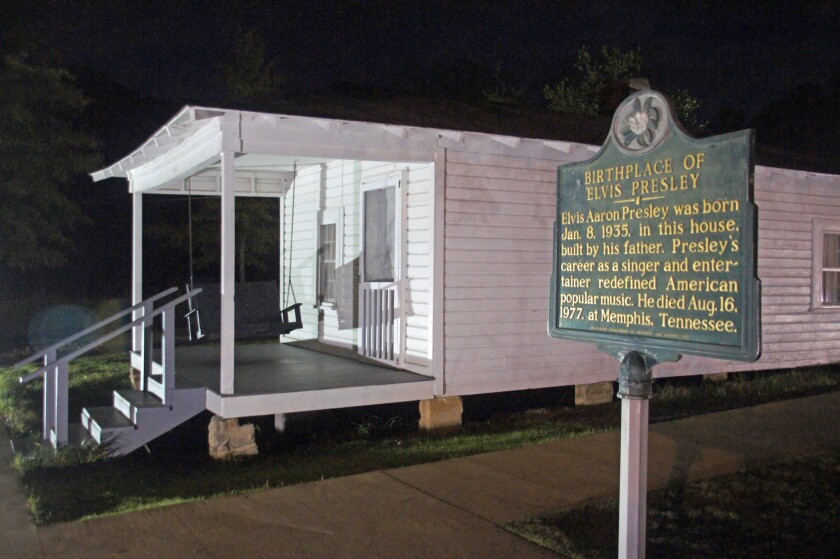 Connie Tullos loves to tell stories. Especially the one about Elvis and his Mama the day they came to the Tupelo Hardware Co. to buy him a birthday present. He was born Jan. 8, 1935.
Speaking in full Mississippi drawl, her eyes as bright as a teenage fan of Justin Bieber's, the 60ish Tullos said the King, still an uncrowned commoner in those days, wanted a 22-caliber rifle for his 11th birthday.
Gladys Presley said no.
Some folks say he put up a fuss.
Not Tullos, who's vice president of the local Elvis Presley Fan Club and a part-time employee at Tupelo Hardware.
"We say that Elvis turned to Gladys, and said, 'That's OK, Mama. It's fine.' "
Instead, Gladys Presley bought her son a guitar. It cost $7.90, according to the bronze plaque outside the store, which is not far from an oversized fake wooden guitar that's tilted so fans can take their pictures as if they're playing it.
Tullos leaned over the counter, near guitar-shaped cast-iron pans, Elvis books, pencils, T-shirts and other souvenirs, and pointed to an X on the Tupelo Hardware Co.'s wooden floor. Once white, the tape X is scruffy gray from hundreds of shoe soles that have touched it.
The spot is where Elvis and his mother might have stood, she said, beaming, as those of us listening tapped our toes on the tape.
Aerosmith's Steven Tyler and Joe Perry stood in the same spot, both buying guitars at Tupelo Hardware. Tullos said Prince Albert of Monaco also stopped by on his Elvis pilgrimage.
Memphis may be the public mecca for Elvis lore, but folks 100 miles southeast of Presley's 17,555-square-foot Graceland insist fans should begin their pilgrimages where the King did. That's in Tupelo, a town of about 35,500 in northwest Mississippi.
This one-time railroad hub is a four-time winner of the All-American City Award.
And of course, it's the birthplace of Elvis Presley.
Elvis' father, Vernon, borrowed $180, and with the help of his father and brother, built a two-room shotgun cottage in 1934.
On Jan. 8, 1935, Gladys gave birth there to two sons: Elvis Aaron and his twin, Jessie Garon, who never took a breath and was buried in an unmarked grave in Priceville Cemetery.
The Presleys lived in the 450-square home until Elvis was 3, then lived elsewhere in Tupelo until they resettled in Memphis when he was 13.
"Gladys was the strength of the family," Dick Guyton, director of the Elvis Presley Foundation, said as he stood under the bare light bulb hanging from the ceiling in the bedroom/living room of the house.
"She worked in a garment factory. Vernon worked as a truck driver and did odd jobs when he could."
The house is still in its original location and is the centerpiece of Elvis' Birthplace, a 15-acre park funded initially by a concert Elvis gave in 1957 in his hometown.
About 80,000 fans visit each year, about 50,000 of whom pay to go inside the house, church and museum, Guyton said — about 10% the number who go to Graceland. "Most come only on day trips," he said, which does not please him and others in Tupelo.
None of the furniture in the house is original, but it looks as though it could be. Wallpaper in the bedroom/living room is pink, blue and cream. You'll see a double iron bed, a fireplace with a photo of the family above it. The kitchen has a wash tub, wood stove, table, other necessities.
Plumbing was outside. Now there's a $4,000 replica of an outhouse with Plexiglass protection near the Presley's church, First Assembly of God, which was moved onto the grounds from its location a block away.
Inside, the First Assembly looks like any other country church, wooden pews, a simple altar, posted hymn numbers. The last one though is 531, which translates to $5.31, the amount of a typical Sunday collection, a guide said.
When she shut the church's front door, lights dimmed and screens dropped in front and on two side walls, and a 15-minute film depicted a lively service, complete with sounds of a crying baby and gospel music. The evangelical preacher got the crowd moving, including a young boy modeled on Elvis.
The preacher on screen is Memphis Jones, a guitar-playing singer, tour guide and expert on Memphis and Mississippi music as well as leader of the Memphis Jones Trio, which performs regularly at B.B. King's Blues Club on Beale Street in Memphis, and on request at Elvis' birthplace in Tupelo.
Jones talked about the evolution of Southern music, most of it with roots in Mississippi.
"Blues developed through a blending of European gospel and traditional African and American Indian vocal styles, with rolling notes," Jones said. Once it left the countryside and moved into nightclubs where locals danced to the sound, it became what we now call rhythm 'n' blues.
Besides the tiny house where the King was born and the church, you'll find a new chapel, an auditorium with a movie and a stage for live performances, a bunch of statues and markers, a museum with Elvis outfits and memorabilia. And of course, a shop.
He's everywhere, even in the women's restroom where a video of Elvis onstage plays nonstop. "Blue Suede Shoes" rings forth as Elvis strums his guitar and grins that familiar seductive smile, dimple deepening while women flush and wash their hands.
The King lives on.
Info: Elvis' Birthplace, (662) 841-1245
---
Get inspired to get away.
Explore California, the West and beyond with the weekly Escapes newsletter.
You may occasionally receive promotional content from the Los Angeles Times.