8,000 lighted balloons to mark Berlin Wall 25 years after its fall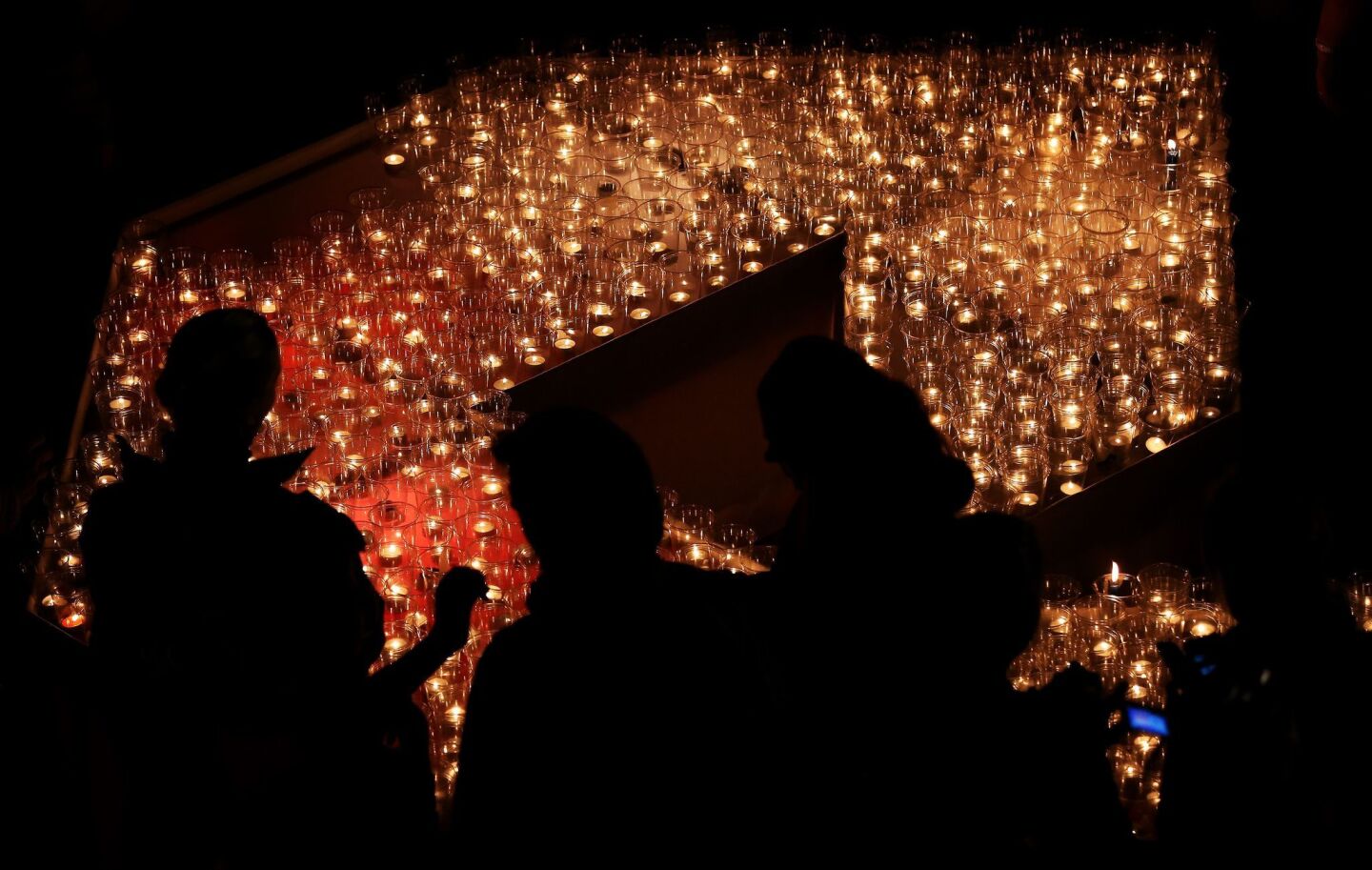 Germany began the 25th anniversary of the Berlin Wall's demise in Leipzig, where an Oct. 9, 1989, protest led to the populist effort to pull the wall down. People lighted candles Thursday in Leipzig's Augustplatz square to celebrate the protests that led to freedom.
(Ronny Hartmann / AFP/Getty Images)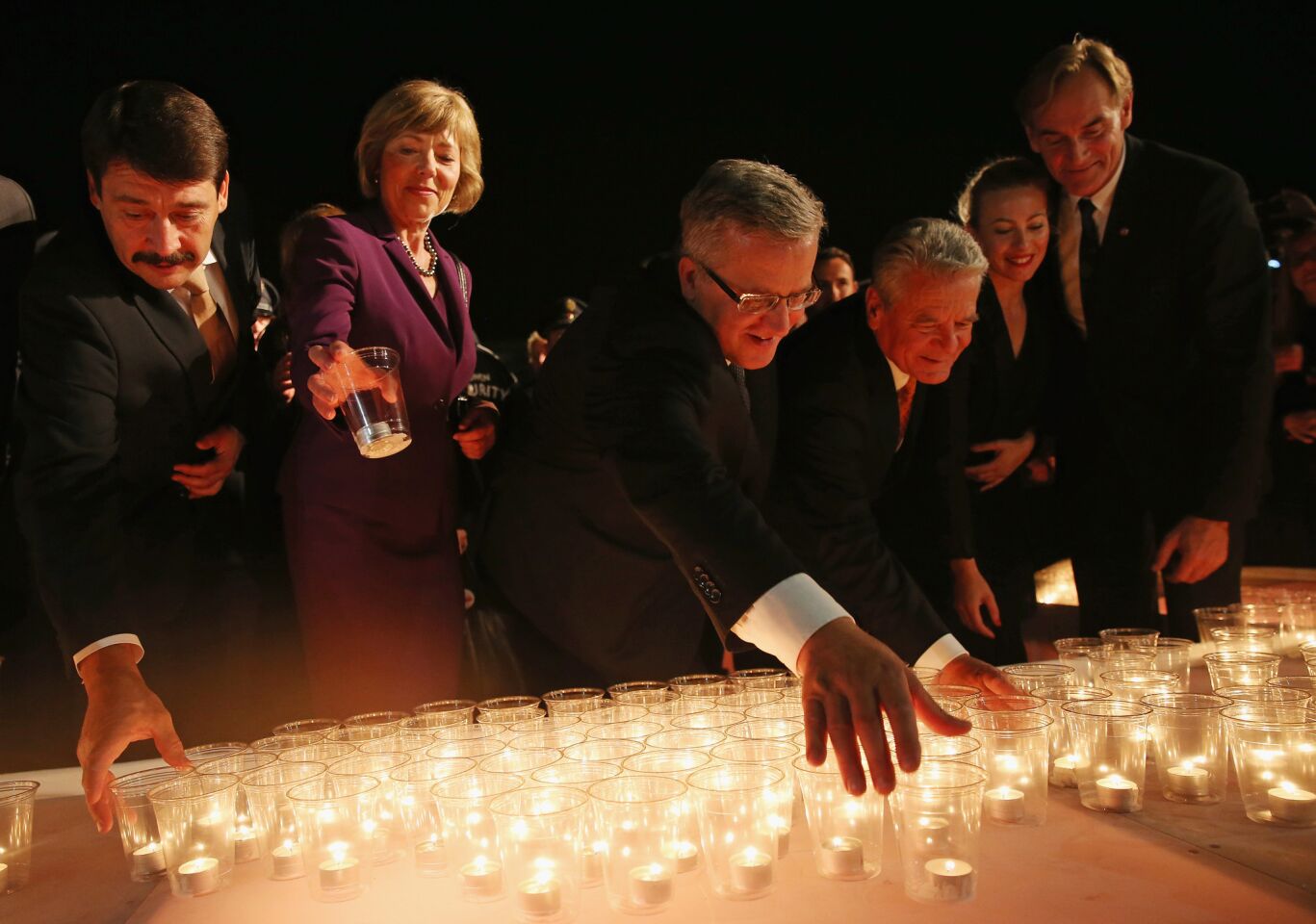 Hungarian President Janos Ader, left, German First Lady Daniela Schadt, Polish President Bronislaw Komorowski, German President Joachim Gauck and Leipzig Mayor Burkhard Jung join in the celebrations in Leipzig.
(Sean Gallup / Getty Images)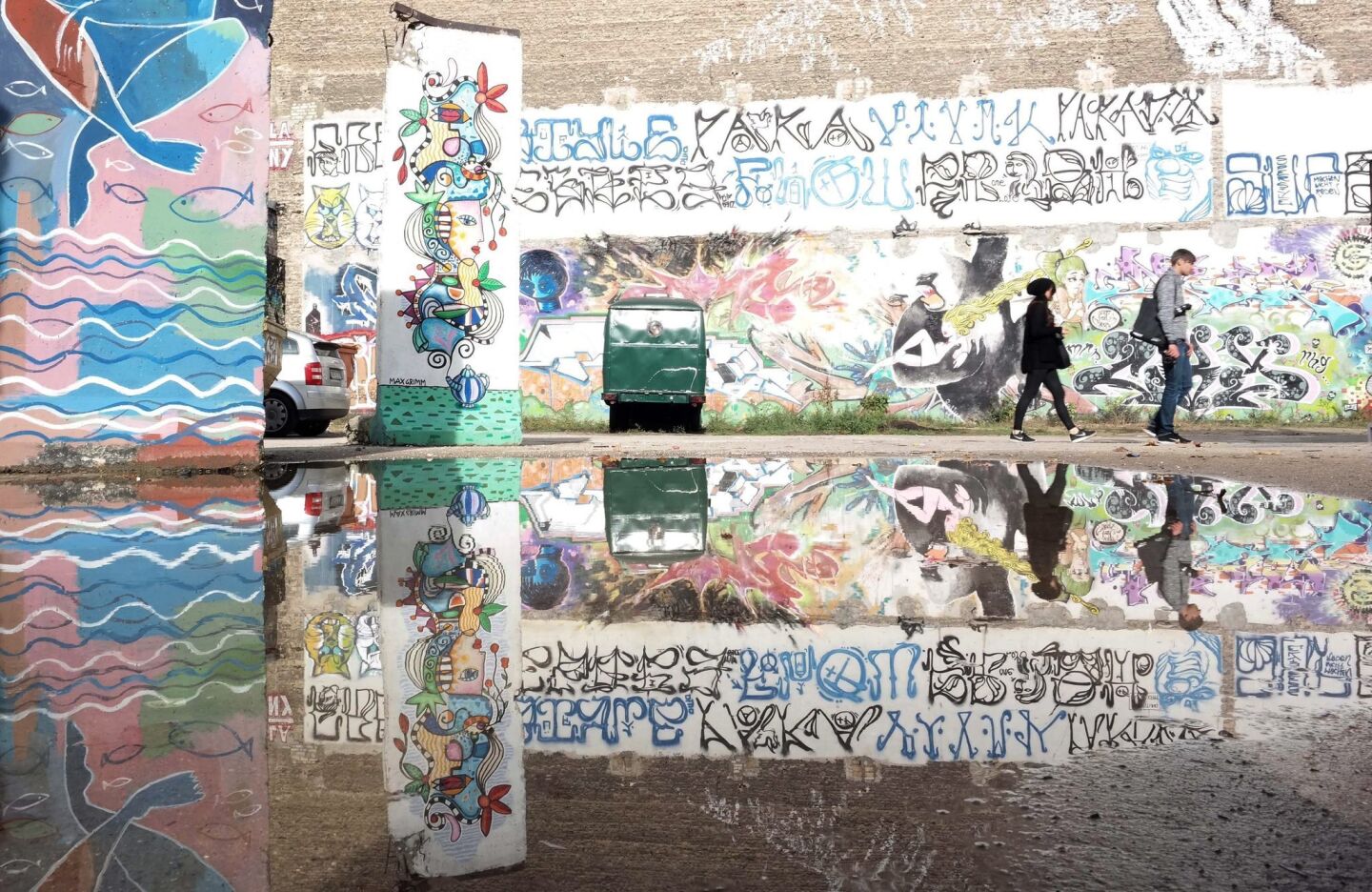 Colorfully painted pieces of the former Berlin Wall are on display on the New West Berlin arts zone in Berlin.
(Joerg Carstensen / EPA)
Art carries messages on slabs of cement that were once part of the Berlin Wall.
(Joerg Carstensen / EPA)
The German capital will re-create part of the notorious Berlin Wall with a lichtgrenze, or light frontier, made of 8,000 illuminated balloons to mark 25 years of freedom since the wall came down Nov. 9, 1989.
From Nov. 7 to 9, the light installation will appear along a 9-mile stretch of the formerly divided city of Berlin, according to the German tourism website.
It will run along the famed Checkpoint Charlie crossing point, the Brandenburg Gate and through streets and parks following part of the original wall's path.
Locals and visitors can stroll along the light installation and read stories posted of some of the people who tried to cross the border during its 28-year history.
On the last day of the light frontier display, the balloons will be released into the air as the Staatskapelle Berlin orchestra plays Beethoven's 9th Symphony at the Brandenburg Gate.
The frontier is meant to make people, including those younger than 25 who haven't experienced its physical or political confines, think about the freedom that came after the barrier was torn down by East German protesters in what's now referred to as the Peaceful Revolution.
The wall was built in 1961 to separate occupied zones controlled by the Soviet Union (East Germany) and the Allied powers of World War II (West Germany).
It became the quintessential symbol of the Cold War from the 1960s until its destruction. The wall enclosing West Berlin and separating it from its eastern half ran more than 26 miles.
Germany began celebrating Thursday the 25th anniversary of protests in the former East German city of Leipzig that spilled over into a bigger populist movement as a run-up to the demolition of the wall.
Candles lighted in Leipzig marked the protestors demands for freedom -- and the lighted balloons are meant to echo that sentiment.
---
Get our L.A. Goes Out newsletter, with the week's best events, to help you explore and experience our city.
You may occasionally receive promotional content from the Los Angeles Times.