Knott's Berry Farm unveils Halloween Haunt 2011 mazes and scare zones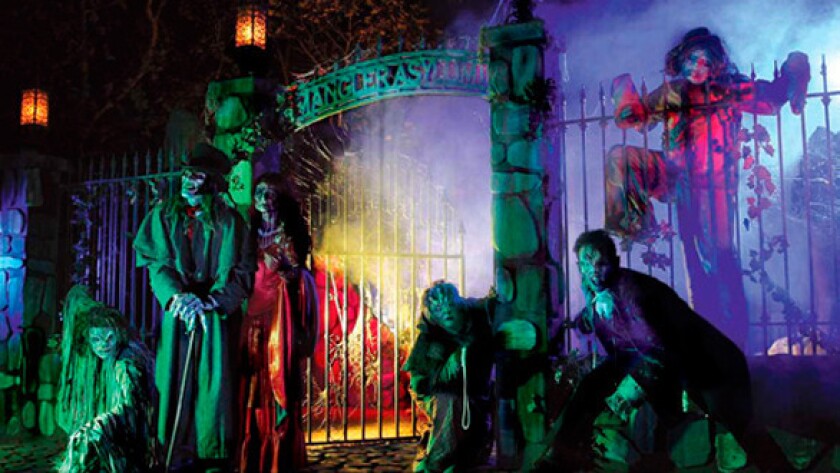 Los Angeles Times Staff Writer
Knott's Berry Farm will add three new mazes and a new scare zone for Halloween Haunt 2011, according to theme park officials.
Photos: View concept art of all 13 mazes and four scare zones for Halloween Haunt 2011

The 39th annual Knott's Scary Farm will start Sept. 23 and run for 27 nights.
Knott's Berry Farm Halloween Haunt
2010 mazes | 2010 scare zones | 2010 shows | 2010 review
The granddaddy of Halloween events will feature 13 mazes and four scare zones scattered throughout the Buena Park theme park.
New Knott's mazes for 2011:
> Invasion Beneath – The military battles against creatures emerging from a fissure in the Earth's core. Replaces the perfectly themed Black Widow's Cavern (Calico Mine Ride).
> Endgames: Warriors of the Apocalypse – A post-apocalyptic arena where gladiators battle to the death for the entertainment of the rich and powerful. Replaces the pointless and endless Labyrinth (In Camp Snoopy at the former Peanuts Playhouse location).
> Delirium – A wasteland along the blurry line between nightmare and insanity. Replaces the mediocre Club Blood vampire maze (Ghostrider warehouse).
Reviews of returning mazes (with debut dates):
The Best
> Virus Z (2010) -- Replicates a small town overrun by infected cannibals, zombies and blood-thirsty corpses. Good scares, a great soundtrack and the best theming I've ever seen in a Knott's maze. (Fiesta Plaza)
> Terror of London (2009) -- Featuring Jack the Ripper and Dr. Jekyll. Great scenery, a solid back story and plenty of atmospheric talent even if the overall result isn't that scary. (Mystery Lodge)
> Uncle Bobo's Big Top of the Bizarre in 3-D (2009) – Clowns run amok in a vaudevillian setting. Mercifully light on 3-D effects and heavy on startle scares with a high energy level. (Under Xcelerator)
> Doll Factory (2007) – A psychotic killer's museum of death and disfigurement. By far the best bang for the buck on my 2010 visit, with the monsters scaring me eight straight times at one point in the maze. (Wilderness Dance Hall)
> Fallout Shelter (2010) -- Where the insane residents haven't seen the sun since the Atomic Age. Well themed but virtually no 3-D effects and light on scares. (Near Reflection Lake)
The Rest
> Corn Stalkers (2008) – Scarecrows and demented farmers amid rows of rotting corn. Several good scares and a solid creep factor throughout in this much-improved maze. (Along Butterfield Stagecoach trail)
> Sleepy Hollow Mountain (2010) – Featuring the headless horseman legend with ghosts, ghouls, witches and goblins. Few scares with one lone highlight: the mesmerizing jack-o'-lantern cave. (Timber Mountain log ride)
> Slaughterhouse (2008) – A deranged butcher runs a barbecue restaurant. One of my favorite mazes from 2009 fell hard in 2010. Maybe the monsters were on a break. (Near main gate)
The Worst
> Lockdown: The Asylum (2009) -- A high-security penitentiary for the insane. Long stretches of inactivity had me looking for the inmates rather than trying to avoid them. (Backstage near Ghostrider)
> Dia de los Muertos in 3-D (2009) -- Featuring a Day of the Dead theme. No monsters, no scares, no más. (At the bumper cars)
Halloween Haunt will also add a scare zone this year, bringing the total to four:
> Gypsy Camp (New for 2011) – Werewolves stalk a gypsy encampment seeking revenge for an ancient curse. (Along the Ghost Town backstreets near the Lockdown and Delirium mazes)
> Necropolis -- Victorian Steampunk vampires haunt a city of the dead. (In Camp Snoopy)
> Carnevil – Evil clowns and gruesome carnies perform bizarre sideshows. (In the Boardwalk area)
> Ghost Town – The renowned "slider" monsters lurk around every fog-filled corner. (In the Wild West area)
Also returning for 2011: "The Hanging" pop-culture comedy revue, plus several shows.
---
Get inspired to get away.
Explore California, the West and beyond with the weekly Escapes newsletter.
You may occasionally receive promotional content from the Los Angeles Times.