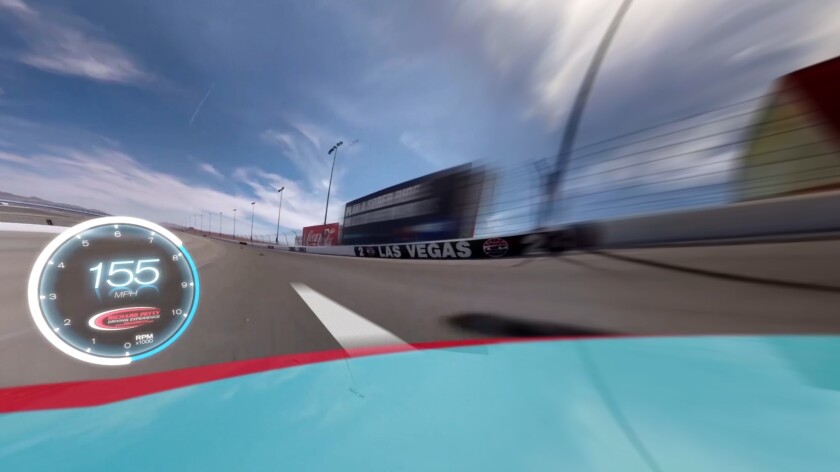 Las Vegas is the latest destination to take the virtual-reality plunge with an app that will let you drive, float and sail through Sin City — without ever getting off the couch.
A new free virtual-reality app available for Android and Apple devices will take you soaring beneath the Fremont Street Experience's lighted canopy on the Slotzilla zipline and zooming around the track at the Las Vegas Motor Speedway with the Richard Petty Driving Experience.
For luxury-minded Vegas visitors, you can take a tour of the Nobu Hotel at Caesars Palace or let Chef Julian Serrano show you around the Lago restaurant at Bellagio.
Les Shu at Digital Trends writes about how 360-degree virtual reality apps and sites will rock your world (if they haven't already) when you get the travel itch.
"... Imagine walking through a hotel room before you book, or exploring a location's sights and sounds as you narrow down a shortlist of vacation destinations, all from inside your home and using your phone," he writes.
Cathy Tull, senior vice president for marketing at the Las Vegas Convention and Visitors Authority, couldn't agree more. She too describes virtual reality as "the future of vacation planning," adding that it provides the buzz to inspire potential visitors to book trips.
With the Vegas app, as with other virtual reality apps, you can zoom in and out and tilt the screen while watching the city unfold in 360-degree experiences. And the app's videos are compatible with Oculus Rift, Google Cardboard and other viewers.
Other signature Vegas "journeys" include a gondola ride through the Grand Canal Shoppes, a helicopter ride over the Strip, and a leisurely drive through scenic Red Rock Canyon.
A total of 12 experiences are currently available, with more to be rolled out later this year.
Info: Las Vegas VR
MORE
Las Vegas deal: $150 credit for spring breakers at Palazzo or Venetian
Magician Criss Angel to start new 'Mindfreak' live show in Las Vegas
First pot dispensary on the Strip opens in Las Vegas
Shhh! A secret pop-up picnic is coming to Las Vegas -- and you're invited
---