National park visits are climbing -- especially (wait for it) at Joshua Tree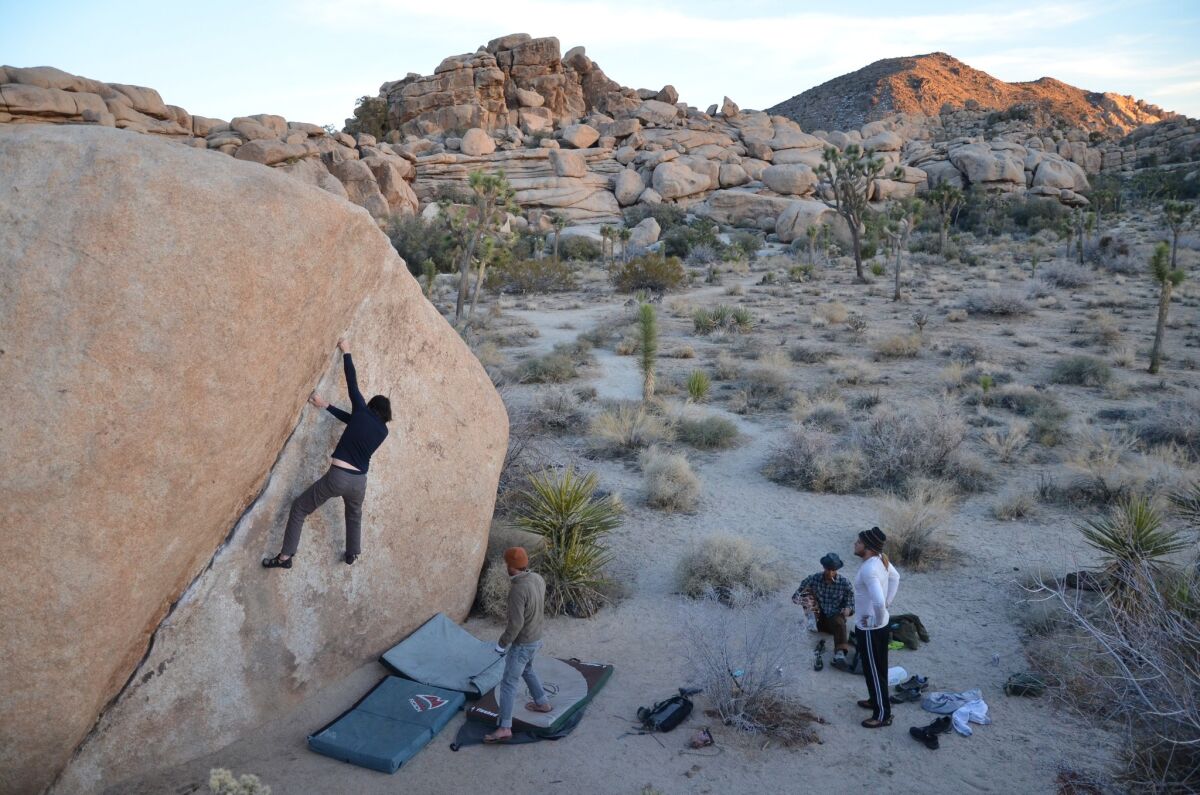 National park visitor traffic surged in 2015, as did visits to most of California's national parks — especially Joshua Tree, which posted a 27.43% increase in visitors.
Nationwide, rangers counted 305 million visitors to the park system's 409 units. National Park Service director Jonathan B. Jarvis said that marks not only an increase from 2014's 292.8 million visitors, but an all-time high for the agency. The NPS has been making a marketing push to celebrate its centennial in 2016.
The increase at Joshua Tree — which tallied 2,033,436 recreational and non-recreational visitors last year — brought the park to a record high as well. The increase came despite a June increase in fees for admission, camping and tour fees. Entrance to Joshua Tree is now $20 for a seven-day, one-vehicle park admission (and is tentatively scheduled to reach $25 in 2017).
"Part of [the increase] has to do with all the publicity for the centennial, but we have been steadily climbing over the last five or six years," said park spokesman George Land, who noted that many visitors to Palm Springs and the Coachella Valley have started adding the park to their itineraries.
Joshua Tree Superintendent David Smith said in a release that the numbers showed that "we are no longer a fall-through-spring park. The park is attracting new visitors from around the world and many of them come in the summer," which has historically been the park's slow season because of the heat.
Similar forces have been at work in Death Valley for several years. In 2015, Death Valley attendance rose 5.95% to 1,209,938. Ranger reported that the park's busiest month was August, when rangers counted 123,900 recreational users despite sweltering temperatures.
Park Service figures for the state's other full-fledged parks (except for Redwood National and State Parks, which hasn't posted numbers yet) show the results below. The figures include recreational and non-recreational visits.
Yosemite attendance rose 6.58% to 4,294,381.
Sequoia's attendance was up 5.82% to 1,103,362.
Kings Canyon's attendance was down 5.61% to 499,862.
Lassen Volcanic's attendance was up 8.11% to 468,094.
Channel Islands attendance was down 4.17% to 334,181.
Pinnacles attendance rose 5.03% to 206,533.
MORE ON PARKS:
christopher.reynolds@latimes.com
---
Get inspired to get away.
Explore California, the West and beyond with the weekly Escapes newsletter.
You may occasionally receive promotional content from the Los Angeles Times.