Here's where you're likely to see the filming of 'Hawaii Five-0' and 'Magnum P.I.' in Hawaii
Fans of two popular TV shows filmed on Oahu can now visit some of the locations popular with their directors.
Timmy Chinn, CBS' longtime location manager for "Hawaii Five-0" whose duties now include the relaunch of "Magnum, P.I.," is happy to share the "wheres" for many of the shows' breathtaking backdrops but not the "whens" McGarrett or Magnum might be shooting a scene.
"We're not allowed to tell the public where we're going to be," Chinn said. "People like to watch, but we don't like disturbances."
The reincarnation of "Magnum P.I.' stars Jay Hernandez as private investigator Thomas Sullivan Magnum. The original show starred Tom Selleck and ran for eight seasons.
"Beyond the fact that it doesn't star Tom Selleck and that these are not the 1980s, there is nothing wrong with the reborn, lightly rebooted 'Magnum P.I.,' which… joins 'Hawaii Five-0,' 'S.W.A.T. and 'MacGyver' in the CBS House of Reborn, Rebooted Mysteries," L.A. Times TV critic Robert Lloyd wrote in his assessment of the redo.
The original "Hawaii Five-0," starring Jack Lord and James MacArthur, made its debut in 1968. Steve McGarrett, played by Lord, was the square-jawed good guy whose success in nabbing the worst of the bad guys was often punctuated with the pronouncement to his right-hand man, Danny Williams (MacArthur), "Book 'em, Danno."
Many of the locations are open to the public and most are free. Here are 11 you can easily find:
►Diamond Head. Scenes have been shot inside and outside the volcanic crater at the southern edge of Waikiki. Fee.
►Haleiwa, the former sugarcane-growing town now associated with surf culture.
►Heeia State Park on Oahu's windward (eastern) side. "We go there for a lot of jungle work," Chinn said.
►Hanauma Bay State Park on Oahu's south side provides respite from the crowds of Waikiki for actors and tourists alike. Fee.
►Kualoa Ranch, a vast expanse still known for its role in "Jurassic Park." "That's a really good place to shoot," Chinn said. "You're always finding new stuff … and different angles." Fee.
►Magic Island Lagoon at Ala Moana Beach in Honolulu provides good backdrops for beach and water scenes.
►Maili Beach Park offers the seclusion the crews must crave. This beach is south of Waianae in West Oahu, well off the radar of most visitors, and has a mountainous backdrop
►National Memorial Cemetery of the Pacific is often overlooked despite its proximity to downtown Honolulu. In "Hawaii Five-0," Steve McGarrett's father is buried there.
►Sunset Beach along the North Shore draws international surfing competitions during the winter months. The cast and crew avoid that area then because of the crowds.
►Tantalus Lookout in Puuualakaa State Wayside is in a cinder cone close to Honolulu. "It's a gorgeous, 180 (degree) view of the south side of the island," Chinn said.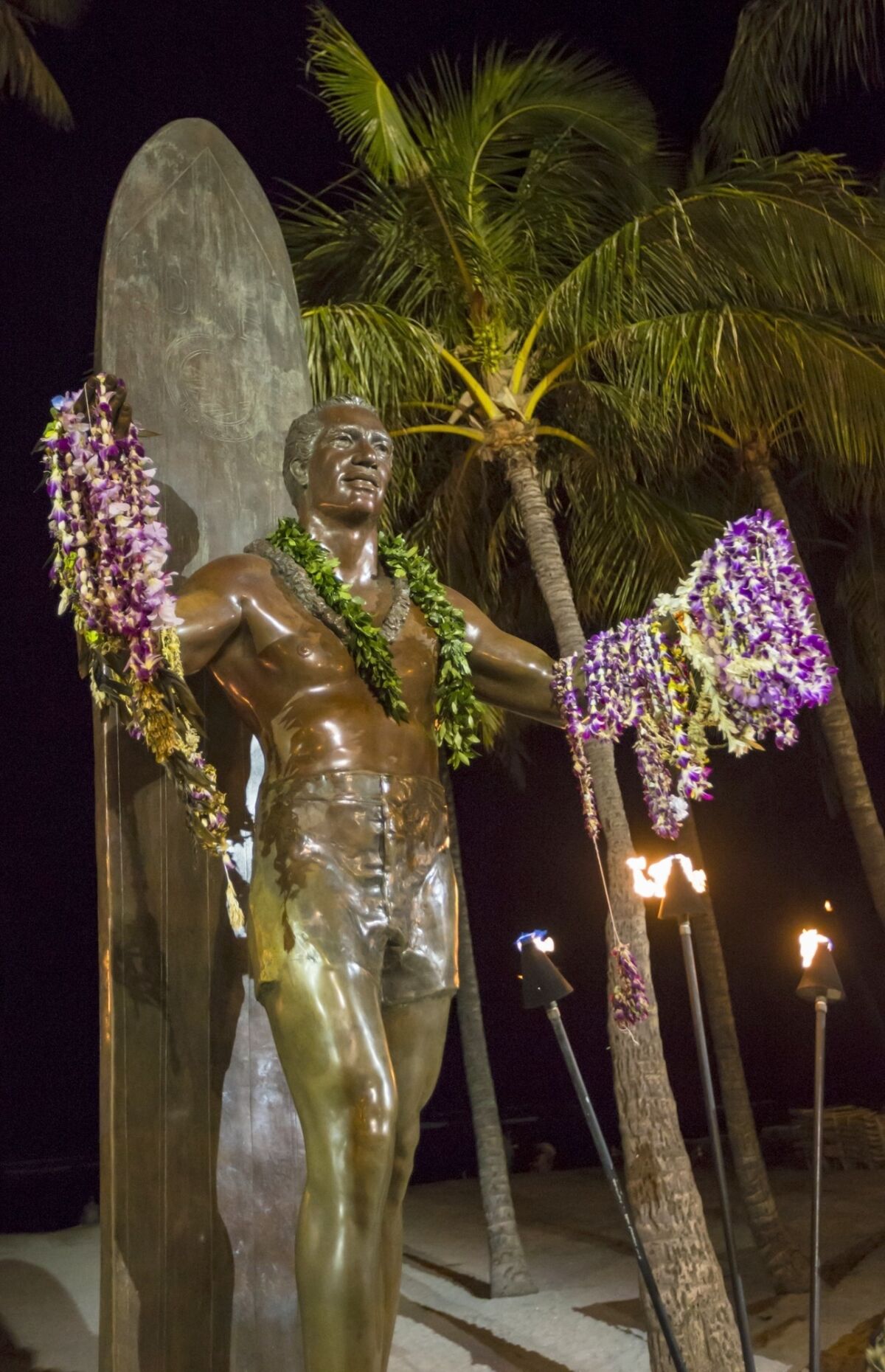 ►Waikiki Beach is, for many people, synonymous with Hawaii, a fact not overlooked by CBS. "There's a statue of [surfing legend] Duke Kahanamoku on Waikiki Beach. [Director] Bryan Spicer likes that," Chinn said.
Waikiki Beach is the most likely place to spot the cast and crew, but it is not a closed set when filming is going on there.
"In Hawaii, the beaches are all public, so you can't legally close a beach," said Chinn, a Hawaii native. "When we get a permit, we're allowed to ask people, 'Can you stand back?' In Waikiki, we'll set up an area that's off-camera if they want to watch."
As many as 500 fans have been known to gather to watch the action, Chinn said.
"Generally, people are very cooperative," Che said.
For folks seeking even more insider knowledge on which episodes were shot where, various Hawaii Five-0 tours can be found online.
Get our L.A. Goes Out newsletter, with the week's best events, to help you explore and experience our city.
You may occasionally receive promotional content from the Los Angeles Times.