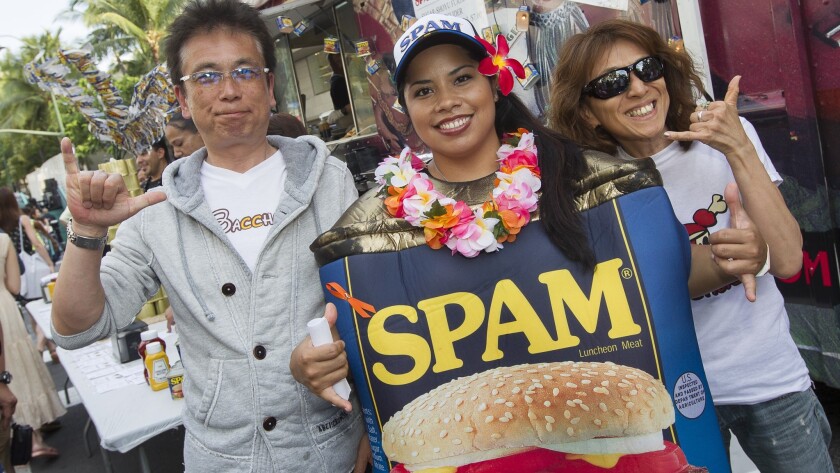 All things Spam will greet tens of thousands of people at the annual festival celebrating the canned meat.
Spam — short for "spiced ham" and beloved by Hawaiians, is at the core of Waikiki Spam Jam. Spam made its way to Hawaii during World War II as a ration for GIs. It remains a staple in many islanders' pantries.
The event will take over Kalakaua Avenue, the main drag, from 4-10 p.m. on Saturday.
Live entertainment will be provided on two stages, but the biggest lure may be the multitude of food vendors serving up Spam in myriad creative dishes.
Beverly Zehnter of Montana will serve her Reuben Spam Rollups, the grand prize-winning recipe in the Great American Spam Championship. Her creation, available at the Hula Grill Waikiki food tent, combines diced Spam, Thousand Island dressing, sauerkraut and Swiss cheese.
As her prize, Zehnter and her husband won a trip to Honolulu to attend the festival.
Other offerings will include cheesecake, fried rice, mac and cheese, sliders and tacos, all featuring Spam. One entrepreneur will even be selling Spam-infused Popsicles.
Admission to the festival is free. Proceeds benefit Hawaii Food Bank.
Follow us on Twitter at @latimestravel
---