Let your dog come along for the summer ride with a few tips on comfort and safety
A big dog can cause big problems when it comes to vacation — and I speak from experience.
In the past decade, my family has taken scores of road trips with Shalom, our 75-pound German shepherd/mutt. Through the years, we've tried various seating — and packing — configurations so both man and beast were safe and comfortable. Some of the solutions:
New roof box
My decade-old rigid roof box worked fine on a station wagon, but when I switched to an SUV, it blocked the hatch from opening high enough to allow Shalom to jump into the back of my car.
Road trips: where to go and what to know
Fortunately, there are cargo boxes — check out the Yakima and Thule websites — designed to work with today's hatchbacks.
Downside: Certain boxes will make some vehicles too tall to fit in a garage with low clearance.
Info: Prices vary, but expect to spend $350 to $1,000. Available at Yakima (www.yakima.com) and Thule (www.thule.com).
Swing-away cargo carrier
Rola Adventure System With Swing Away may be a mouthful, but it's also ingenious.
An enclosed 13-cubic-foot polypropylene cargo box sits on a tray attached to a steel arm that slides into the receiver for a trailer hitch.
With the release of a few pins, the box swings away from the vehicle, allowing full access to the cargo area.
Downside: Remembering the tray is there when backing up.
Info: Rola Adventure System, costs $700. www.lat.ms/rolaadventure
Steps
After struggling to fit an older dog and a dog ramp in my SUV at the same time, I found the Twistep, a 22-by-19-inch rubber-coated step attached to a short arm that fits into a trailer hitch.
When your dog doesn't need it, you turn it toward the car so it rides under the rear bumper. When your dog needs it, a quick-release pin allows it to pivot away from your car, where it clicks into place to become a step behind your vehicle.
My dog figured it out in no time.
Downside: It lowers the clearance of your vehicle.
Info: Twistep, costs about $250. www.twistep.com
Pet restraints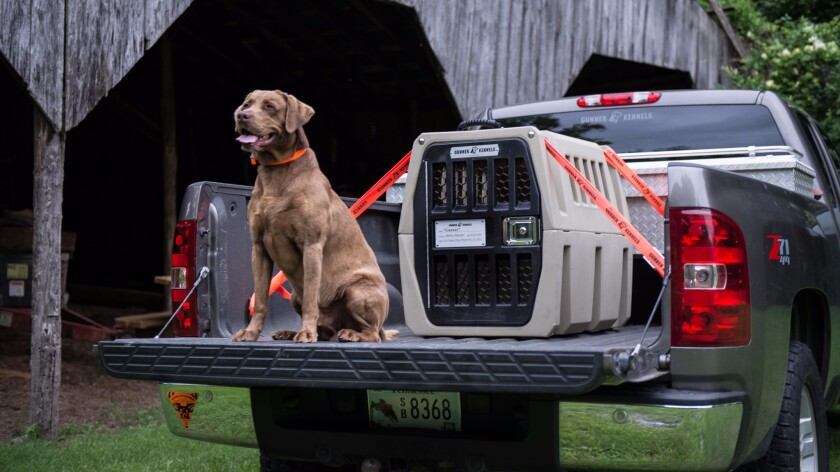 Pets must be restrained in the car to keep them from interfering with the driver or becoming a projectile in an accident.
"Crash protection and distraction prevention are very different," said Lindsey Wolko, founder of the Center for Pet Safety, a nonprofit watchdog group that runs independent tests on restraint products (which are otherwise unregulated).
"You can go to your local big-box retailer and get a distraction-prevention tool for under $20, but it won't protect you, your family or your pets if you get into a crash."
Current recommendations include:
Crates: The Gunner Kennel G1 Intermediate crate is packaged with strength-rated anchor straps. It's shown in advertisements in the bed of a pickup truck, but the center advises owners to secure the crate in the cab — and not to put a dog in a crate on top of a car or in a trailer behind a car.
Info: Gunner Kennel G1, costs about $500.
Soft-sided carriers: The Sleepypod Mobile Pet Bed with PPRS Handilock and PetEgo FormaFrame Jet Set Carrier with Isofix-Latch Connection passed tests while buckled in with a seat belt. They can also be secured in the cargo area of an SUV, Wolko said.
"If you've got a soft-sided carrier that's not crash-tested, put it on the floor behind the driver's seat," she added.
Info: Sleepypod Mobile Pet Bed, costs about $190. (If you are considering harnesses, the center recommends the Sleepypod Clickit Utility and the Sleepypod Clickit Sport.) PetEgo FormaFrame Jet Set Carrier costs about $250.
Downside to any restraints: Pets may need to be acclimatized to the crate or harness to ensure they stay calm and don't distract the driver.
Bowls
I've used two spill-proof bowls during long rides: the PortablePet WaterBoy and the Road Refresher.
Downside: If you leave the bowl in a car on a warm day, the water may get too hot to drink.
Info: Prices for PortablePetWaterBoy and Road Refresher range from $13.50 to $25.
Expert advice
If your dog is anxious or fearful in the car, or if your dog becomes sick, see a vet, said Liz Stelow, a veterinary behavior specialist with the UC Davis School of Veterinary Medicine.
Dogs might show that they are anxious by panting, pacing, vocalizing or drooling. They may need medication or behavior modification before going on a car trip. Motion sickness can also be treated.
Stelow reminds pet owners that dogs are likely to want to stop to relieve themselves more frequently than their owners. (Be sure to keep them on a leash so they don't become spooked by unfamiliar surroundings and dart off.)
Have an incredible road trip story or a useful tip? Share your memories and suggestions with us in the comments.
---
Get inspired to get away.
Explore California, the West and beyond with the weekly Escapes newsletter.
You may occasionally receive promotional content from the Los Angeles Times.