Harry Ross has spent 50 years as an Alaska Railroad conductor. Meet him before he retires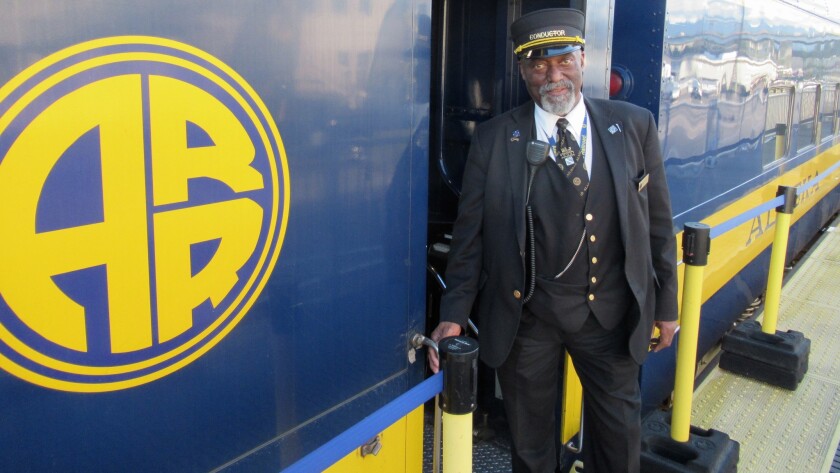 Harry Ross has five decades' worth of stories to share with passengers aboard an Alaska Railroad route, but they had better hurry if they want to hear those tales.
Ross, who celebrated his 50th anniversary with the Alaska Railroad in March, will be taking off his conductor's uniform for the last time when he retires in mid-September.
Until then, Ross will be greeting people aboard the Coastal Classic, the tourist train between Anchorage and Seward, with the exception of the first half of August when he will be riding his motorcycle to the Sturgis Motorcycle Rally in South Dakota.
Ross, who turned 72 on July 9, just keeps on going, despite the prejudice he faced as a young man. When hired in 1968, he was the railroad's first black brakeman. He took the job after being turned down by the former Western Airlines because of the size of his Afro haircut.
"They didn't give me any option of cutting it," he said. The attitude at the railroad was much different. "As long as I put that hat on and did what I had to do, it was all good," he said.
"It's just an amazing job," he said. "I really love working passenger trains. I love working with people. I love showing people what Alaska's about and what I'm about."
Plenty of passengers recognize Ross as they board the train, having seen him on TV during the three seasons he appeared on Destination America's "Railroad Alaska" show.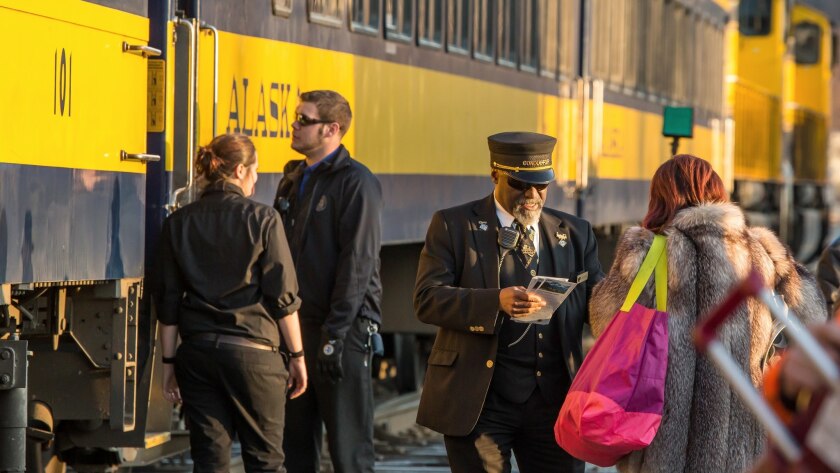 "A lot of people see that, and they want to take pictures with me," he said.
"Alaska's a great, great state and there's a lot to see," he continued. "When someone's there to tell you about it, then you understand what it's all about a little bit better. And I enjoy doing that."
Ross said he never kept track of how far he has traveled by rail.
"I'd say millions of miles. When I first hired on, I was going back and forth to Fairbanks at least three times a week. And that's 356 miles one way."
People wanting to ride with Ross will find him on the Seward run Saturdays, Sundays, Mondays and Tuesdays through the end of the season on Sept. 16. That, of course, is with the exception of the first half of August when he himself will be on vacation.
The Coastal Classic departs Anchorage at 6:45 a.m. and returns at 10:15 p.m. Along the way, Ross and other crew members share information about the scenery, which includes rushing rivers, towering mountains and sprawling glaciers.
The trip includes a seven-hour stop in Seward, during which many passengers take boat trips to view both glaciers and marine life.
Adult, round-trip fares cost $172 in Adventure (standard) class and $351 with Gold Star Service. It includes meals and seating in modern dome cars.
ALSO
TSA screeners may ask you to remove snacks from your carry-on bag. So be ready
Cook like a local in these 4 culinary classes in the West
On the way to Vegas, here's a monster discovery in Jean: the platinum standard for pit stops
---
Get inspired to get away.
Explore California, the West and beyond with the weekly Escapes newsletter.
You may occasionally receive promotional content from the Los Angeles Times.