Ugly? Hardly. This Ontario train trip showcases scenery that changed Canada's perspective of its landscape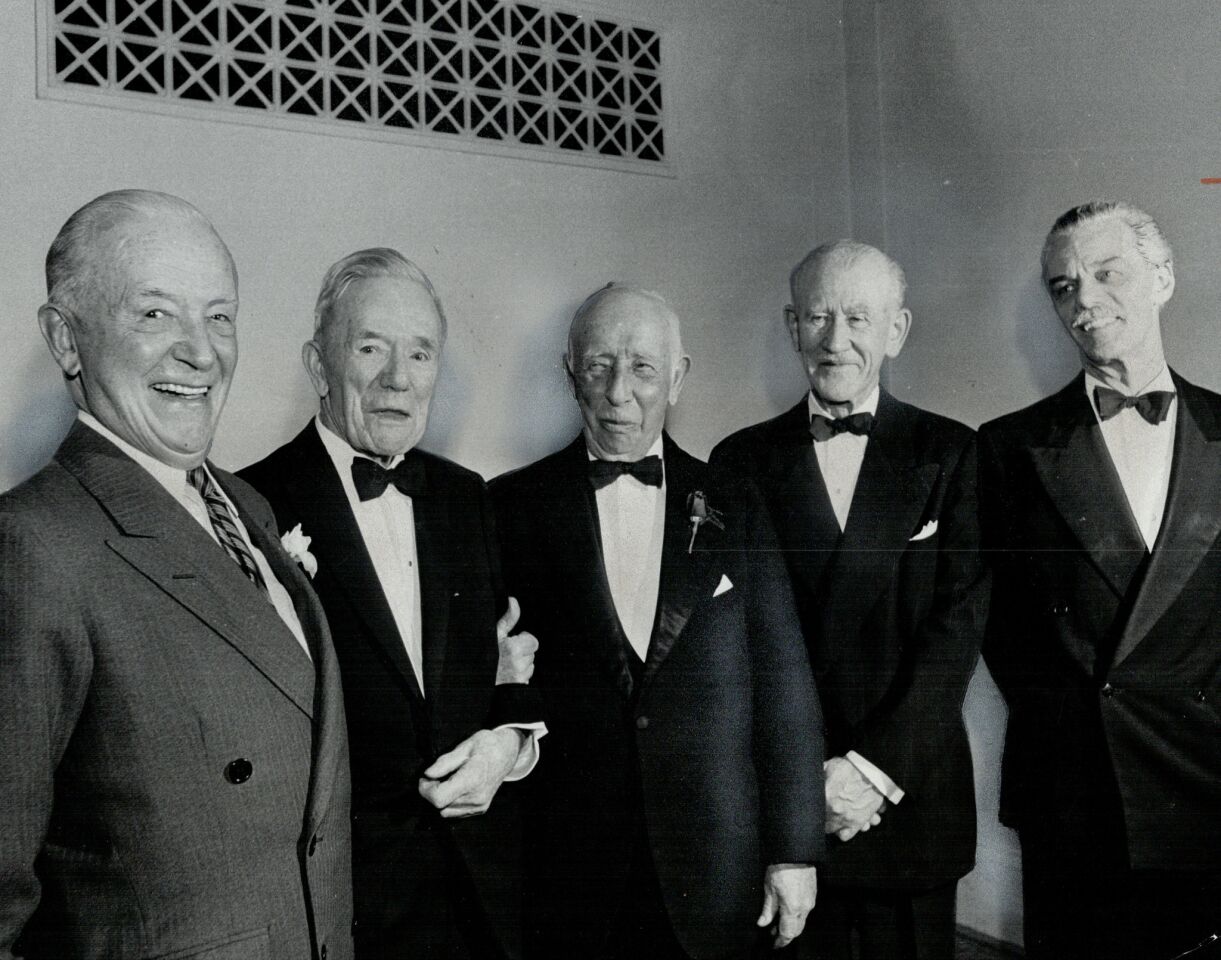 Some of the Group of Seven artists after a 1965 testimonial dinner in their honor: from left, Edwin Holgate; Fred Varley; A. Y. Jackson; A. J. Casson; and, representing his father, Lawren Harris Jr.
(Barry Philp / Toronto Star via Getty Images)
CANADA - MAY 14, 1982: Vivid contrast: Naomi Jackson Groves; 71; niece of A.Y. Jackson; points out a feature of the painter's work Mountains Of Alaska to AGO curator Dennis Reid. A total of 81 works by the Group of Seven member will be on view until June 27; providing at least a different vision to that evoked by The Dinner Party; Judy Chicago's controversial installation also being displayed at the Art Gallery of Ontario. (Credit: Dick Darrell / Toronto Star via Getty Images)
(Dick Darrell / Toronto Star via Getty Images)
Reporting from Sault Ste. Marie, Canada —
Canada's Algoma region, a vast near-wilderness in Ontario, is so scenic that a heralded group of landscape painters visited repeatedly a century ago.
This Group of Seven, as they were known, developed a distinctly Canadian style, influenced in part by their travels in this region, which stretches north from Sault Ste. Marie on the Canada-U.S. border.
Their works helped change the national perspective on this slice of the Canadian landscape, once thought ugly and unpaintable.
Access to the area was provided by theAlgoma Central Railway beginning in 1900, when it began to build north from Sault Ste. Marie to Hearst, 296 miles away.
Algoma Country still beckons sightseers and photographers, as it did my wife, Laurel, and me last August, and that railroad carried us.
The local train that covered the entire route was discontinued in 2015 because of financing issues.
But the railroad still runs the Agawa Canyon Tour Train, which we rode. (This year, it continues through Oct. 15.)
The all-day excursion travels 114 nonstop-scenic miles to Agawa Canyon Wilderness Park, accessible only by rail. The tracks curve past dozens of lakes and rivers and offer distant views of Lake Superior.
Crossing Algoma country
The train was made up of four coaches, a dining car and a snack car. The coaches had been acquired in 2009 from Colorado's then-defunct (Amtrak revived it last winter) Ski Train and thoroughly refurbished and upgraded.
Though the tour train left behind the industrial cityscapes of Sault Ste. Marie, we took technology with us, thanks to features added when the rebuilt cars entered service in 2012.
A gong announced points of interest, followed by GPS-triggered commentaries broadcast in English and available by wireless headsets in French, German, Japanese, Mandarin and Korean.
The rebuild also added flat-screen monitors in a nod to the contemporary disinclination to be long separated from video screens. The coaches' windows were broad and sparkling clean, yet eyes, mine included, were drawn to the screens.
We were traveling across the Canadian Shield, a vast area of Precambrian rock typified by lakes, rivers and forests.
For background, a geology lesson accompanied by heroic music played on the screens, interrupting the "engineer's-eye view" of the track ahead that was the video fallback.
Because we enjoy dining-car meals, we ignored the advice of the clerk at our motel to stop at the iconic (and ubiquitous) Tim Horton's chain for coffee and breakfast pastries to take aboard, and at Subway for lunch goods.
Fall is the most popular season, with its dazzling foliage, and an expanded train can carry as many as 800 passengers.
The railroad meals were pricey, he thought. Thus warned, we waited our turn for breakfast in the dining car as coaches were called one at a time. Ours, named Mongoose Lake, was next to last, by which time we were more than ready for coffee.
"Are the scrambled eggs cooked fresh?" I asked the server after scanning the menu and passing up the egg frittata panini.
"Yes, but not to order," she said, telling me what I needed to know if only I had listened.
Laurel did much better with the yogurt and house-made granola (about $3.20 U.S.).
We were happier with our luncheon: a BLT sandwich with maple bacon and organic plum tomatoes (about $6.30 U.S.), which we washed down with an excellent ale from Northern Superior Brewing Co., a local microbrewery.
Other lunch options included bacon-wrapped chicken, lasagna and cannelloni, along with salads and other sandwiches.
The presentation was unassuming, with bare tables, but the servers genial.
We were lucky that day because the train was less than half-full, which meant we had a pair of facing seats to ourselves, so lots of leg room and unencumbered views out the window.
As configured for our departure, the train could have accommodated 268, but there were only 110 of us.
These numbers I learned from Gary, one of two "travel ambassadors" aboard from Tourism Sault Ste. Marie, which works closely with the train.
Fall is the most popular season, with its dazzling foliage, and an expanded train can carry as many as 800 passengers. "Book by July 1 if you want to ride," he said.
The Agawa Canyon Tour Train-Tourism Sault Ste. Marie partnership extended to the Visitors Guide handed out on board, with six pages of historical and geographical background for the trip, including maps of the route and of the park.
The route map is littered with blue: Achigan Lake, Trout Lake, Mekatina Lake, Mongoose Lake (our car's namesake), Batchawana River, Spruce Lake and many more, each a different view out the window.
The last dozen miles into the park were dramatic, as the line dropped into the canyon and crossed the Agawa River, which it had been following.
Landscapes that inspire
Then we were there, with 90 minutes to walk various well-groomed gravel trails. The network included the Lookout Trail, for a panoramic view of the canyon, and the Talus Trail along the base of the canyon wall.
We started on the River Trail, then veered inland across the tracks to photograph North and South Black Beaver Falls.
On the way we passed an easel holding a display titled "Great Artists Paint Bridal Veil Falls," part of a "Moments of Algoma" series featuring the Group of Seven.
The largest oil replicated in the display is Lawren Harris' "Waterfall, Algoma." Under it is J.E.H. MacDonald's "Algoma Waterfall."
They were the two among the group who most often used the Algoma Central to reach favored painting locations; the railroad cooperated by outfitting a box car as a studio and living space for the artists.
A replica of the car, made for "A Painted Land," a recent documentary about the Group of Seven, is on display in Sault Ste. Marie.
The tag line for the "Moments of Algoma" project is "capture your moment." With that in mind, we headed back to the River Trail and set out for the Bridal Veil Falls lookout.
"How much farther to the falls?" we asked some hikers headed toward us.
"It's close," they said, looking a bit dispirited. "But it's dry."
Indeed it was, with nothing but a dark stain on the rock face showing us where the 225-foot-high falls had been — and would be again, of course, for some other group in a wetter season.
No matter. The tannin-stained waters of the Agawa River, the Black Beaver Falls and the train ride itself were ample reward.
The return legs of round-trip excursions are typically low-key, with drowsing allowed, and this one was no exception, though new vistas were opened by the reverse direction of travel.
This time I paid more attention to the frail, isolated vacation dwellings — Mashkode, Château Rand, the signs read — dotting the right of way.
Their remoteness has been highlighted by the loss of the local train, which once provided crucial access. These structures, some deteriorating, tell the story of the Algoma as eloquently as the lakes and mountains.
If you go
THE BEST WAY TO SAULT STE. MARIE, CANADA
From LAX, Southwest offers direct flights (stop, no change of plane) to Grand Rapids, Mich., and United, Delta, American and Southwest offer connecting service (change of planes). Restricted round-trip fares from $355, including taxes and fees. Sault Ste. Marie is about 290 miles north of Grand Rapids.
When you visit the Agawa Canyon Tour Train website ([800] 242-9287), you'll be encouraged to book a train-lodging package through Tourism Sault Ste. Marie ([800] 461-6020), which we did. Multi-night packages start at about $140 (U.S.).
A range of hotel/motel options is offered, and we chose mid-range: the perfectly pleasant Ambassador Motel.
---
Get our L.A. Goes Out newsletter, with the week's best events, to help you explore and experience our city.
You may occasionally receive promotional content from the Los Angeles Times.