A perfect beach day in California takes some prep if you're using a wheelchair, but it can be done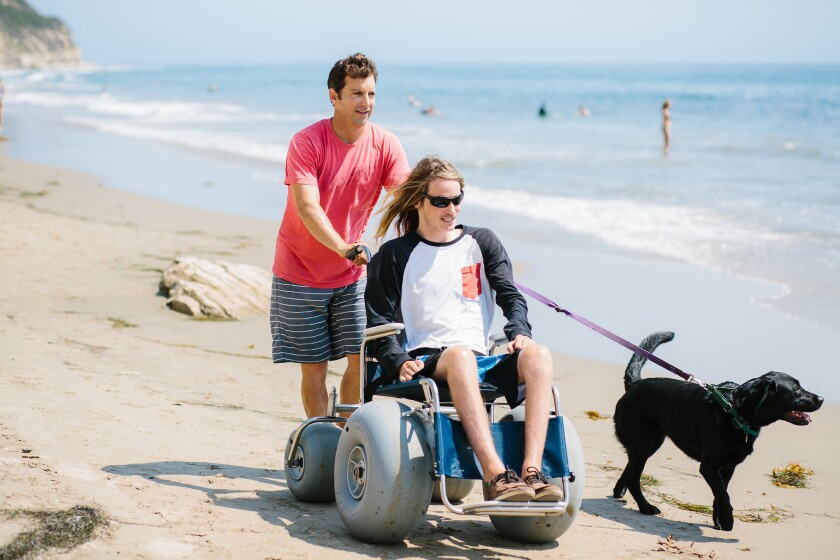 Your perfect beach day may await you somewhere along California's 840 miles of coastline.
Mine looks like a long stroll along Stinson Beach in Marin County, where an all-terrain wheelchair gets me right to the shoreline to comb for heart-shaped pebbles.
You can borrow beach wheelchairs free at dozens of locations up and down the Golden State. Lightweight and sporting big tires that move across sand, these chairs allow people with mobility disabilities to experience the beach in ways that weren't possible a generation ago.
"They're a game changer,'' said Bonnie Lewkowicz, a travel access specialist who reviewed beaches throughout the state for WheelingCalsCoast.org, a visitor guide for wheelchair riders funded by the California Coastal Conservancy.
She provides details on trail routes and key features such as terrain, restrooms and pathways so people can decide what might work for them.
Although the website hasn't been updated in at least five years, it still holds up as the most comprehensive information online about California's accessible beaches.
Recently, "Someone sent me an email saying, 'I'm bringing my father from Arizona, he's in a wheelchair and we need an accessible pier, a beach wheelchair and a place where we can bring the dog,''' Lewkowicz said.
Beach wheelchairs are just the most visible evidence of California's commitment to make the coast accessible to all visitors, said Amy Hutzel, deputy executive director of the Coastal Conservancy.
Using state bonds, the conservancy issues grants to public agencies and nonprofits to acquire beach wheelchairs, improve parking lots and build accessible restrooms, trails and visitor centers.
"It's important to be improving facilities but then also making sure the information is available,'' Hutzel said. "So Bonnie's work is important so people can make that decision to visit a site and know what they are going to experience when they get there.''
Before you go, do a quick research on the beach you'd like to visit. Find out the process for borrowing a beach wheelchair. In most cases, it's first come, first served. There may be time limits, reservation systems or other requirements that call for planning.
Long Beach residents Catherine Campisi and Ralph Black want to get as close to the water as possible so that Ralph, who is blind, can get in and Catherine, whose beach wheelchair Ralph pushes, can be nearby to enjoy the ocean up close and help guide him.
For the ultimate experience, they said, they head south to San Diego's Mission Beach, one of the few sites where you can borrow a motorized beach chair.
"It was great — I could go on my own,'' said Campisi, adding that people who have difficulty with balance should be mindful of the bumps.
Be aware that any borrowed piece of equipment, such as a beach wheelchair, will not be customized to your needs. Campisi requires leg support, so she brought a box to use as a foot rest on their second visit to Mission Beach.
"You have to know what you need and adapt yourself to the chair,'' she said. "But just to be able to do it yourself and get down by the water was totally awesome.''
San Diego's beaches generate a lot of buzz for their great accessibility and that's by design, said Jon Richards, supervising therapeutic recreation specialist with San Diego's Parks and Recreation Department.
Richards is passionate about making beaches work for a variety of people with disabilities and always asks himself: "What would I want?"
The result is two motorized chairs at Mission Beach, a variety of manual beach wheelchairs — including some that can get completely submerged — sprinkled around other beaches, and nine locations with beach mats.
"This provides a lot of independence and this is what people are looking for,'' Richards said. "Just being able to roll up and literally roll on the beach.''
As you explore California's coastal trails, you may find that some accessible paths are no longer, thanks to drifting sand or simple wear and tear that can damage wooden boardwalks as I discovered recently at Bodega Dunes Beach in Sonoma Coast State Park.
As you're planning your outing, don't rely solely on website information. Check access conditions before you go by calling the ranger station or visitor center. Ask to speak with someone who has working knowledge of the accessibility features, such as a maintenance manager.
If your travel plans take you to Hawaii, its Disability and Communication Access Board offers traveler tips for each island.
Here's the one for Kauai, the place I return to again and again: lat.ms/hawaiiaccess.
"We wanted to see what were our most accessible beaches made by nature and then add on to that,'' said Linda Nuland-Ames, ADA coordinator for the county of Kauai.
On Kauai, nature and human ingenuity combine to make Lydgate, Salt Pond and Poipu beach parks tops for wheelchair access. You can get down to the water with an all-terrain manual beach chair borrowed from the lifeguards. The process has always gone smoothly for me.
Resources
From all-terrain wheelchairs that get you close to the water to access mats that put you in the middle of the action on the sand, California and Hawaii beaches have a lot to offer wheelchair users.
To plan your California beach excursion, start here with A Wheelchair Rider's Guide to the California Coast, a good site for finding locations of beach wheelchairs and exploring coastal access across the state. Browse by county.
Some information may be out of date, but the site includes links and phone numbers to each beach so you can check ahead.
The California Coastal Commission website can direct you to an extensive list of which beaches offer wheelchairs.
California State Parks also has beach accessibility information on its website.
Visitors can ask questions or report accessibility concerns to the Accessibility Section at (916) 445-8949, toll free at (800) 777-0369, Ext. 5 (711, CA Relay Service), or by email at access@parks.ca.gov.
San Diego boasts a couple of jewel of experiences with two motorized beach chairs available to rent at Mission Beach. You can watch a video to see how it works,
Reservations can be made by calling (619) 980-1876.
Here's more on San Diego beach accessibility.
In Hawaii, sand mats, paved paths and beach wheelchairs are a thing. Knowing exactly which beaches offer which types of access will help you plan. Find island-specific travel tips on this website.
---
Get inspired to get away.
Explore California, the West and beyond with the weekly Escapes newsletter.
You may occasionally receive promotional content from the Los Angeles Times.