Traveling with someone with Alzheimer's is doable. The key is preparation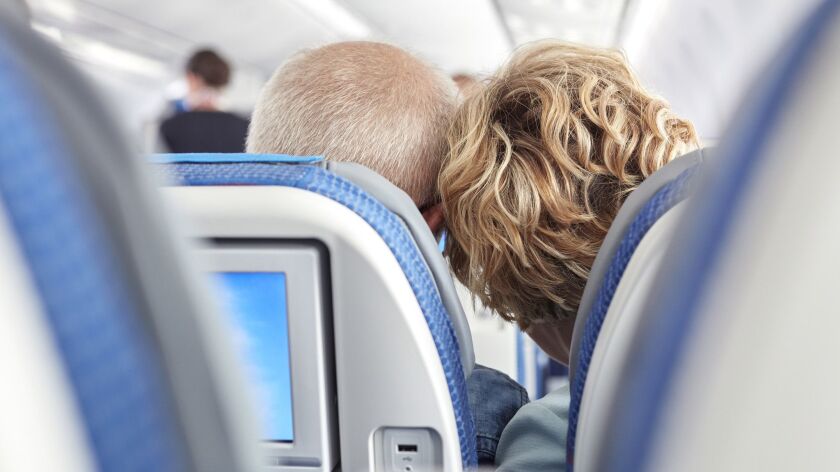 One of Pam Montana's most profound moments in her two-year journey with Alzheimer's disease occurred when her doctor ran through a list of must-dos.
Eat well, exercise and learn a new language, the doctor said. But the single most important piece of advice?
"She said, 'Do what makes you happy,' " said Montana, 63, who has younger-onset Alzheimer's. The former tech executive now lives by that mantra, especially when it comes to travel.
"I have given myself permission to do whatever I need to do, whenever I need to do it," she said. She has traveled to Australia, Nashville, Washington, D.C., and Maui since her diagnosis.
She used to go with the flow on trips, but now she considers carefully how any activity might affect her.
"If my husband wants to go sightseeing, then he can go ahead, but if I'm tired, I'm sleeping in and having room service,'' she said.
Montana, who lives in Danville, Calif., and travels often as a spokesperson for the Alzheimer's Assn., insists on getting as much rest as she needs.
"It's using my voice and being empowered to get what I need," she said.
Montana also avoids early morning flights, layovers, packed itineraries and loud restaurants.
"I have to be selfish, and it's actually a little uncomfortable at times," she said. "I've always just gone with whatever is decided, but now I make intentional choices."
Experts say that's a good playbook for anyone living with Alzheimer's or related dementia. Alzheimer's, a progressive disease affecting an estimated 5.7 million people in the U.S., is loosely defined by three stages — early, middle and late — and symptoms worsen over time.
Before you go on a trip, decide how you will plan and coordinate travel.
"Safety is going to be the biggest concern,'' said Susan Howland of the Alzheimer's Assn. California Southland Chapter. ""It's taking an honest look at where that person is in the disease process and what are the challenges that crop up for that person in determining if they would benefit [from], enjoy and be safe traveling."
Someone in the early stages might become overwhelmed with complex directions from the airport to the hotel, but they can take notes, use GPS and other supportive systems to help them navigate.
"Someone in middle stages is at an impairment where those techniques are no longer useful,'' Howland said. "If I gave them complex and written directions to my house, they may not be able to follow."
Most people with Alzheimer's or related dementias do best in environments that are familiar, calm and predictable, Howland said.
That's hard to accomplish when you travel.
If routine is important, consider visiting favorite destinations. And go the way you've always gone before, whether it's by car, air or train.
Also make sure a detailed itinerary is shared with multiple people.
If a travel companion is needed, consider who is the best person to fill this role.
"If it's a spouse who is the primary caregiver and is already burned out and dealing with new behavioral issues, they might not be the best person to travel with,'' Howland said.
Kevan Watson, co-owner of Box 'n Burn gyms in Santa Monica and Brentwood, made two round-trip flights to Louisville, Ky., in October to accompany his mother to and from Los Angeles so she wouldn't have to travel alone.
Like Montana, Watson's mother was diagnosed with early-onset Alzheimer's. She also loves to travel.
"Everyone's symptoms and reactions are different,'' Watson, 32, said of his 68-year-old mother.
She's easy to travel with, but he made sure to pack reading material, crossword puzzles and electronic devices to keep her mind occupied, something experts say is beneficial.
Once she was settled on the plane, he slipped out of his seat to educate the flight attendants.
"I said, 'Hey just want to let you know my mom has dementia. She's going to ask questions and more than once. Please answer them as if it's the first time.' "
The extra support he provides — making all flight and hotel arrangements, alerting staff ahead of time, planning daily activities — allows Watson's mom to focus on the things that make her happy.
It's widely understood that individuals living with Alzheimer's can become easily overwhelmed and stressed. Some people may wander off. That doesn't mean travel is out of the question.
Medical alert systems and other resources are available to help anyone who wanders find their way back.
The Alzheimer's Assn. helpline (800) 272-3900 is staffed by clinicians 24 hours a day. The service offers translation in 200 languages. If a crisis occurs during a trip, you are urged to call.
Here are some tips that can help:
►Choose familiar destinations and modes of transportation to ensure a level of comfort. This also allows the person to tap into long-term memories.
►Planning is key. Select the best time of day to travel for the person living with dementia and for the caregiver to ensure both are alert and fresh and not hungry or tired.
►Make sure the caregiver and the person living with dementia carry identification at all times.
►Schedule down time. Slow the pace and consider doing fewer activities during the day. This will help all parties to be rest and less overwhelmed by a busy schedule.
---
Get inspired to get away.
Explore California, the West and beyond with the weekly Escapes newsletter.
You may occasionally receive promotional content from the Los Angeles Times.