The Hotel Shattuck Plaza has been reincarnated as a modern gem paying homage to the past.
(Hotel Shattuck Plaza )
The lobby at the Hotel Shattuck Plaza.
(Hotel Shattuck Plaza)
Sushi California's sashimi is prepared by Chef Ryoji Arakaki.
(Irene Lechowitzky)
Rivoli's Moroccan lamb chops and chickpea, cucumber and feta salad.
(Rivoli )
An exterior view of the three-building theatre complex at the Tony Award-winning Berkeley Repertory Theatre.
(Kevin Berne.com )
La Fable (at 1508 Walnut St.) is a new French bistro that serves a nice lunch.
(La Fable)
The exterior of the Hotel Shattuck Plaza.
(Hotel Shattuck Plaza)
Telegraph Avenue may be the spiritual heart of Berkeley and the University of California campus the focal point, but from a visitor's point of view, downtown is the ideal place to stay. It's close to everything and has its own vibe, with an eclectic hodgepodge of iPhone-wielding professionals, hippies young and old, students and the homeless. I stayed downtown for the weekend and met my friends Susan and Rich, who live nearby. The tab: $510, including $370 for two nights at the Hotel Shattuck Plaza and $140 for meals.
The bed
The once-proud 1910 hotel (2086 Allston Way; [510] 845-7300, https://www.hotelshattuckplaza.com) had deteriorated over time, but in 2009 it was reincarnated as a modern gem that pays homage to the past. Step inside and you're greeted by a large 1960s peace symbol gracing the floor; vibrant colors and textures mix with classic black-and-white décor. The classy Five restaurant echoes the past with its antique chandelier, high columns and ornate moldings. Upstairs, my room was snug but stylish with high-tech amenities. All in all, good vibrations — right down to the do-not-disturb signs that say "Peace Please."
The meal
Sushi California (2033 Martin Luther King Jr. Way; [510] 548-0737, https://www.sushical.com), a casual favorite of Susan and Rich's, has a secret ingredient: Chef Ryoji Arakaki. We savored every bite of his delectable sashimi. La Fable (1508 Walnut St.; [510] 849-9995, https://www.lafable.net ), a new French bistro, is a good choice for lunch. I had two petite ham-and-cheese sandwiches and fresh-brewed pear ginger iced tea. Rivoli's (1539 Solano Ave.; [510] 526-2542, https://www.rivolirestaurant.com) illuminated garden backdrop was a hit, as were the portobello mushroom fritters and Moroccan lamb chops. (Skip the braised pork, which was lackluster.)
The find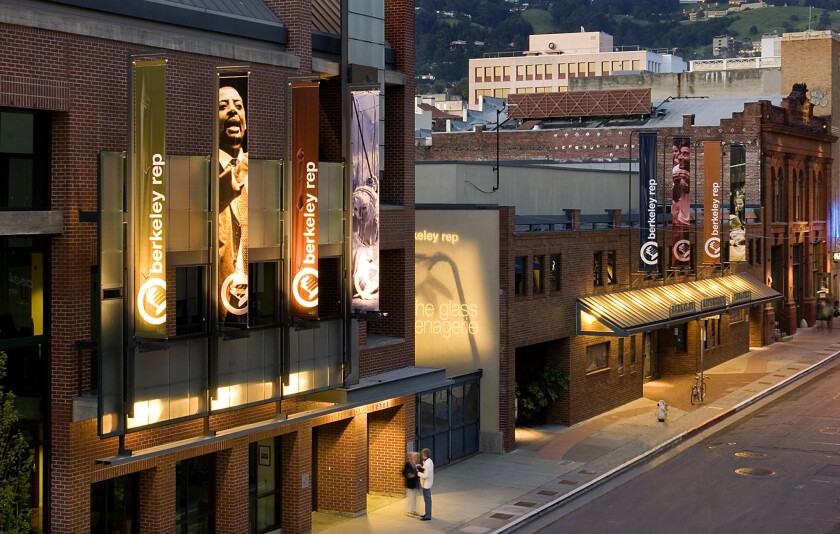 The Downtown Berkeley Arts District (www.downtownberkeley.com/arts-entertainment) is a short walk from the hotel. The Tony Award-winning Berkeley Repertory Theatre takes center stage with two venues; the Aurora Theatre is an intimate space; the Jazzschool showcases — you guessed it — jazz, with an emphasis on teaching as well as performing. Freight & Salvage Coffeehouse, an all-ages venue, is popular for roots and acoustic music. I wished I'd had a kid with me to take to the Saturday matinee of "Knuffle Bunny: A Cautionary Tale" staged at Freight & Salvage by the Bay Area Children's Theatre.
The lesson learned
It's easy to escape the urban crush. Go fly a kite at César Chávez Park, on San Francisco Bay. Take a jog past the wetlands that grace Aquatic Park. Or take to the heights in Tilden Regional Park, in the hills above the UC campus — there are miles of trails and spectacular views of San Francisco and the bay. (Go to "Index of Parks" at https://www.ci.berkeley.ca.us/prw.)
MORE WEEKEND ESCAPES
Salinas, Calif. — welcome to Steinbeck country
Arizona: Bisbee mines its past and artful present
---