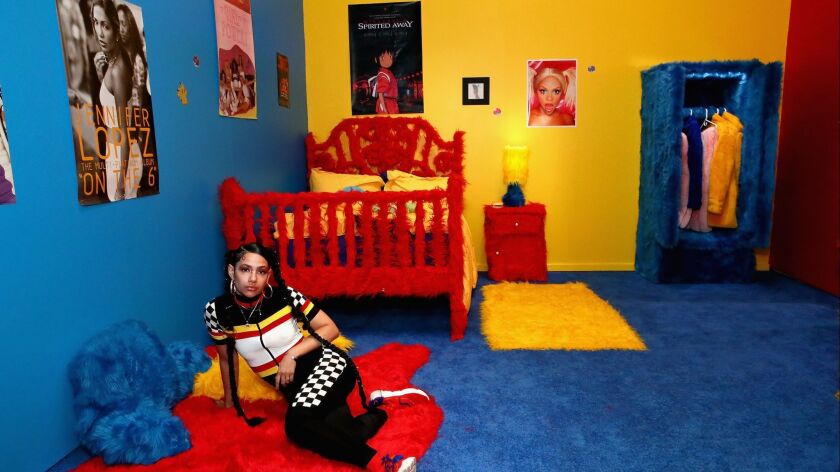 You can kayak with Santa in Ventura, go sledding on real snow in Marina del Rey or go to a pub crawl for a cause in Santa Monica. What's not to love about a Southern California weekend?
Los Angeles
There's a place for everyone at 29Rooms, an interactive arts experience by digital media company Refinery29. Play a retro game show about civil rights in one room, dance with glitter-covered performers in the next and take a class by a local artist in another. It's meant to be immersive, and each room is designed with photo-worthy colors, shapes and materials.
When: 3 p.m. Dec. 5, 11 a.m. Dec. 6-9
Cost, info: $40. Family friendly. No dogs.
San Diego
San Diego's 1,200-acre urban park comes together for Balboa Park December Nights, the city's largest free festival. An international Christmas celebration will serve treats from pirogi to paella, the Old Globe theater will present "Dr. Seuss's How the Grinch Stole Christmas," and local dance groups, choirs and musicians will perform on five entertainment stages. You can also enjoy lights displays, shopping, carnival games and free admission at Balboa Park museums from 5-9 p.m.
When: 3 p.m. Dec. 7, noon Dec. 8; Old Globe "Grinch" performances at 11 a.m. and 2 and 5 p.m. Dec. 8 and 9.
Cost, info: Free, except tickets to "Grinch" start at $29 for adults and $19 for children. Family friendly. No dogs.
Ventura
Ride a paddleboard, kayak or electric boat alongside Santa at Ventura Harbor Village's Santa Paddle. You and Claus will take a group photo and spend a leisurely hour paddling to Channel Islands National Park and back. Wear your holiday best; those most festively dressed will win a $40 gift certificate to use at Ventura Harbor Village. Life vests included.
When: 11 a.m. Dec. 8
Cost, info: Free to participate; equipment rentals $15 to $23. Family friendly. No dogs. (805) 477-0470
Marina del Rey
Glide down a hill covered with real snow at Marina del Rey Snow Wonder. Between sledding sessions and snowball fights, have your face painted, make holiday crafts or grab a snack from a food truck. Stick around for a fireworks show just before 6 p.m.; it kicks off the 56th Holiday Boat Parade, in which festively decorated boats will sail the harbor's main channel.
When: Noon Dec. 8
Cost, info: Free. Family friendly. Dogs OK. (424) 526-7900
Santa Monica
Drink beer in holiday gear — for a cause, of course — at the 10th Santa Monica Pub Crawl, which organizers expect will raise $20,000 for the Westside Food Bank. Buy a wristband for one of four routes (Wilshire Boulevard, Main Street, Third Street Promenade or Ocean Avenue), and enjoy food and drinks specials at up to a dozen participating bars and restaurants.
When: 5 p.m. Dec. 8
Cost, info: $15 to $20. 21 and older only. No dogs.
---