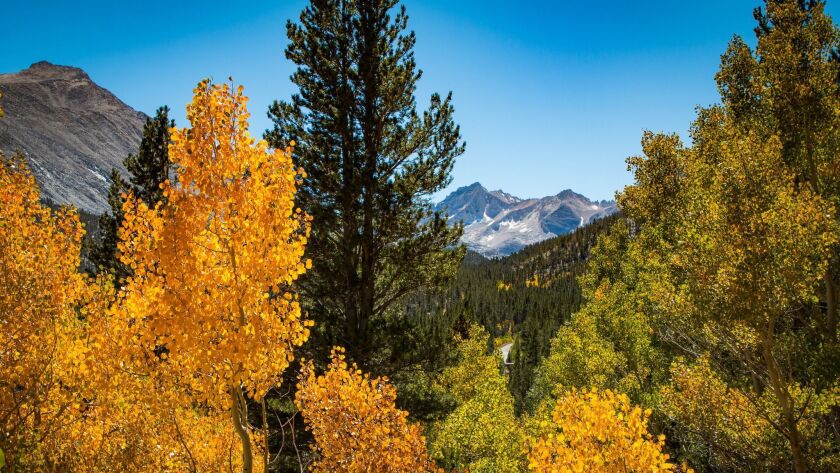 Welcome to fall, California style, which officially starts with the equinox on Saturday, but has been dressing for the occasion for weeks.
In upper altitudes, near peak fall color has already been reported by the state's grand marshal of leaf-peeping, John Poimiroo, and his crew of more than 100 color-spotters and photographers.
Eastern Sierra
Poimiroo reported this week that near-peak color is being found at Sagehen Summit and Rock Creek Lake in Mono County. He estimates that 50% to 75% of all trees or shrubs – mostly aspen – have reached peak color at these locations.
The Eastern Sierra is usually the first region to peak, due to the elevations. Peak autumn color has been seen in individual trees for a couple of weeks across the state.
Spotty color is being seen at Tioga Pass, Yosemite's eastern gate. Colors are also bursting above 9,000 feet in Bishop Creek Canyon, about four hours from Los Angeles. A warm September apparently has slowed the usual pace of the changes in that area, locals say.
According to Poimiroo, California fall color drops about 500 to 1,000 feet in elevation each week.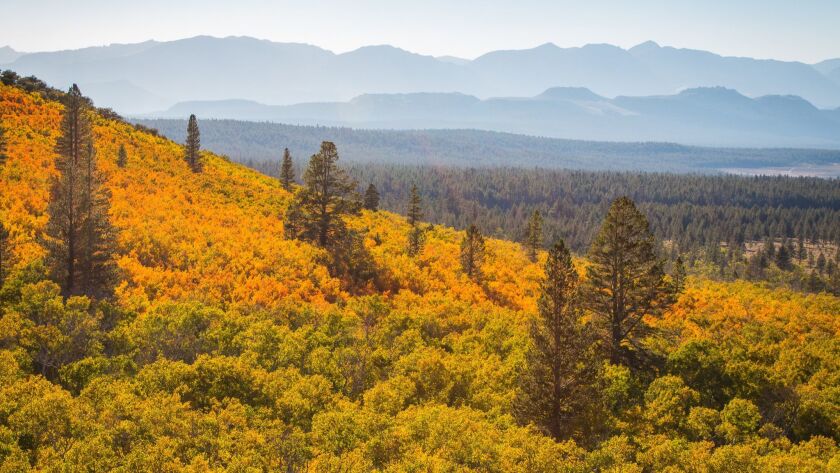 Gold Country
In Amador County farther north, colors are just starting. But Zinfandel grapes in the tiny town of Plymouth, east of Sacramento, "hang in heavy indigo bunches, as they're being harvested now as a few of their leaves are blushing," Poimiroo reports.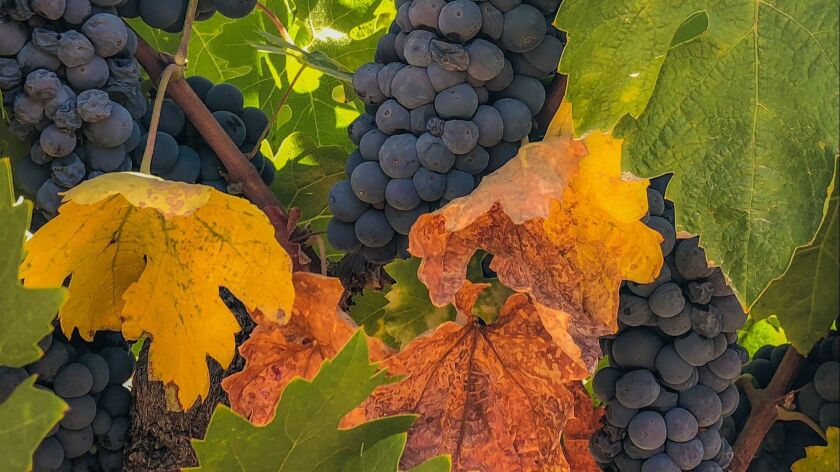 Santa Monica Mountains
Closer to home, the Santa Monica Mountains are just starting to turn. Leaf geeks with an appreciation for the subtle changes in L.A. seasons might appreciate this gem, from the season's first fall color report: "Fox squirrels are stripping the last California black walnut trees of their nuts up Bel Air's wild canyons."
So there's that.
Meanwhile, Poimiroo will issue a leaf-peeping summary of autumn colors around the Golden State each Thursday, ending with Thanksgiving. While the state may not have the reds of New England, its palette does include striking yellows reflecting off mountain lakes and a backdrop of famously clear California skies.
For more photos, go to CaliforniaFallColor.com
---