Unlocking the charm of Gulf's Cedar Key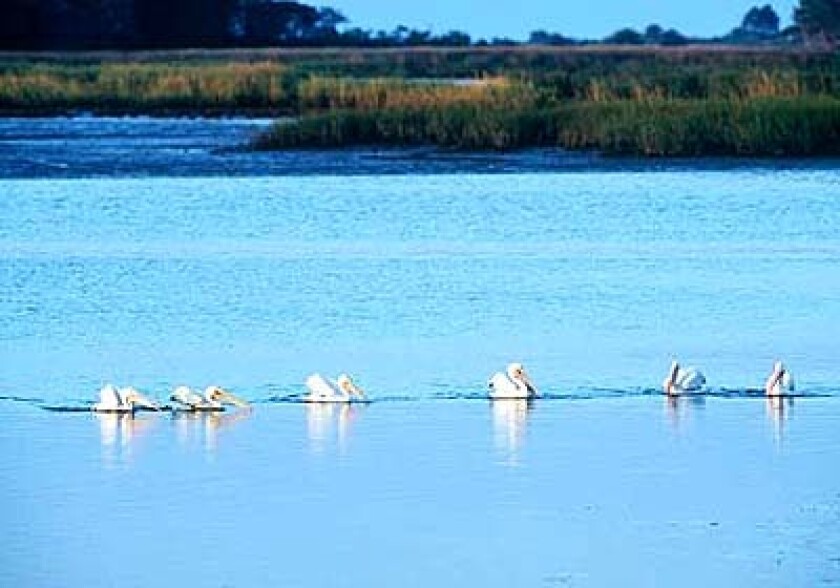 Special to The Times
Cedar Key, Fla. —
"We came to Cedar Key from Tampa with an Audubon tour," said Connie Crane, an artist staffing the counter at the Cedar Keyhole gallery cooperative. "I saw a cat lying in the middle of the street nursing her kittens, and I said, 'Oh, that's the kind of town I want to live in.' " And now she does.
The former New Yorker is one of the painters, potters and photographers who have made this Florida city something of an artists' colony. A growing number of tourists has found it too, drawn by the quaint, off-the-clock town and the nearby national wildlife refuges and vast salt marshes teeming with fish and fowl.
Cedar Key is not the sort of place you stumble on. It's an island in the Gulf of Mexico, 20 miles from the nearest major highway and about 60 miles from the nearest airport, in Gainesville. It lies at the southern end of the Big Bend, where the state's panhandle makes a long arc down to the Florida peninsula.
In a state bursting with tourism, the Big Bend is one of the least visited areas, known for timber and cattle, not theme parks and golf resorts. But those who do venture here are rewarded with a taste of old Florida: Sinuous, watery channels part low marsh grasses undulating in the sea breeze, giving the landscape the look of a sensual jigsaw puzzle.
I've visited many times, most recently this summer when I fled with my friend Nancy Fischman from what had become a too-frantic summer at home in Tennessee. We had visions of palms and a lemon-yellow wash of sunlight on a turquoise sea, of pelicans sitting on piers and roseate spoonbills sifting through the shallows of a marsh.
As we approached Cedar Key on Route 24, the world slowed down. We passed a jumble of palms, bays, live oaks and red maples. Soon we could smell salt air. The forest ended, and a low bridge came into view, one of several connecting a cluster of islands to the mainland.
Pullouts here offer some of the best bird-watching in Cedar Key -- or anywhere in Florida. From both sides of the bridge, salt marshes stretch to the horizon. The shallow waters are a natural fish nursery and seafood supermarket, as rich in life as any habitat on Earth. At low tide, wading birds pluck fish, frogs and small crabs from the mud. Low tide also reveals the oyster bars that lie between land and water.
The first time I visited Cedar Key, in the mid-'90s, I was working on a nature book and decided to take my mother along for part of the journey. We reached the easternmost bridge, called the Fourth Bridge, and were compelled to stop when we saw herons, egrets, black skimmers and orange-billed oystercatchers. We explored Cedar Key for the day and were so taken with its waterfront and quaint historic center that I promised myself a return trip.
A couple of years later, while working on a book about Florida state parks, I stopped with my husband at Cedar Key's Island Hotel & Restaurant, built in 1859 and on the National Register of Historic Places. Our room's time-polished wood floors and four-poster bed swathed with mosquito netting put me in mind of a Humphrey Bogart movie, perhaps "Key Largo." The broad upper balcony fitted with rockers, the rattan-furnished lounge and the pale pink-and-white dining room cooled by ceiling fans all felt languid and tropical.
Back when the hotel was built, Cedar Key reigned as the premier port town on Florida's west coast. Ranchers and plantation owners shipped timber, beef, cotton and sugar cane down the nearby Suwannee River. After a railroad connected Cedar Key to the Atlantic Coast in 1861, the goods went out all along the Eastern seaboard.
Through the early 1890s, Cedar Key was chief supplier of pencil blanks for Eberhard Faber -- until the cedar ran out and a hurricane hit in 1896. The factories, on neighboring Atsena Otie Island, shipped pencils across the shallow channel to what is now Dock Street. Back then, Atsena Otie ("Cedar Key" in the language of Creek Indians) was where the town of Cedar Key and its industries lay. After the hurricane decimated everything on the island, the town moved to its present location. These days Atsena Otie is part of the Cedar Keys National Wildlife Refuge. You can boat out to the island, lie on the beach, bird-watch and hike.
Nancy and I stopped at Dock Street and its collection of seaworthy buildings. Built over water, the street is anchored by a broad pier where people cast for sea trout, redfish and flounder, and where tourists eat ice cream and watch pelicans. It's the place to be Saturday night. Live music pulsed from Frog's Landing the evening we arrived.
We had booked a room at Harbour Master Suites, next door to Frog's, and worried that the music would keep us awake. But Harbour Master's rooms are a couple of stories above the street and turned out to be quite private.
The best part was the balcony, which looked directly down into the Gulf of Mexico and out toward Atsena Otie. We could see the pier to our right, pelicans sitting smugly atop pilings and a great blue heron waiting for an angler to throw a fishy snack. We sat briefly to enjoy our view of dolphins breaching and royal terns on the wing.
After unpacking, we set off for a drink at the Island Room Restaurant at Cedar Cove, a great place at sunset because of its expansive view of the water. We were feeling so relaxed in the airy bar that we decided to stay for dinner. (The Island Room and the Island Hotel are the two top restaurants in town.)
I had a smoked chicken ravioli appetizer and a main dish of grouper piccata. Nancy had littleneck clams in a white wine sauce with fettuccine. The food was fine, but the wild mushroom soup was outstanding: smoky, earthy and thick. I would have been satisfied with a huge bowl and the restaurant's crusty rolls.
Wowed by the roost
The next day we were ready for the sea, so we caught a tour aboard the Lady Pirate. Our boat mates were a fellow from St. Petersburg and a couple looking for a good beach on which to be married. Nancy and I intended to take the tour, then be dropped off at Atsena Otie for a few hours on the beach.
Our captain took us to Seahorse Key, where the University of Florida has marine labs and, more important, where hundreds of birds mate and nest. As he edged toward shore, we saw dozens of magnificent frigate birds, "littering the trees as if they were common crows," the captain noted. The birds are large and black, with deeply forked tails and enormous red neck pouches on breeding males. We barely noticed the immature bald eagle, ibises, cormorants and others crowded on the island.
Nancy and I were foolishly willing to brave summer mosquitoes to lounge on the beach at Atsena Otie Island, but a summer squall loomed. After a quick stop to admire the beach, sea oats and palms, we beat the rain back to Cedar Key and spent the rest of the day browsing galleries.
Cedar Key's artist-colony ambience is neither as bohemian as Silver Lake nor as upscale as Carmel but somewhere comfortably in between. Avoiding souvenir shops reeking of incense, we headed to two galleries on Dock Street, where we admired glassware and copper lamps at Sawgrass and linen clothing and jewelry at Suwannee Triangle.
Second Street, the town's main street, is the best place to browse and examine historic buildings. Cedar Keyhole and Island Arts carry a mix of oil paintings, mixed media, pottery, garden art and basketry. Natural Experience keeps odd hours but exhibits fine photography as well as wood sculpture.
Two museums can offer more background on the area. The Cedar Key State Museum displays the most complete Florida shell collection I've seen. The Historical Society Museum has artifacts dating from prehistoric peoples who lived here 11,000 years ago. The John Muir exhibit caught my eye. Yes, California's most famous early naturalist was here too. In 1867, less than two years before he saw Yosemite, Muir walked from Indianapolis to Cedar Key, where he recovered from typhoid fever. He wrote "A Thousand-Mile Walk to the Gulf" about that adventure and his time at Cedar Key.
That night we dined at the Island Hotel: soft-shell crab glazed with sherry, rich crab bisque and succulent fish en papillote, aromatic with East Indian spices. The hotel's hearts-of-palm salad lived up to its reputation as a novelty: crunchy hearts of palm and fresh fruit atop greens with a scoop of frozen dressing that combines vanilla ice cream, lime sherbet, mayonnaise and peanut butter. The dressing sounds weird but tasted so good we asked for the recipe.
The next day we went by Manatee Springs State Park. In winter, the park is one of the most reliable places in Florida to see manatees, the aquatic mammals that can grow to more than 3,000 pounds. Visitors can swim the crystalline spring waters, hike and bike along trails, check out the cedar swamp boardwalk and canoe into the Suwannee River -- as long as they keep a respectful distance from the gentle, endangered manatees.
Nancy and I stopped at the Lower Suwannee National Wildlife Refuge, whose headquarters lie on Route 347 about seven miles from Cedar Key. The refuge's nine-mile wildlife drive took us past pinelands and swamp but not much wildlife. Perhaps our timing was off.
Near dusk, we went to the Fourth Bridge to loll and watch birds. We saw great white egrets, little blue herons and a clutch of red-billed white ibises. A roseate spoonbill, dipping for dinner, swished its bill through the shallow water. Then it stopped, lifted its pink wings and flew into the gathering blue-gray night.
Michal Strutin is the author of "Florida State Parks: A Complete Recreation Guide" (Mountaineers Books, 2000).
---
Get inspired to get away.
Explore California, the West and beyond with the weekly Escapes newsletter.
You may occasionally receive promotional content from the Los Angeles Times.