New, cool stuff from the International Travel Goods Show to ease you down the road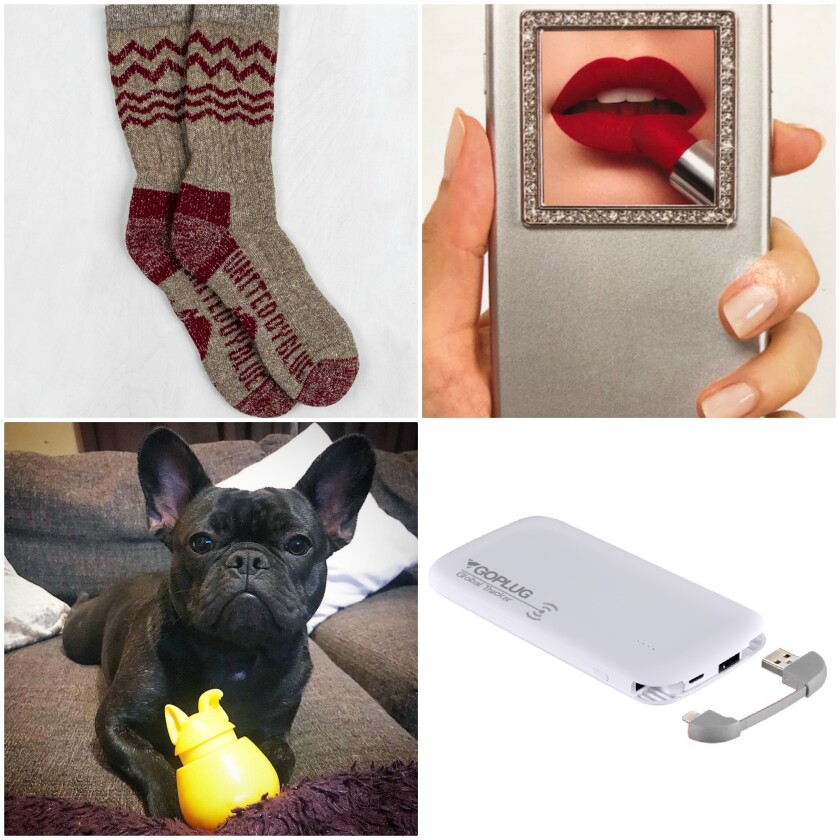 As someone who often flies more than 100,000 miles a year, I get excited about gadgets that can make my traveling life easier and more streamlined.
At the 2018 International Travel Goods Show in Las Vegas, which concludes Thursday, hundreds of manufacturers from around the globe show off their latest wares, creating a sort of gizmo, widget and luggage Nirvana.
Here are a few of my favorites, which travelers may find useful, beautifying and just plain fun.
Keep those toes extra toasty
United by Blue's Ultimate American Socks are made of bison fiber, an often-discarded byproduct, but they are lightweight and not itchy — and they'll keep your feet exceptionally warm.
The company cleans a pound of trash from the world's oceans and waterways for every item it sells.
United by Blue also makes soy wax Scout Citronella Candles ($8) and other sustainable accessories and apparel.
Mirror, mirror on my phone
If spinach is stuck in your smile or you want to discreetly check your lipstick after linguine, the iDecoz 2-inch-square mirror goes with you wherever your cellphone does.
It sticks to phones and cases but is removable and restickable if you change either.
Being treat smart with a traveling pet
An interactive pet treat dispenser is a great way to keep your dog or cat occupied and happy, especially if you're in a new environment.
You can place some kibble treats or catnip inside the Doyen dispenser, made of durable, washable plastic. The roly-poly product and the small opening whence the reward comes assures your furry family member will be captivated.
Several colors and designs are available to suit your pet's aesthetic sensibilities, of course.
This charger is small but packs a punch
Fighting its way out of a crowded field of chargers, GoPlug's Global Tracker Power Bank is light in weight but no lightweight.
It has a capacity of 10,000 mAh (milliamp hours). When it comes to mAh, bigger usually is better; those lipstick-size chargers are usually in the 3,000 mAh range.
Generally, the more juice a charger gives you, the bigger it is, but this one weighs only about 9 1/2 ounces and is about 5 1/2 inches long by a bit more than 3 inches wide.
Keeping a digital eye on your stuff
You know that sinking feeling you get when an important item (cellphone, camera, etc.) goes missing? The Homing Pin increases the odds you'll be reunited.
A thin plastic loop strip and tag with a unique identifier hooks on to your luggage handle or included key ring, then you apply a small sticker to the item you want to protect.
When someone finds your item, he or she goes to HomingPin.com, enters the eight-digit code on the sticker and you'll receive a text message and an email connecting you to the finder.
Cost, info: $9.99 starter pack includes one loop strip and tag, key ring, four asset stickers and a 12-month membership in Homing Pin. Larger packs available. From Homing Pin.
---
Get inspired to get away.
Explore California, the West and beyond with the weekly Escapes newsletter.
You may occasionally receive promotional content from the Los Angeles Times.