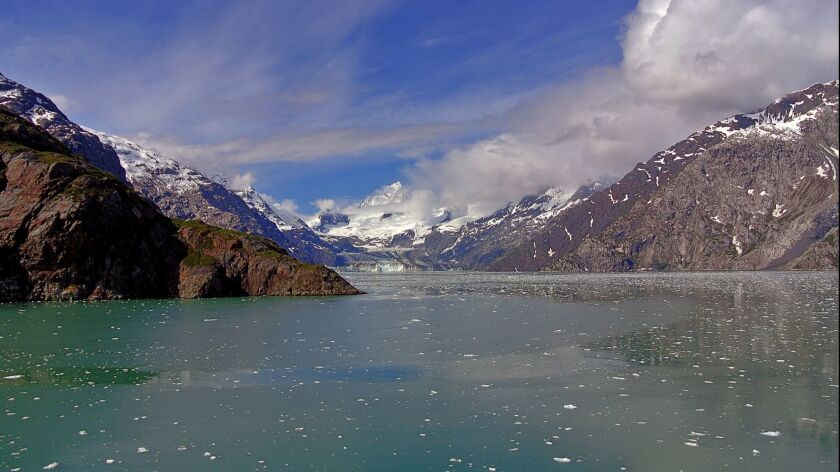 To those of you who say you will never take a cruise, consider for a moment what you're missing.
Stepping aboard a ship may be the only way to see a place: In Alaska's Inside Passage, for instance, mammoth chunks of ice calve from glaciers and explode as they hit the water in front of your vessel. Or at isolated South Georgia Island in the Atlantic, visitors who arrive by ship can watch hundreds of thousands of penguins waddling along the shoreline.
Nature isn't the only thing that looks different when you change your perspective. I rarely visit New York City without jumping aboard a Circle Line tour for a look at the Statue of Liberty, Brooklyn Bridge and Manhattan skyline from the water.
But I'm even happier when I can see a city from the deck of a cruise ship. San Francisco is a good example. I've seen it hundreds of times from land, but sailing up the bay along the city's waterfront adds a spectacular twist that helps the destination take on new life.
What other places should be seen from the deck of a ship? Here are some contenders.
Sydney, Australia, gets a vote from Ilene Weiner, who has sailed 282 times and says Sydney's harbor is "spectacular every time." (Princess Cruises recently named Weiner its most-traveled guest, having spent 2,500 days at sea.)
This city is popular with cruisers because of Sydney Opera House and Harbour Bridge, which add focal points to the panorama that can be seen when entering the dynamic harbor.
Riverside County resident Chris Twinning votes for Curaçao, a laid-back Caribbean charmer.
Twinning, a Carnival Cruise Line fan, loves the vibe in Willemstad, Curaçao's main port city and its capital. "The views are great: colorful buildings, boats in the harbor, the floating bridge – you couldn't ask for more," he said.
Curaçao's brightly painted Dutch colonial buildings — pinks, yellows and blues — are reflected in the waters of Santa Anna Bay.
Once you leave the city, Twinning said, the landscape shifts to a more desert-like scene.
Alex Morrison of Orange County is another island aficionada. But her favorites are closer to home: the Channel Islands, one of the nation's least-visited national parks.
"They're unique, isolated and make a great nature story," she said. "And you can't drive there, of course, which means you can only see [them] from the water."
The five islands that make up Channel Islands National Park are part of an archipelago off Santa Barbara. The islands are an uninhabited sanctuary, an interesting contrast when bumped up against L.A.
Morrison, who visited the islands on a cruise with Lindblad Expeditions/National Geographic, enjoyed the solitude. "It's fantastic to see undeveloped vistas so close to Los Angeles," Morrison said, "and dive in clear waters teeming with colorful marine creatures."
Other islands that cruisers mention when talking about destinations seen best from the deck of a ship include the Galápagos, off Ecuador, known for their plant and animal life; the Greek island of Santorini, in the Aegean, popular because of its whitewashed, cliffside houses; and Tahiti, one of my favorites, where impossibly green mountains and aquamarine waters greet visitors to French Polynesia.
I checked in with a cruising expert to get her suggestions too. Colleen McDaniel, senior executive editor of CruiseCritic.com, weighed in with some other choices.
Top on her list: Glacier Bay, Alaska, which was named best place to cruise in Cruise Critic's 2018 Destination Awards, an honor based on passenger ratings.
"Visiting Glacier Bay by cruise ship gives you access to vistas you'd otherwise never see," McDaniel said. "Cruises take you into the heart of the bay, where you can see glaciers and icebergs all around you.
"Margerie Glacier is one of the most spectacular glaciers you will see, and your best vantage point is from the water."
Another place she thinks is best seen from the deck of a cruise ship: the Panama Canal.
"It's an engineering marvel, whether you're talking about the original or new locks," she said.
"While you can visit the locks by land, you don't understand the full magnitude of transiting the canal without doing so yourself," she said. "Whether on a small ship or large vessel, you'll visit the famous artificial Gatun Lake, and transit from one ocean to another via a spectacular series of locks."
---