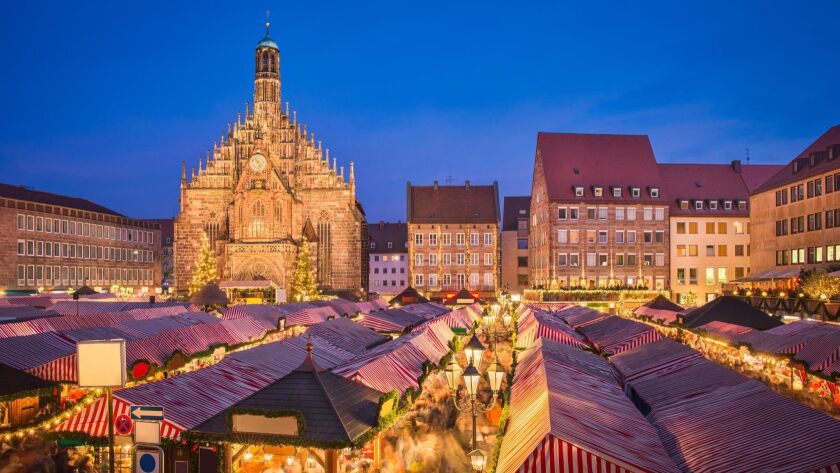 Grand Circle Cruise Line drops prices on river tours of Europe's famed Christmas markets in November and December. Discounted eight-day cruises on the Danube to Germany and Austria starts at $2,295 per person, $600 less than the regular price, and include round-trip airfare from Los Angeles.
The deal: The sale price, based on double occupancy, includes:
-- international airfare (also available from other gateway cities, such as San Francisco);
-- meals, plus beer, wine and soft drinks;
-- self-guided tours of up to five Christmas markets as well as events such as a choral concert, stollen (fruitcake) cooking demonstration, discussion of German Christmas traditions and a lecture about river canals;
-- Wi-Fi in common areas and cabins;
-- local program directors; and
-- port charges and baggage handling.
When: Book by Sept. 21 to get this deal by calling (800) 221-2610 and using the code "WBPR 001." Cruises sail Nov. 30 and Dec. 7, 9, 14 and 16.
Details: Cruise prices are discounted from $2,895 per person, meaning you save $600 per person. The cruise starts in Nuremberg and stops in Regensburg and Passau in Germany, and Linz and Melk in Austria before ending in Vienna.
Info: Grand Circle Cruise Line, Christmas Markets Along the Danube, (800) 221-2610
ALSO
More royals are coming this way. Princess Cruises brings a new ship to the Port of Los Angeles
Think about visiting China next year. Spend nine days exploring Shanghai and Beijing for $1,359
Now you can have the Sistine Chapel pretty much to yourself — for $530
---