8 guys on a motorcycle adventure to Alaska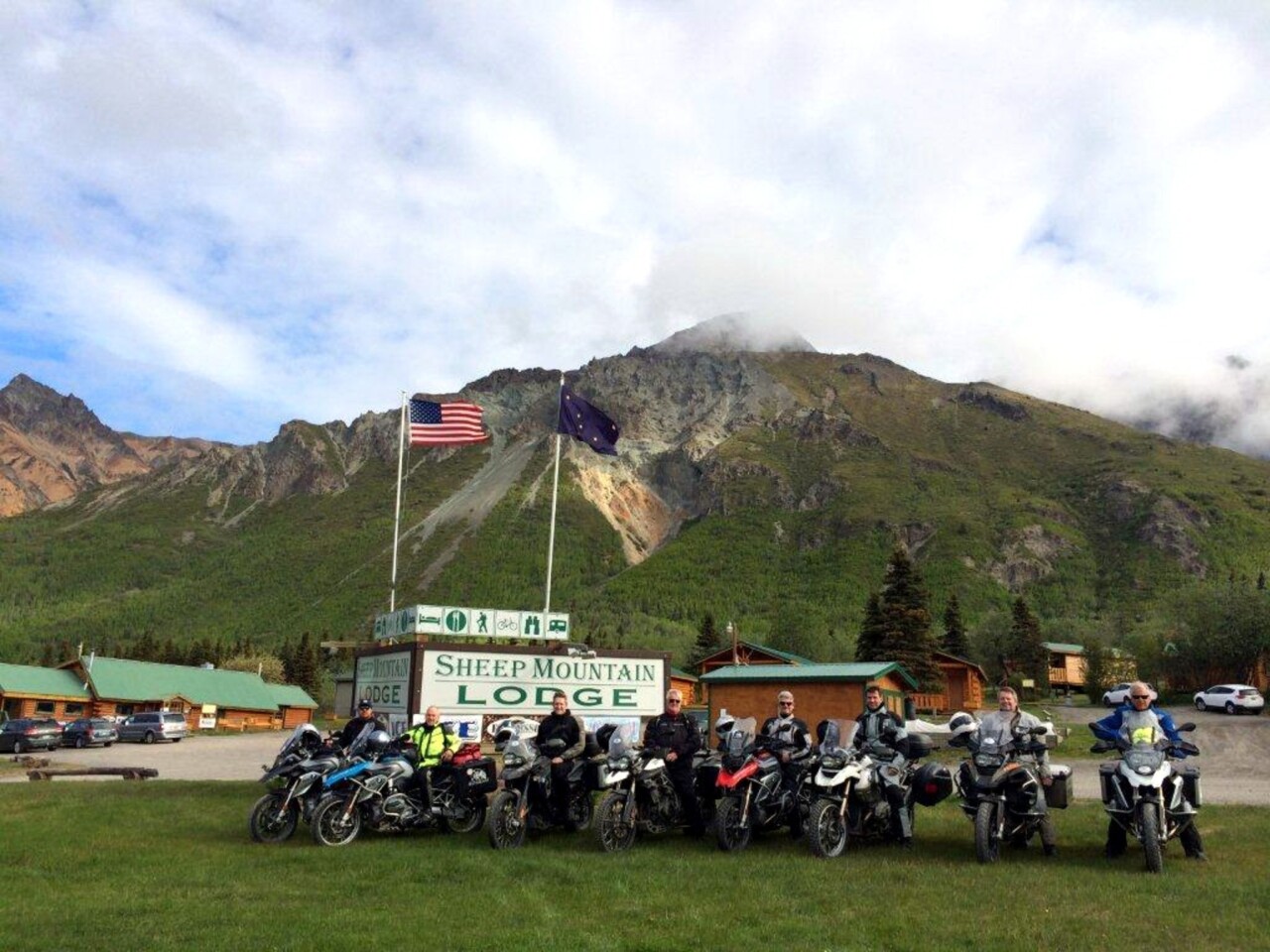 The riders astride their mounts in front of Sheep Mountain Lodge, on Alaska's Glenn Highway.
(Charles Fleming / Los Angeles Times)
One of the riders churns up a cloud of dust as he races along a flat stretch of the Denali Highway between Cantwell and Paxson.
(Charles Fleming / Los Angeles Times)
Bikes queue up for the single gasoline pump at the Tangle River Inn, the only fuel for many miles in either direction, on the desolate Denali Highway.
(Charles Fleming / Los Angeles Times)
Thundering Bridal Veil Falls is a show-stopper along the Richardson Highway, north of Valdez, Alaska.
(Charles Fleming / Los Angeles Times)
The waters of aptly named Mirror Lake reflect a mountain view between Anchorage and Wasilla.
(Charles Fleming / Los Angeles Times)
Fishing boats, reflected in the water, glow in the soft evening light at Valdez Harbor.
(Charles Fleming / Los Angeles Times)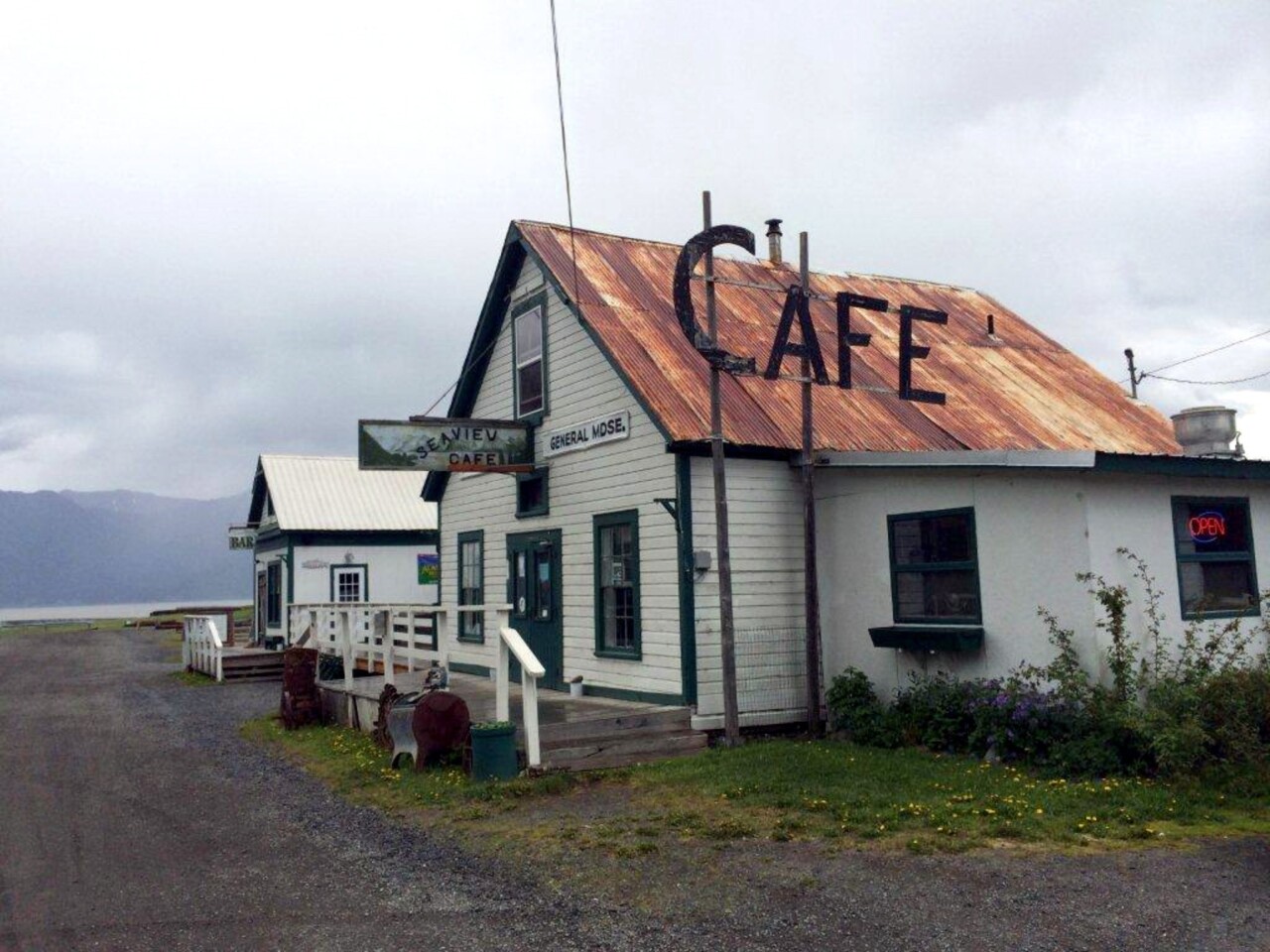 At the end of the road in the tiny town of Hope, the Seaview Cafe serves a great bowl of chowder and killer views of Cook Inlet.
(Charles Fleming / Los Angeles Times)
The rugged Denali Highway, east of Cantwell.
(Charles Fleming / Los Angeles Times)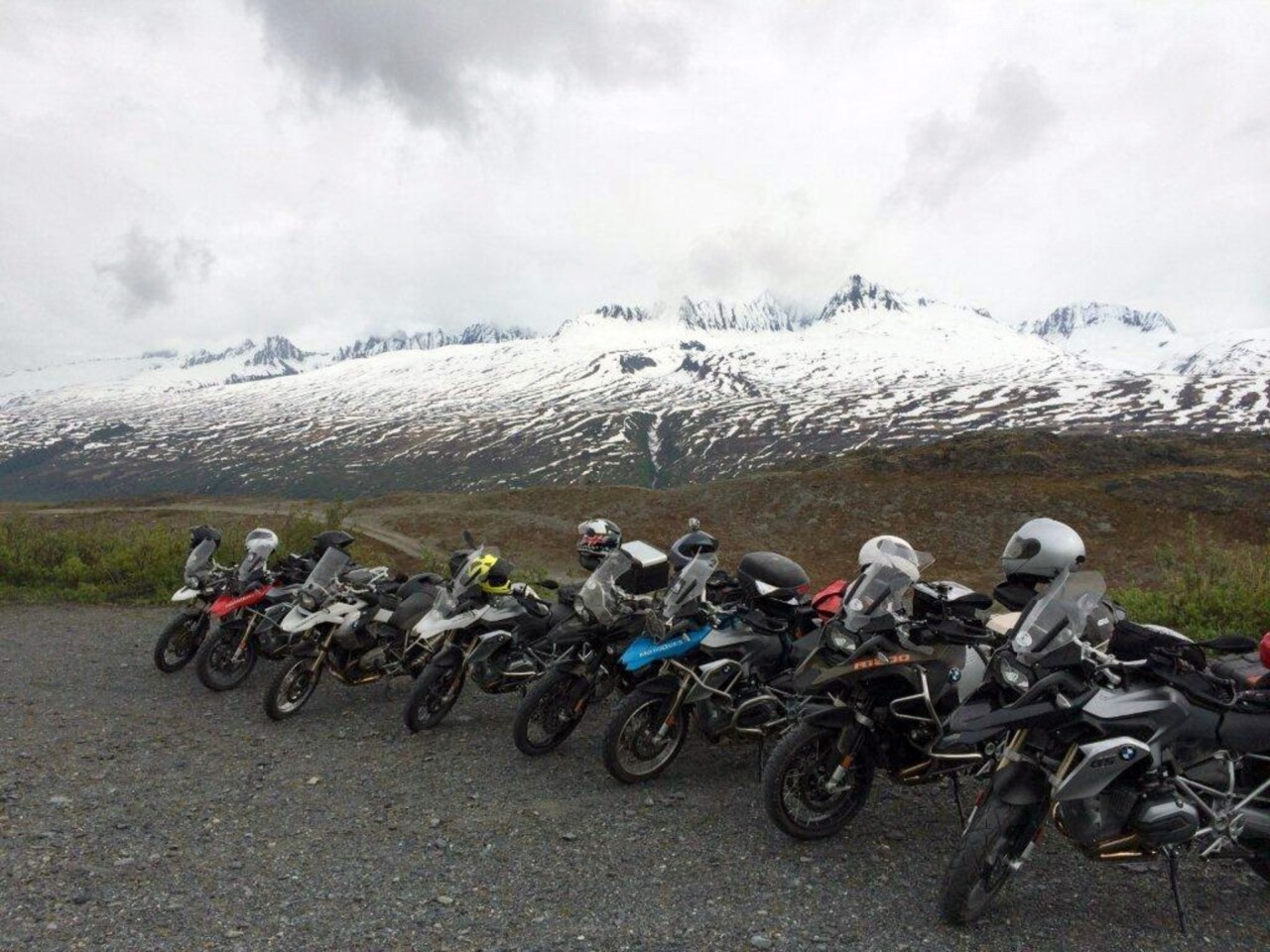 Thompson Pass, on the Richardson Highway. It was about 40 degrees at around 4,000 feet under the mid-June snow line.
(Charles Fleming / Los Angeles Times)
A wood plank bridge over the Susitna River is one of the few breaks in the unpaved 110 miles of the Denali Highway.
(Charles Fleming / Los Angeles Times)
ANCHORAGE —
Our quest was emblazoned on the T-shirts we were given before we left for Alaska: "8 men, 4 highways, 5 days, 865 miles." On motorcycles.
We were a mixed group of Sunday motorcycle-riding friends. Roger and Rod, both 71, had been pals since high school, and Roger had brought his son Josh, 31. Chris and Jonnie, both 48, and Steve and John, 53 and 51, respectively, had ridden together for years. All were veteran riders.
We set out from Anchorage under a leaden early June sky, an uneven line of seven rented BMWs and one rented Triumph.
The weather report had told us to expect 45 degrees and cloudy skies, with some rain. We were dressed for it in helmets, boots, gloves and waterproof riding suits, our saddlebags and tank bags filled with cold- and wet-weather clothing.
But the sun was out before we left the city limits, headed northeast on Alaska 1 along the Knik River. We planned to spend the night in Talkeetna before moving on to towns to the north and east, following a route developed by team leader Steve, based on intel from motorcycle friends and Alaska locals.
Our lunch destination was Palmer, 45 miles away. By the time we got there, we had seen a bald eagle, our first moose, our first glimpses of Mt. McKinley — a.k.a. Denali — and a high-speed chase that left a pickup truck in a ditch, its occupants fleeing on foot and state troopers in hot pursuit.
We recovered from the roadside drama at the Valley Inn's Open Café in Palmer before heading west through Wasilla, home of Sarah Palin, on the S. Parks Highway.
Because of Alaska's vast size, I had expected Texas, with snow and immense stretches of empty highway, interrupted periodically by scenic vistas. I soon saw I was wrong. It's all scenic vistas — sudden peaks appearing through the clouds, broad green valleys split by milky, glacial rivers — sort of Yosemite on steroids.
Our first-day destination was Talkeetna, reputedly the town that served as the model for the 1990s cult TV favorite "Northern Exposure."
The ride took us across the Matanuska Valley, through broad pastures stitched with glacier-fed creeks and streams. In the distance, ever closer, were the mountains of the Alaska Range, a jagged, snow-tipped line of towering peaks, among them the 20,237-foot Mt. McKinley. (Locals in need of a weather report, rather than ask if the day is cloudy or sunny, simply ask, "Is the mountain out?")
We spent the night at the tiny Swiss-Alaska Inn, struggling to sleep after a fresh salmon dinner at the Wildflower Cafe on Talkeetna's quaint main street. Even in early June, days are endless. Sunset was pegged at 11:30 p.m.
The next day, we began the journey's serious riding north from Talkeetna to the Denali Highway. This was the adventure we'd come for — 110 miles of unpaved road, open only a few months of the year, empty but for the occasional logging truck or camper van. Behind and ahead of us were icy peaks, their snowmelt feeding the Susitna River, which we paralleled for an hour before crossing it on a long, wood-plank bridge.
At day's end, we rolled into the Tangle River Inn, a warm, homey set of low buildings on a barren landscape, one of the Denali Highway's few way stations, where we'd booked cabins for the night. It was hard to shake the sensation that we were at the end of the road, on the top of the world. There had been 25 feet of snow on the ground only weeks before, and the Tangle River was still dotted with chunks of ice.
We'd been told to expect mosquitoes. At Tangle River, we met them in force: monstrous insects as big as hummingbirds, though happily not as voracious as their smaller Southern cousins.
The Denali Highway dawn came early; the sun had been up hours before we met for a 7:30 a.m. breakfast. Fed and fueled, and after a short hike along a local lake, we returned to the scenic roadway.
It was slow going. Every photo op became a video shoot. Every gas-station stop turned into a sightseeing event. Two men would start fueling, two would go into the gas-station store, one would hit the restroom and one would visit the gift shop. Then he would emerge, saying, "They're selling a petrified walrus penis for $63.50," and half an hour would be lost as everyone rushed to take a look.
Our destination was Valdez, the port town after which the doomed Exxon oil tanker was named. For much of the afternoon, we skirted shiny white lengths of the Alaska oil pipeline as it threaded its way out of the mountains to the coast.
We had more wildlife sightings too — not the grizzlies and brown bears we had worried about, but moose and caribou. Our feelings about them were mixed: lovely to look at but deadly for a motorcyclist to encounter at 60 mph. In the Matanuska Valley, we saw a sign saying, "Moose Crash Area," and telling us that 257 of the big animals had been killed by cars in the last year.
The road to Valdez took us through Thompson Pass, a high promontory between deep, icy canyons still being carved by active glaciers. We rode through the clouds, stopping to take photographs of our motorcycles against the snowy peaks.
It was 40 degrees but felt colder at high speeds. I was glad I'd prepared for the worst weather, dressed in a long-sleeve shirt outfitted with battery-powered heat coils, made by the cleverly named Mobile Warming, underneath a waterproof jacket and pants made by motorcycle clothing company Tourmaster. To stay safe and dry, I also wore a pair of Tourmaster waterproof riding boots and waterproof gloves.
We left Valdez in a light rain, stopping to take more photographs and videos at Bridal Veil Falls and Horsetail Falls. We summitted Thompson Pass again and turned west at Glennallen onto the Glenn Highway.
We had saved some of the most scenic riding for last. The road back toward Wasilla cuts through mountains that stand like jagged sentries, overlooking glaciers 10 miles wide and 50 miles long.
We lunched on Glacier burgers and berry crisps at the Long Rifle Lodge, among stuffed bear, moose and bison, and stayed the night at the cozy Sheep Mountain Lodge, in clean, well-appointed cabins set on a grassy hillside with views of the Chugach Mountains.
It was our last night in Alaska, a time for reflection. We agreed that Alaska was the best motorcycle trip ever, and that we had to come back soon. But we also had to ride New Zealand, Thailand and Patagonia. And Baja.
For some, the highlight of our Alaskan adventure had been the flightseeing trip to the glacier at McKinley. For others, it was the river raft trip near Sheep Mountain. For me, it was the riding. After five days, I was eager for more.
The next day, after more moose and eagle sightings, we parted in Anchorage. The other men had afternoon flights. I'd booked the red-eye. I spent the remaining hours riding south through a rainstorm along Cook Inlet. That evening, I ate a solitary bowl of seafood chowder at the Seaview Café, in the tiny town of Hope, missing the guys, but happy to be riding, warm and dry despite the weather, the amazing Alaskan road.
Twitter: @misterfleming
---
Get inspired to get away.
Explore California, the West and beyond with the weekly Escapes newsletter.
You may occasionally receive promotional content from the Los Angeles Times.