Seeing firsthand why Olympic National Park is one of the nation's great wilderness areas
A North American river otter hunts in a glacier-fed stream in the Hoh Rain Forest inside Olympic National Park. The clear waters are filled with green plant growth.
(Daniel A. Anderson)
Olympic National Park's two parts include lush rain forests and a long stretch of coastline separated by Olympic National Forest in the state of Washington.
(Daniel A. Anderson)
The fisher (Martes pennanti) is a member of the weasel family, related to the otter. The carnivore was trapped for its fur and nearly went extinct by the 1920s and '30s in the Olympic Peninsula. It was successfully reintroduced in 2008.
(Jim Kruger / Getty Images/iStockphoto)
It's called a rain forest for a reason, as 12 feet of rainfall per year is not uncommon inside Olympic National Park's forests.
(Daniel A. Anderson)
Lake Quinault Lodge at the edge of Olympic National Park.
(Daniel A. Anderson)
An early morning scene along Lake Quinault bordering Olympic National Park.
(Daniel A. Anderson)
A family and a couple explore where Kalaloch Creek enters the Pacific Ocean in front of Kalaloch Lodge in Olympic National Park.
(Daniel A. Anderson)
The bananas Foster french toast at First Street Haven Restaurant in Port Angeles, Wash. The dish is topped with sautéed bananas and a homemade rum sauce and finished with fresh whipped cream and pecans.
(Daniel A. Anderson)
Visitors take in the dramatic coastal scenery in the Quileute Indian Reservation town of La Push (near First Beach) bordering Olympic National Park in the state of Washington.
(Daniel A. Anderson)
Named for Theodore Roosevelt, the Roosevelt elk is the largest in North America.
(Ted S. Warren / Associated Press)
Elk graze near Lake Quinault bordering Olympic National Park.
(Daniel A. Anderson)
Elk graze near the Hoh River, left. A young male North American elk keeps an eye on a visitor, center, during a morning rain near the Quinault River. Right: A fisherman works his magic in the Quinault River in Olympic National Park in the state of Washington.
(Daniel A. Anderson)
A bald eagle snatches a fish from the waters of Lake Crescent in Olympic National Park one recent morning during a break from the rain.
(Daniel A. Anderson)
The best place to see the playful sea otter is the Olympic Coast National Marine Sanctuary, especially in quiet coves along the wilderness coast.
(Mark Newman / Getty Images/Lonely Planet Image)
Olympic marmot (Marmota olympus) is unique to the Olympic Penninsula. The bushy-tailed rodent is about the size of a cat and known to be sociable and playful.
(Getty Images/All Canada Photos)
A front view of an adult black bear (Ursus americanus), sitting in a field of green clover, showing an aggressive posture.
(Getty Images/All Canada Photos)
The only aquatic North American songbird, named American dipper or water ouzel, in creek waters near Quinault River in Olympic National Park.
(Daniel A. Anderson)
OLYMPIC NATIONAL PARK, Wash. —
The bald eagle was soaring on an air current above frosty Lake Crescent, its wings spread wide, white head and electric-yellow beak tilted slightly down. It was hunting, and a few seconds later it rocketed toward the surface of the lake. In an instant it was aloft again, carrying a small trout in its talons.
I first saw the eagle — America's most recognizable aerial predator — as I was driving through Olympic National Park. Now I got out of my car to watch the small drama develop.
The eagle, still clutching its prize, perched on a giant Sitka spruce overlooking the lake and tore at the trout using its razor-sharp beak. Another, smaller eagle perched nearby. Suddenly both flew off, settling on the branches of another lofty spruce. I spotted two more bald eagles holding court on other limbs.
Read the series: Celebrating our national parks
I gasped and did a little happy-place dance. Four bald eagles: I couldn't believe my good fortune.
I had come to the Olympic Peninsula, one of the nation's great wilderness areas, in search of wildlife encounters. The park, in the northwestern corner of the continental United States, encompasses most of the peninsula.
------------
For the Record
March 30, 5:16 p.m.: This article incorrectly says that Roosevelt elk are found only in Olympic National Park. They are native to the Pacific Northwest coastal zone, but some can be found in California's Redwood National and State Parks and in Alaska.
------------
Its 1,441 square miles shelter rugged coastline, emerald-green rainforests, glacier-fed lakes and mountain peaks. Within those regions, it also shelters an amazing variety of wildlife, including marine mammals such as whales and dolphins, and land-dwelling animals such as the black bear and majestic Roosevelt elk.
Because of the Olympic Peninsula's isolation, many animals, such as the Roosevelt elk, are found only here. The bottom line for visitors: The park's vast regions of unspoiled backcountry — it's one of the largest wilderness areas in the continental United States — offer ideal zones for exploration. As a matter of fact, that's one of the reasons the United Nations designated it as a World Heritage site and Biosphere Reserve.
My early March visit, when deep winter snows cloaked the high country, meant that some of the park's animals were still hibernating or had migrated to other locales and hadn't returned. But the plus was that I had the park much to myself.
In the spectacular Hoh Rain Forest, in the western part of the park and not far from the town of Forks (famous as the site of the "Twilight" series), I was the only person hiking on the popular Hall of Mosses Trail.
In summer, this family-friendly, emerald-green loop trail would be packed with people, I thought, as I paused to watch a young otter swimming on its back in the translucent waters of a stream and caught sight of a northern spotted owl softly hooting at me from the lower branches of a 300-foot Sitka spruce. Nearby, I saw a herd of Roosevelt elk grazing in a meadow.
I was the only one watching; during a busier time of year, there would be a logjam of hikers and other visitors sharing the moment with me. More than 3 million visit annually.
Many of the animals and birds I saw during my trip owe their survival to conservation efforts. In the 1960s the bald eagle, symbol of the United States, nearly became extinct because of use of the pesticide DDT.
But after being protected as an endangered species, bald eagles have become a U.S. success story, their numbers again strong. There are similar stories for sea otters and Roosevelt elk. Both species were hunted nearly to extinction before conservation efforts intervened.
I had been warned that I wouldn't see much wildlife because of the season. But everywhere I went, the creatures of Olympic Peninsula made their presence known.
On a walk to Cape Flattery, just outside the park boundary, I saw dramatic headlands, sea stacks and deep, narrow coves. But I also saw — and heard — harbor seals barking and seabirds soaring and chattering.
Inland, my rainforest visits were rewarded with similar wildlife experiences. I saw a herd of more than 100 Roosevelt elk at the Quinault Ranger Station in the southwest corner of the park. This area of Olympic park receives as much as 13 feet of rain annually. A short trail through the rainforest included misty green streams, mossy rocks and a landscape of sword ferns and 1,000-year-old Sitka spruce, not surprising in an area that receives as much as 13 feet of rain a year. A tiny dipper, or water ouzel, bird bobbed its head back and forth, then dove into the water to feed.
They were all magnificent. But my favorites sat on tree branches above Lake Crescent, eyeing the lake below. I watched the bald eagles for an hour or more.
They circled the lake frequently, usually losing the battle to the trout, for which I was silently cheering. A fantastic way to spend a day.
Tips for visitors to Olympic National Park: Where to stay, eat and what to wear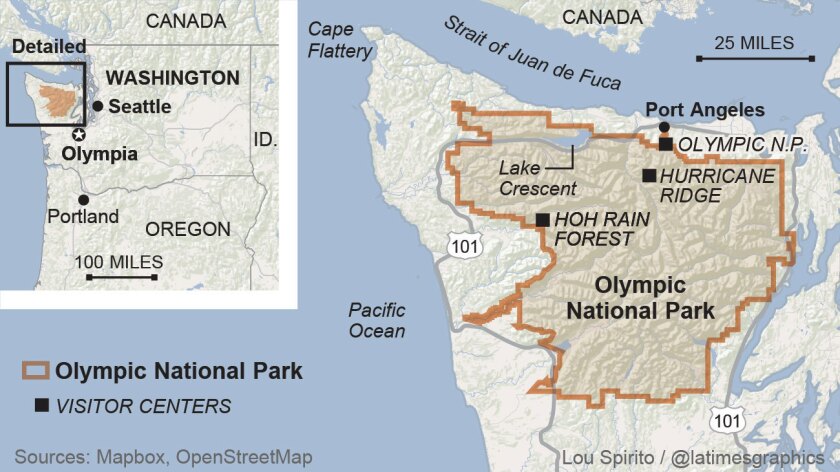 How to get there
From LAX, Alaska, Delta, Virgin America and Delta offer nonstop service to Seattle (SeaTac International Airport is the nearest airport), and Delta, Virgin America, Alaska, United and Southwest offer connecting service (change of planes). Restricted round-trip airfares begin at $156, including fees and taxes. From SeaTac, you can reach Olympic National Park on Interstate 5 and Highway 101.
Best time to visit
The park is open year-round. It is busiest during the summer months. Access to the park's higher reaches, such as Hurricane Ridge, may be limited because of weather.
How to visit
The park is on the Olympic Peninsula and is ringed (although imperfectly) by U.S. 101. You cannot cut across the park by car.
Here is a one-day itinerary suggested by the National Park Service:
Start your day at the main visitor center in Port Angeles, about 85 miles northwest of Seattle. (Check out distances in the National Park Service's mileage chart: www.lat.ms/1MygghN
From Port Angeles, continue south 17 miles on Hurricane Ridge Road off Mount Angeles Road to Hurricane Ridge Visitor Center. Great views (if it's clear) as you gain about a mile in elevation. Trails and hikes.
To end the day, backtrack to Port Angeles and head west, then south on U.S. 101. Take Upper Hoh Road off U.S. 101 to reach the Hoh Rain Forest visitor center. Trail loops and hiking trails.
Be sure to check accessibility of roads; some are closed in winter.
For longer or shorter itineraries, go to www.lat.ms/1RbGnk1.
Accessibility
Olympic National Park Visitor Center in Port Angeles and the Hoh Rain Forest Visitor Center are both fully accessible. Wheelchair-accessible restrooms are available at nine of the park's 16 campgrounds; several also offer paved campsites. Most park resorts have accessible lodging. Several nature trails are paved and wheelchair accessible.
Know yourself
Easy trails can be found throughout the park, especially in the coastal and rainforest regions, but conditions are often wet and muddy. Be prepared with a hiking stick for balance. In the higher regions, snow can fall any month of the year, making wilderness travel difficult or even hazardous.
What to wear
Assume you'll encounter rainy and cool weather regardless of the forecast, so be prepared with rain gear such as a waterproof jacket and pants. Don't forget to waterproof your boots.
Sleep
Because of the park's size and isolation, it's smart to stay in more than one area. Port Angeles, on the northeastern side, has several motels and restaurants. Within the park, year-round accommodations are available on the west side of the park at:
Kalaloch Lodge, 157151 Highway 101, Forks, Wash.; (866) 662-9969, www.thekalalochlodge.com. Comfy cabins and motel-style rooms on a particularly beautiful stretch of coastline. Lounge and dining room.
Lake Quinault Lodge, 345 S. Shore Road, Quinault, Wash.; (888) 896-3818. www.olympicnationalparks.com/lodging/lake-quinault-lodge/. Get a taste of the grand hunting lodges of Europe at this lakefront resort at the edge of Olympic National Park. Small lodge rooms, plus a modern wing with fireplaces and TV. Indoor pool.
Eat
Hungry Bear Cafe, Mile Post 206, Highway 101 W., Beaver, Wash.; (360) 327-3225. Lots of small-town flavor at this friendly roadside cafe in the Olympic National Park forest. Choose from 13 kinds of burgers, or excellent salmon, halibut or other dinners. Entrees from $9.95.
More info
Olympic National Park, www.nps.gov/olym, (360) 565-3130 for Port Angeles Visitor Center.
MORE NATIONAL PARKS
Series: Celebrating our national parks
Our favorite stories from national parks of the west
National Parks celebrates 100 years: Readers share their memories
---
Get inspired to get away.
Explore California, the West and beyond with the weekly Escapes newsletter.
You may occasionally receive promotional content from the Los Angeles Times.