Bangkok, Thailand, a city of contrasts, is serenely chaotic
The Hindu Erawan Shrine seen from the BTS walkway.
(Nicolas Axelrod / Getty Images)
Images of the King and Queen of Thailand can be seen throughout the nation. King Bhumibol Adulyadej is 88 and is in ill health, as is his wife, Queen Sirikit. The country is run by a military junta that seized power in 2014.
(Rosemary McClure / For The Times)
Fruit is on sale at a well-stocked countryside market outside Bangkok.
(Rosemary McClure / For The Times)
Large bundles of pink roses sell for less than $2 at the Flower Market, near the edge of Bangkok's Chinatown.
(Rosemary McClure / For The Times)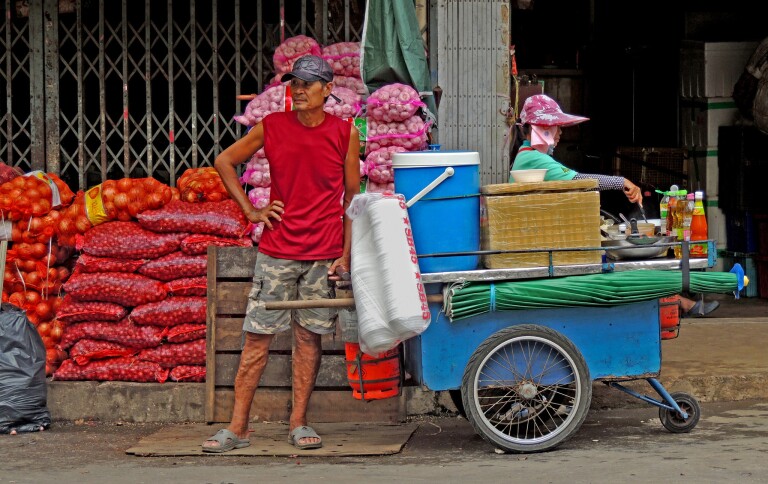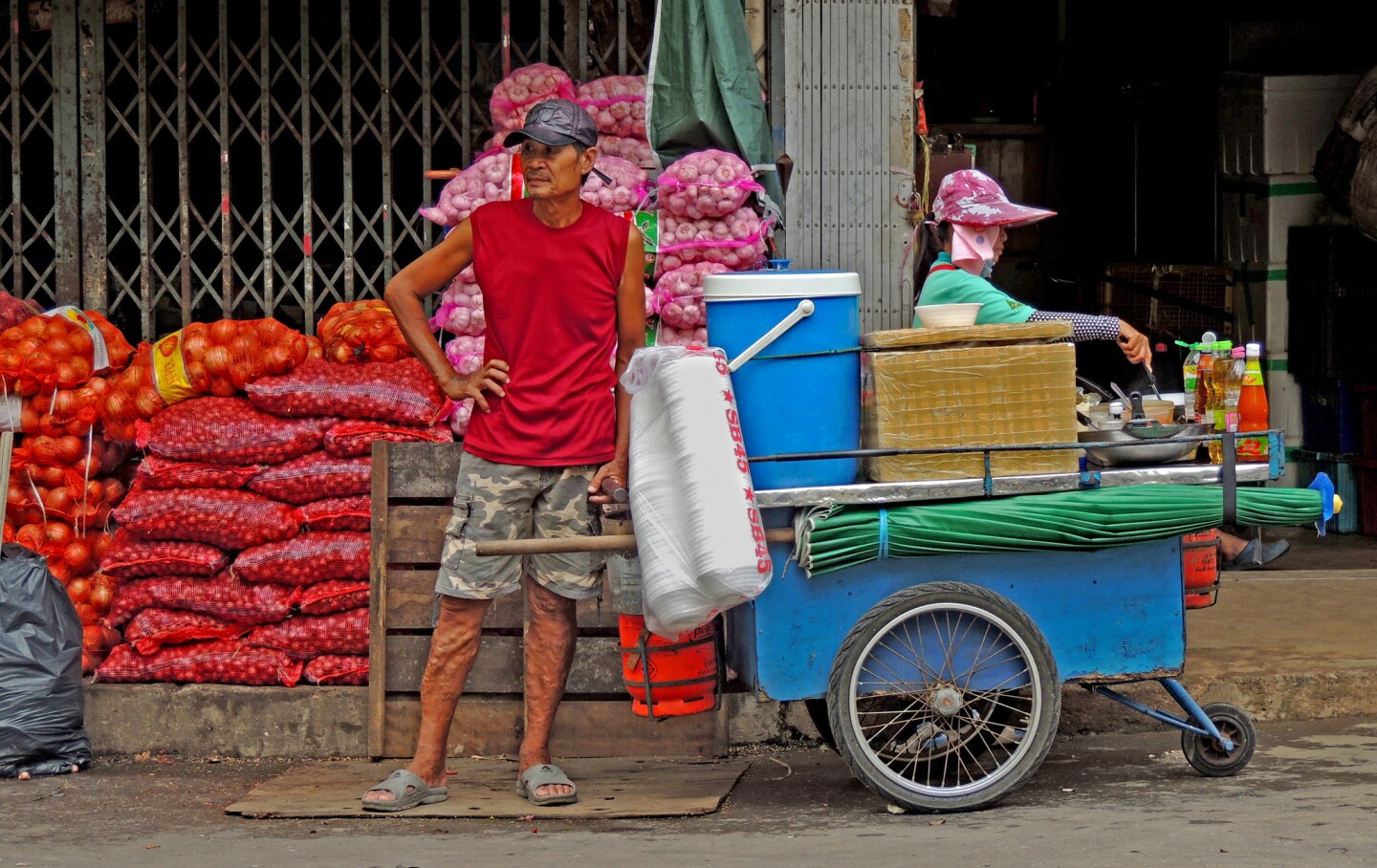 A street scene filled with color in the Flower Market at the edge of Chinatown in central Bangkok.
(Rosemary McClure / For The Times)
A coffee shop advertises Elephant Dung Coffee made from beans that are eaten and passed through an elephant.
(Rosemary McClure / For The Times)
A raised palm lake is reflected in the mirror-like waters of a courtyard patio at the Siam Hotel in Bangkok.
(Rosemary McClure / For The Times)
Massage techs clown around as they give foot massages outdoors near Khao San Road in the backpacker district.
(Rosemary McClure / For The Times)
A motor bike carries a helmeted family of three near the Flower Market at the edge of Chinatown.
(Rosemary McClure / For The Times)
Traffic moves through the evening in Bangkok under the BTS Skytrain system.
(Tobias Flngel / Getty Images)
The Thai tuk-tuk, also known as a three-wheeler or auto rickshaw, is a popular form of local transportation. It is used mostly in congested urban areas and is popular with foreign tourists in Bangkok.
(David Longstreath / LightRocket via Getty Images)
Traffic backs up on Rama 4 road near the main business district. Bangkok is noted for having some of the worst traffic jams in the world.
(David Longstreath / LightRocket via Getty Images)
A Longboat sails on the Chao Phraya River in Bangkok on a rainy day. The river offers an alternate to using city streets, which are often congested.
(Rosemary McClure / For The Times)
Bhumibol Bridge was built to help alleviate traffic congestion in Bangkok.
(Anan Charoenkal / Getty Images)
An elevated train runs on the line linking Bangkok's city center to Suvarnabhumi airport.
(Pornchai Kittiwongsakul / AFP/Getty Images)
Vistors stroll the grounds of Ayutthaya historical park outside Bangkok. Once the capital of Siam, Ayuthaya was reduced to ruins by a Burmese invasion in the 18th century.
(Rosemary McClure / For The Times)
A monk sketches an image at Ayutthaya historical park.
(Rosemary McClure / For The Times)
A visitor poses for a selfie outside the Grand Palace in Bangkok on a cloudy morning.
(Rosemary McClure / For The Times)
Outside the Grand Palace, which is the No. 1 tourist draw in Bangkok, Thailand.
(Rosemary McClure / For The Times)
The massive Reclining Buddha, 150 feet long, is housed in Wat Pho temple complex, near the Grand Palace in Bangkok.
(Rosemary McClure / For The Times)
Golden guardian statues protect the Temple of the Emerald Buddha at the Grand Palace complex in Bangkok.
(Rosemary McClure / For The Times)
This guardian statue is a colorful protector of the Grand Palace complex.
(Rosemary McClure / For The Times)
BANGKOK, Thailand —
When it comes to traffic, Los Angeles and Bangkok have something in common: constant gridlock. But that's where the comparison ends. In L.A., snarled traffic evokes swear words, rude hand gestures and occasional cases of road rage.
In Bangkok, where more than 90% of the population practices Buddhism, people generally don't honk horns, shout or stress out. Instead, they smile and practice the art of patience.
Call it karma. Call it the road to spiritual bliss. Whatever, it's a happy change of pace. When I visited in October, I felt serene just watching all that serenity unfold around me in the middle of a traffic jam.
It also helped that Bangkok is working to eliminate gridlock and change its image as one of the world's most congested cities. An elevated train, subway and airport link now connect the main areas of the city. Add to that cheap taxis ($2 to $10 fares downtown), riverboat transportation and the ever-present tuk-tuk three-wheel cabs, and you have systems that make it easier to be a traveler here.
"Our signs are in English, and we have very inexpensive methods of transportation," said Juthaporn Rerngronasa, deputy governor with the Tourism Authority of Thailand. "We're trying to make things more convenient for travelers."
Another bonus on the horizon: "Beginning in February, we're going to offer combined tickets for the Skytrain, underground and riverboats," she said. "That will make everything simpler."
Bangkok, repeatedly designated one of the world's best cities by Travel & Leisure magazine (including the 2015 list), suffered a tragedy on Aug. 17 when the Hindu Erawan Shrine in the heart of the city was bombed, killing 20. But the government announced arrests, and the incident receded into the background as other disasters crowded into the global picture.
The Southeast Asian nation would like to put the episode behind it, especially given the unrest that preceded and followed a military coup in Thailand in 2014. The political picture has since stabilized, but the country's image was tarnished.
More than 26 million people visit Thailand annually, about 800,000 from the United States. They find a dynamic city, hot, chaotic, colorful and full of exhilarating contrasts: gilded temples and sleazy red-light districts; gritty street vendors and upscale malls; an Old City and a modern one, both full of art and culture.
I timed my visit well, arriving on a Friday afternoon. Bangkok's gridlock is at its worst during weekday rush hours.
"The key," said a guide, "is planning. Plan not to go anywhere by car during rush hour." Hmm, sounds like my L.A. plan.
Among Bangkok's highlights are firmly rooted, ancient Buddhist beliefs and traditions. I watched smoky clouds of incense rise at the foot of golden shrines at the Grand Palace complex and in front of the giant Reclining Buddha at Wat Pho, joined worshippers as they presented flowers and strips of gold leaf at a temple and saw orange-robed monks drawing images of Buddha at still another temple. More serenity in this boisterous hurly-burly place.
And because traffic was light, I was able to explore other neighborhoods: the sprawling, labyrinthine streets of Chinatown and the Flower Market; bustling Khao San Road, the backpacker district; and the stylish shops and streets of Sukhumvit Road, a tourist and expat's haven.
When Monday dawned, I hopped on the public transportation system, the Skytrain, river taxis and tuk-tuks, which maneuver through the traffic — a sometimes hair-raising way to travel. My plan allowed me to miss most of the gridlock.
Not everyone wants to avoid it, however.
As far as tourist Kylie Hill is concerned, Bangkok's traffic is entertaining.
"It's a bit like 'Wacky Races' cartoons," the Belfast, Northern Ireland, visitor said. "Sort of organized chaos. I love to watch it."
::
There are plenty of ways to get around the gridlock
"You can get almost anywhere you need to go by using the river," hotelier Jason Friedman tells guests at the Siam, a luxury resort on the banks of the Chao Phraya River, which winds through the heart of Bangkok.
The hotel provides its guests with speedboat shuttle rides from its pier, giving them the opportunity to glide by temples, riverside homes and businesses on the way to their destinations.
"Instead of being stuck in gridlock, they're floating by scenery," Friedman says. "They're happy when they arrive instead of stressed."
You don't have to be a guest at a glamorous hotel to take advantage of this mode of travel. Long-tailed boat taxis, rush-hour express boats and cross-river ferries navigate the Chao Phraya as it snakes through the city. You can join others on a boat for fares that start at less than $1 or hire your own boat. Rates are reasonable, depending on time and distance.
Skytrain
Need to get downtown from the airport? The Bangkok Mass Transit System Skytrain is the most reasonable alternative to taxis or an express bus. The Airport Rail Link connects the city to Suvarnabhumi Airport, completing its run in 30 minutes and stopping six times between downtown and the airport. The fare is less than $2.
Tourists also can use Skytrain to access some attractions in the city, such as shopping malls and the Jim Thompson House, onetime home of the American entrepreneur. Avoid the trains at rush hour when they are, not surprisingly, jammed.
Taxis
Tourism Authority of Thailand executive Juthaporn Rerngronasa favors taxis and riverboats for getting around the city. Cabs are inexpensive ($2 to $10 fares are common in town). And they're air-conditioned, a boon in Bangkok's steamy climate. But if you catch one during rush hour, you'll probably be stuck in gridlock. Jump to a riverboat if traffic begins to queue up.
Tuk-tuks
Some people say you should avoid these three-wheeled cabs because they're dangerous. That's true, but they're also a fun way to get around a neighborhood. And the drivers seem to know shortcuts that no one else knows. Fares of $4 or $5 are common, but you can negotiate price. (Yes, they're usually more expensive than cabs.)
::

If you go
THE BEST WAY TO BANGKOK, THAILAND
From LAX, Delta, Air China, China Southern, All Nippon, EVA Airways, Asiana, Korean, Cathay Pacific, China Eastern, China Airways, JAL and Singapore offer connecting service (change of planes) to Bangkok. Restricted round-trip fares from $1,213, including taxes and fees.
TELEPHONES
To call Bangkok, dial 011 (the international calling code), 66 (the country code for Thailand), 2 (the local code) and the local number.
WHERE TO STAY
The Siam Hotel, 3/2 Thanon Khao, Dusit, Bangkok; 206-6999, www.thesiamhotel.com. High-end, 3-year-old urban resort is beautifully designed and has excellent facilities to match. Hotel riverboat delivers guests to tourist destinations, avoiding traffic. Doubles from $424 a night.
Novotel Bangkok Suvarnabhumi Airport, 999 Suvarnabhumi Airport Hotel, Moo 1 Nongprue Bang Phli, Samutprakarn, Bangkok; 131-1111, www.novotel.com. This 400-hotel chain has seven branches in Bangkok, with rooms from $49 a night to $133 at the busy airport facility. Soaring lobby with more than 600 serviceable (if plain-Jane) rooms. Restaurants, pools. The key here is convenience; it's a five-minute shuttle ride to the airport.
Mandarin Oriental Hotel Bangkok, 48 Oriental Ave., Bang Rak, Bangkok; 659-9000, www.mandarinoriental.com/bangkok. Established in 1876, this venerable downtown, riverside hotel served the likes of authors Joseph Conrad and James A. Michener. A renovation program is now in progress. Visit for afternoon tea or a drink at the famous Bamboo Bar if the tariff doesn't fit your budget. Doubles from $429 a night.
WHERE TO EAT
Mango Tree on the River, 240 Yodpiman River Walk, Asadang Road, Wang Burapha Phirom, Bangkok; 110-0820, www.mangotreerestaurants.com. Watch barges, taxi boats and speed boats cruise by from this restaurant perched above Bangkok's main river, the Chao Phraya, then visit the nearby Bangkok Flower Market. Mango Tree, with five locations in Bangkok, specializes in Thai cuisine tempered for Western tastes. Entrees from $7.
Grand Pearl River Cruise and Dining Experience, 123-125 Soi Charoennakhorn 13, Charoennakhorn Road, Klongsan, Bangkok; 861-0255, Ext. 5, www.grandpearlcruise.com. Take this daylong trip to the ruins of Ayutthaya, a World Heritage city and historic capital of Thailand. Morning bus trip includes a stop at the Summer Palace of the king; midday transfer to the riverboat on the Chao Phraya River for a Thai buffet lunch and cruise back to Bangkok. From $72 a person. Half-day and dinner cruises also available.
Madame Musur Bar & Restaurant, 41 Soi Rambutri, Chana Songkhram, Phra Nakhon, Bangkok; 281-4238, www.facebook.com/madamemusur. Homey lamps, couches and coffee tables set the scene at this happening lounge in the backpacker district of Bangkok. Specialties are North County Thai dishes, including satays, curries and noodles. Entrees from $7.
TO LEARN MORE
Tourism Authority of Thailand, 611 Lachmont Blvd., Los Angeles; (323) 461-9814, www.tourismthailand.org
---
Get inspired to get away.
Explore California, the West and beyond with the weekly Escapes newsletter.
You may occasionally receive promotional content from the Los Angeles Times.