Can't-miss UNESCO World Heritage Sites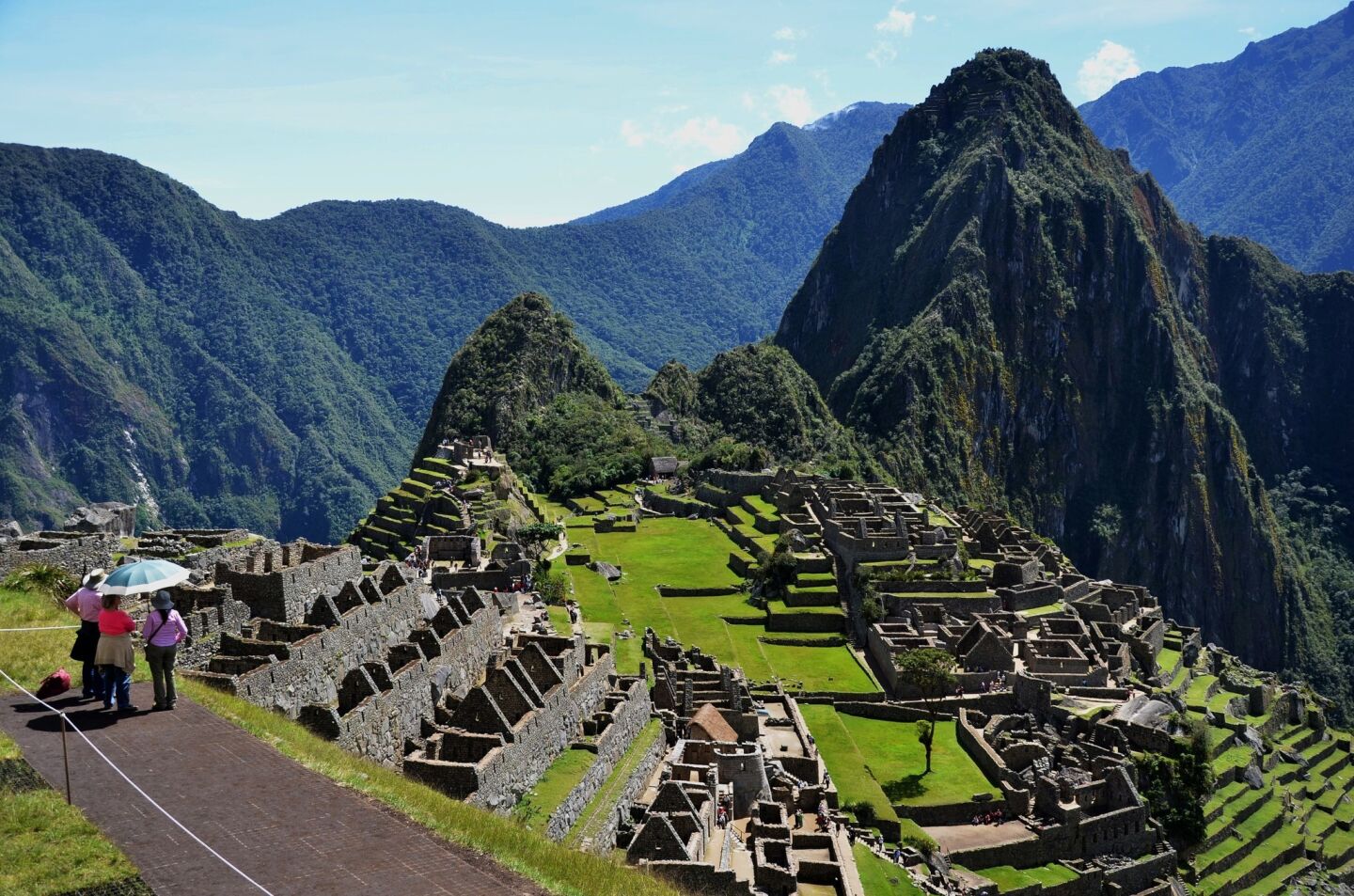 The classic Machu Picchu view from just below the site's ancient guardhouse.
(Christopher Reynolds / Los Angeles Times)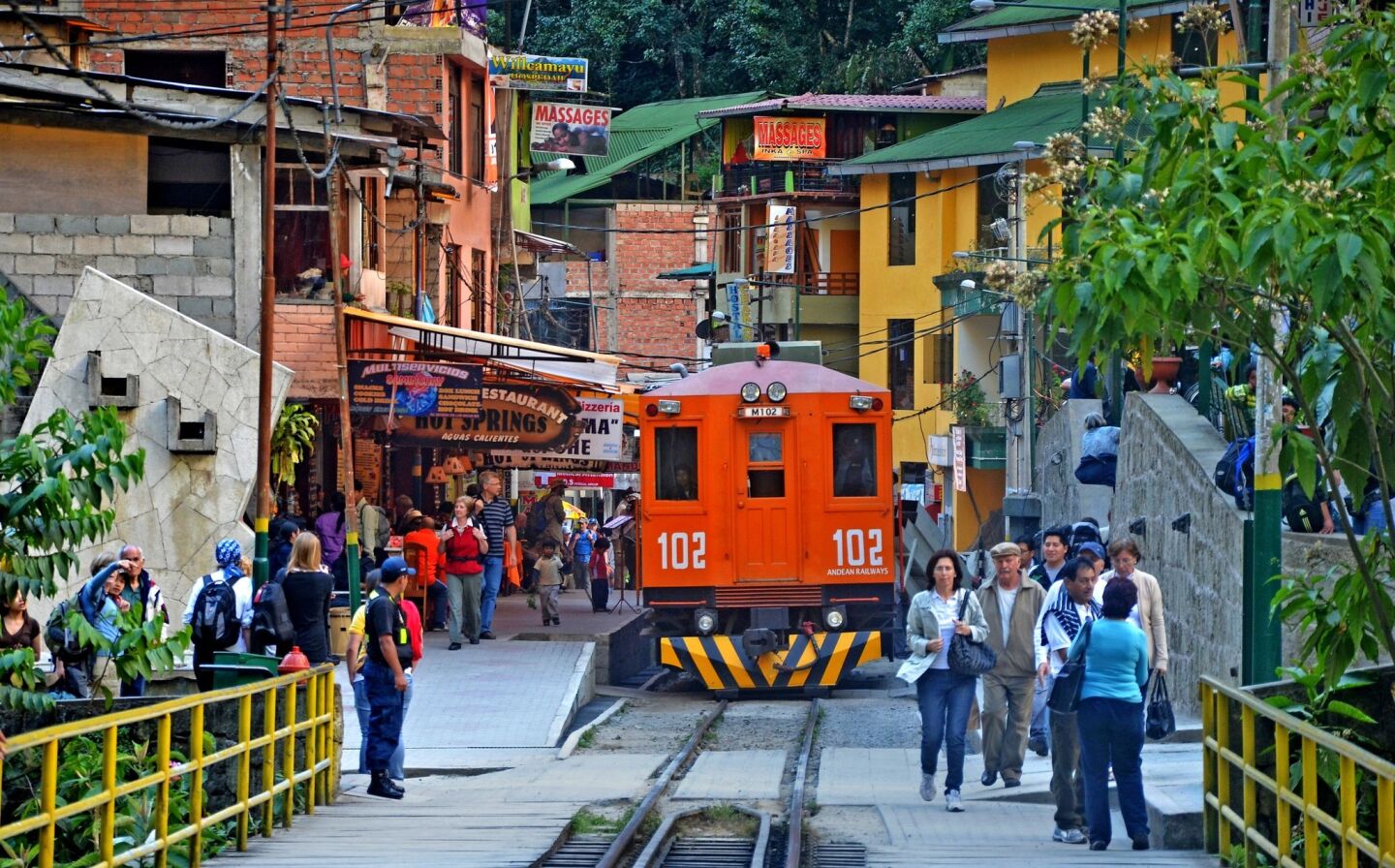 The town of Aguas Calientes, Peru, also known as El Pueblo de Machu Picchu, stands at the foot of Machu Picchu, astride the railroad tracks that lead to Cuzco.
(Christopher Reynolds / Los Angeles Times)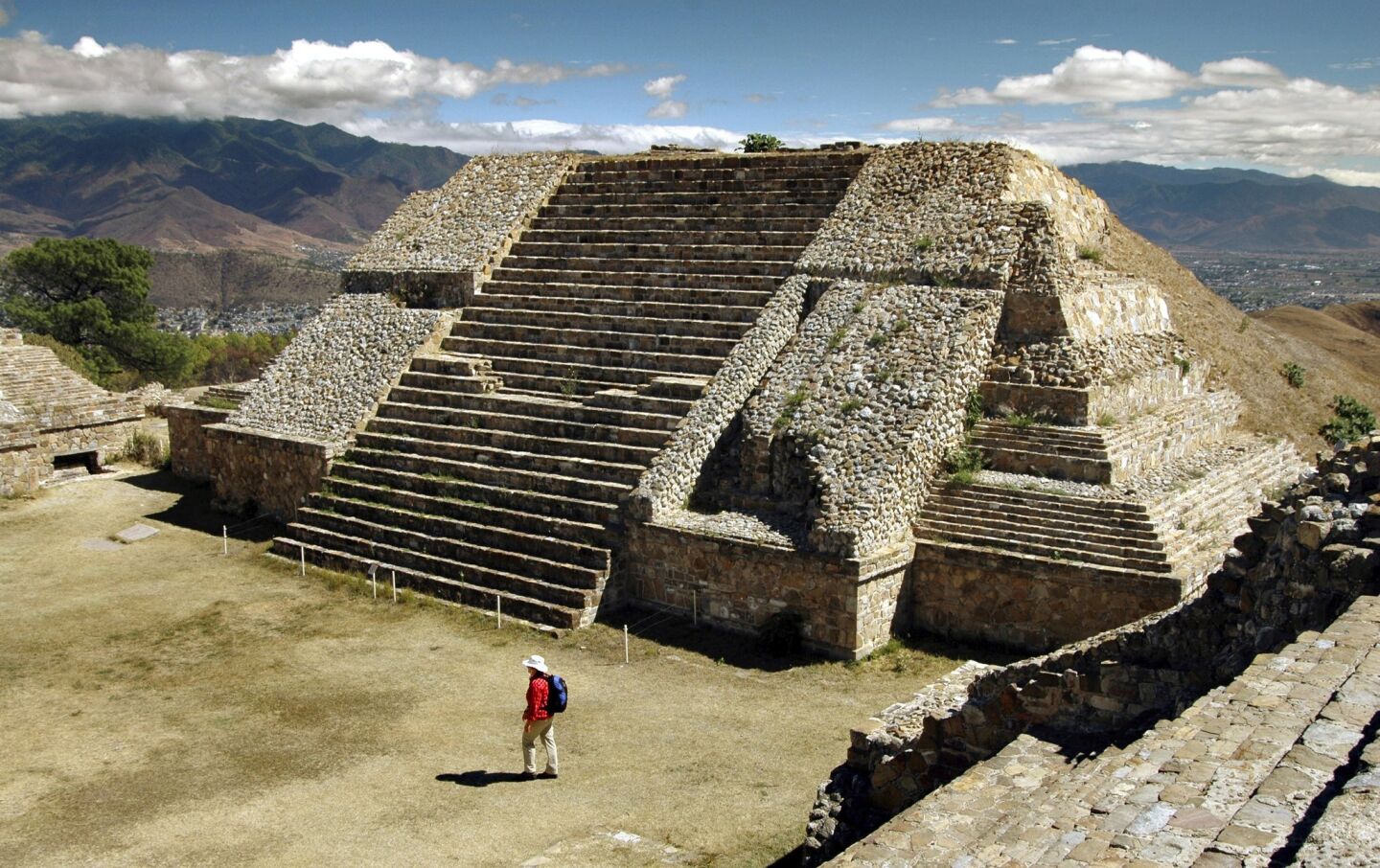 A temple at the Monte Albán ruins in Oaxaca, Mexico.
(Jacques van Dinteren / Getty Images)
Hohensalzburg Fortress, the largest fully preserved fortress in central Europe, rises up over the city of Salzburg.
(Rudy Balasko / Getty Images)
Young couples dance at the Salzburg Festival Ball held at the end of the 2014 Salzburg Festival.
(Franz Neumayr / EPA)
The list of UNESCO World Heritage Sites (whc.unesco.org) grew to 1,007 in 161 countries in June when 26 sites were added. For travelers, this is a veritable buffet of possibilities of great destinations.
Among the cultural or natural treasures added this year: the Bolgar Historical and Archaeological Complex (Russian Federation), the Precolumbian Chiefdom Settlements With Stone Spheres of the Diquís (Costa Rica) and the Decorated Cave of Pont D'Arc (France).
Four down, 1,003 to consider. How to whittle it down? We've assembled a short and admittedly personal can't-miss list of UNESCO World Heritage Sites — a sort of starter kit — that will especially appeal to those who live in the Southland. (In one case — Cuzco/Machu Picchu — we've joined two listings separated by a few miles; in another instance — Glacier Bay — our entry was carved out of a larger site.) Proximity played a role in this selection; history and Hollywood did too.
We've left off Yosemite for the time being, partly because it's an oft-visited and well-loved destination, partly because recent fires have complicated travel there.
____
An unforgettable cruise of breathtaking Glacier Bay, Alaska
Glacier Bay National Park & Preserve (nps.gov/glba/index.htm) was added to the UNESCO list in 1993 as part of the 25-million-acre Kluane/Wrangell-St. Elias/Glacier Bay/Tatshenshini-Alsek site, which spills across the border of Canada and the United States.
Glacier Bay is easy for travelers to take in; it is a standard destination for many Inside Passage Alaska cruises departing from Seattle or Vancouver, Canada. National Park Service rangers often board the cruise ships and offer running commentary.
You can enjoy the scenery from the top deck or, if you have such a cabin, your veranda. My wife and I visited Glacier Bay for the second time in June, aboard the Coral Princess, and though I knew what to expect, the experience remains awe-inspiring.
As cruise ships enter Glacier Bay, you'll often see orcas, dolphins, sea otters and more, all cavorting. As the voyage continues, small icebergs begin to crop up, keeping vigil like graveyard monuments in the gray-green water.
A series of glaciers appears in succession, among them the strikingly blue Lamplugh Glacier, standing like an ancient fortress complete with crumbling spires and sagging battlements.
As we approached Johns Hopkins Glacier, Park Service ranger Andrea Markell said, "We're looking at one of the rarest things in the world. Why? This glacier is actually growing."
Hopkins is one of only a dozen glaciers in Alaska that is either growing or maintaining its size, Markell said. The rest — and Alaska has more than 100,000 glaciers — are in retreat.
The star of Glacier Bay is the mile-wide Margerie Glacier. Thousands of icebergs, the result of active calving, herald the approach.
Naturalist John Muir first visited Glacier Bay in 1879 and documented the glacial retreat, which continues. Of the calving glaciers, he wrote: "The sound they make is like heavy thunder, with a prolonged roar after deep thudding sounds — a perpetual thunderstorm easily heard three or four miles away."
As the cruise ships pause and turn before Margerie Glacier, passengers, with cameras ready, watch the ice slip in sheets into the silty brown water. Then, after a slow two-count, a report like a rifle shot or a deep rumble sounds, much as Muir described. Unforgettable.
____
The hills are alive with the sound of music in Salzburg, Austria
Across the Atlantic, musical notes beckon you to Salzburg, Austria, Mozart's birthplace and the setting for Rodgers and Hammerstein's beloved "Sound of Music." It's not one of Europe's grand capitals, such as Berlin, Paris or nearby Vienna, but an incredible Baroque mixture of Italian and German architecture, steeped in charm.
You can tour Salzburg's Von Trapp family homes and film locations (bit.ly/1fN7KO6) or take in the Mozart Dinner Concert (bit.ly/1oljVTO), which is the composer's greatest hits enjoyed by candlelight in an elegant Baroque dining hall.
Travel writer Rick Steves calls Salzburg (www.salzburg.info/en) "a museum city with class." Salzburg, whose historic center was added to the UNESCO list in 1996, is home to Hohensalzburg, Europe's largest intact medieval fortress. You can easily explore it by foot or bicycle, although you will have to lock your bike and proceed afoot through the narrow streets of the Old City.
When you can't bear the thought of sampling another chocolate or strolling past more shop windows filled with gorgeous hand-stitched clothing, grab a taxi and head to Hellbrunn Palace (www.hellbrunn.at/en) and its trick water features.
What do you do when you are the fabulously wealthy Prince-Archbishop of Salzburg and looking for a diversion? In the early 17th century, the answer, evidently, was to build an elaborate garden and target your guests with hidden water jets that spray from archways, the pavement or even a seat.
Watch out when one of the guides starts rattling his keys.
"I had no choice. I had to do it," a guide told us after the third or fourth time one of our group was hit by spray.
Hellbrunn lacks the historical punch of Monticello, at least to my American eyes. But by the time the tour is up, you can count on two things: You'll wind up soaked — and laughing.
____
A stroll through Mexican history, culture in Oaxaca
Like Guanajuato and Zacatecas, Mexico, also World Heritage Sites, Oaxaca (lat.ms/1yobzzm), the capital of the southern Mexican state of the same name, is made for strolling or just sitting on a park bench in the city square, or zócalo.
Ramble the streets and peruse the shops for black clay pottery, colorful wood carvings known as alebrijes or brightly dyed rugs made in the nearby village of Teotitlán del Valle (well worth a side trip by bus or rental car). Sample a dish of the typical mole sauce, which comes in seven variations, plus infinite minor tweaks.
Tune up for your trip to the spectacular ruins of Monte Albán with a visit to the Rufino Tamayo Museum of Pre-Hispanic Art and its pieces produced by the Zapotec and Mixtec people. Even more impressive is the Museum of Oaxacan Cultures, particularly the gold, silver and jade treasures discovered in Tomb 7 of Monte Albán in 1932.
If you can make it during the pre-Christmas season, La Noche de Rábanos (Night of the Radishes) is celebrated in the city center every Dec. 23. Enormous carved radishes in the shapes of saints, animals and humans are put on display, and a carnival atmosphere prevails.
Crown the evening with buñuelos, a deep-fried pastry slathered with sugary syrup. Then, according to custom, you smash the clay plate on which they are served.
The history of Monte Albán is riddled with holes. It was founded by the indigenous Zapotecs, whose name means "people of the clouds," and traces its history to 500 BC. The site was abandoned around 800, and centuries later, the Mixtec people repopulated the mountaintop city overlooking the Oaxaca Valley.
From its ball-game court to its temples, stone monuments and tombs, Monte Albán presents a striking and easily accessible glimpse of an indigenous capital. The site is only six miles from the city of Oaxaca, and tour buses are plentiful.
____
'Breathless' is word of the day in Cuzco and Machu Picchu, Peru
Smallpox rather than swords became the weapon Spanish conquistadors unwittingly used to vanquish the Incas, who had established the greatest empire of the Americas in the lofty heights of Peru's Andes.
Visitors arrive in Lima by air and generally must overnight there before the quick flight — or 21-hour bus ride — to scenic Cuzco, the Inca capital city.
You will want to spend a night or, even better, two in Cuzco to acclimate to the altitude. At 11,000 feet, Cuzco is twice as high as the mile-high city of Denver, and headaches and shortness of breath may prove unwelcome companions.
In the picturesque Plaza de Armas, you can browse shops and marvel at the colorful clothing. Insistent street vendors will urge you to buy from them, but it's all part of the atmosphere, like the Inca stonework that can be seen in the streets nearly 500 years after Francisco Pizarro rode in at the head of an army fewer than 200 strong.
What tourists generally come to Cuzco to find, though, is not Cuzco itself but the lost Inca city of Machu Picchu that Yale University history lecturer Hiram Bingham III rediscovered in 1911 (lat.ms/1CXDYRT).
Purists will preach to you the merits — nay, the necessity — of arriving at Machu Picchu by way of the three- or four-day (or even longer if you choose) hike on the Inca Trail, between April and October. But for my wife and me, novice hikers at best, we chose the convenient train and bus, which cart hordes of tourists for 70-plus miles and deposit them at the ruins.
Between the altitude (Machu Picchu, at nearly 8,000 feet, is lower than Cuzco but still a long way up) and the mystical aspect of the ruins set in the mist-shrouded Andes, you can expect "breathless" to be the word of the day.
____
Thomas Jefferson's legacy at Monticello, University of Virginia
Anyone who has ever flipped a nickel has seen Monticello, Thomas Jefferson's home about 115 miles southwest of Washington, D.C., but experiencing it requires a winding drive through rural Virginia and up the "little mountain" that likely gave the plantation home its Italian name.
The standard tour (www.monticello.org) begins on the portico, where a guide may ask visitors what they think of when they hear Jefferson's name. In our group, "Declaration of Independence" was quickly followed by "UVA" (University of Virginia) and "dumbwaiter" — a device he installed in the dining room to bring up wine from the cellar.
Indeed, as we discovered on the tour, Monticello is full of gadgets that the inquisitive Jefferson loved, from a polygraph that allowed him to write two letters at once (Jefferson wrote more than 19,000 letters) to a double-faced Great Clock that tells the time whether you're outside or inside.
Monticello is also littered with endearing imperfections, such as the holes cut into the hall floor for that same clock, because Jefferson miscalculated the length of rope needed to suspend the cannonball-like weights that power it and indicate the day of the week.
A behind-the-scenes tour reveals more flaws, such as the giant steps created by oversize beams and angled brick walls in an attic that show where Jefferson added onto the structure during Monticello's expansion in 1796, 24 years after he and his bride occupied an original one-room dwelling here.
The expanded tour also allows for a top-floor glimpse of the Mars-yellow Dome Room, which, despite its beauty, wasn't often used.
Just as the house's imperfections creep into view on closer inspection, Jefferson's legacy shows its cracks during a guided Slavery at Monticello tour.
As we gathered in the shade of Mulberry Row, overlooking the terraced garden that the estate's slaves created on the hillside, guide William Bergen offered a frank and fascinating dissection of Jefferson's attitude toward slavery, including how it shifted after he inherited slaves. The talk also addressed slave Sally Hemings and how Jefferson probably fathered her six children.
"Jefferson's entire life was involved with slavery," Bergen said. "His decision to own human beings allowed him the leisure to become the man he was."
As Jefferson passed from his 70s into his 80s, he tackled the design of the University of Virginia (www.virginia.edu) in Charlottesville.
"As his own body's fabric was disintegrating, he poured his spirit into a physical expression of intellectual activity," author Garry Wills wrote in "Mr. Jefferson's University," describing his design of the university between 1817 and 1826.
Jefferson frowned on the common quad layouts of Cambridge and Oxford, preferring instead what he called a Neoclassical "village" of 10 red brick pavilions with white columns modeled on buildings Jefferson had seen in books or during European travels.
The design of the central library building, the Rotunda (closed for a two-year, $50-million renovation), was drawn from the Pantheon in Rome — a building Jefferson knew only from engravings.
David Neuman, architect for the university, noted that Jefferson's design had withstood the test of time in both form and function.
"This is not a museum but a living, breathing, hard-use facility being used every day," Neuman said, "just as Jefferson intended nearly 200 years ago."
Let us know which U.N. Educational, Scientific and Cultural Organization sites have been worthwhile visits for you. Write to travel@latimes.com.
---
Get inspired to get away.
Explore California, the West and beyond with the weekly Escapes newsletter.
You may occasionally receive promotional content from the Los Angeles Times.