Settle in with the good book at D.C.'s Bible museum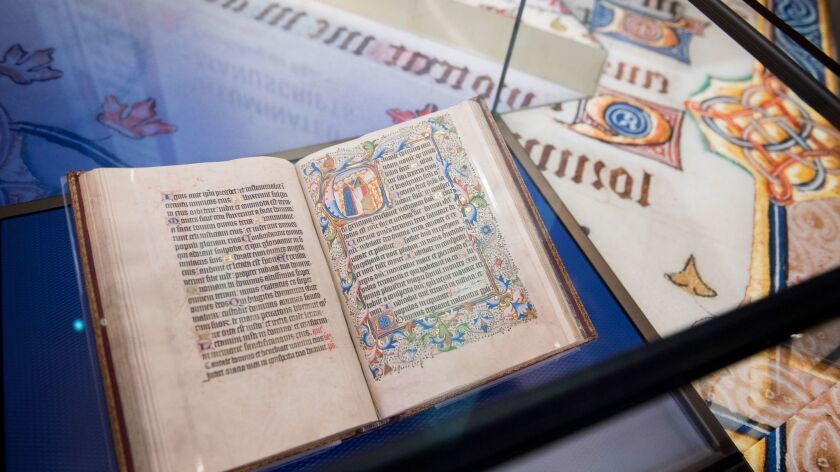 Reporting from Washington, D.C. —
Where else can you admire a Katy Perry dress, observe Elvis Presley's Bible and watch Brad Pitt citing the Book of Isaiah all within 20 feet?
The Museum of the Bible, of course, which opened here last year to equal parts fanfare and controversy. Pope Francis sent an official blessing amid criticism about — and later the return of — illegally smuggled artifacts.
In October, the museum removed five of its 16 fragments of Dead Sea Scrolls confirmed to be fake. And the remaining 11 slivers? "(C)onclusions on the status of the remaining fragments are still forthcoming," according to a museum statement.
Despite such turmoil, the museum in its first year received nearly a million visitors and hosted 15 events with biblical scholars. Its 40,000 exhibits, objects and artifacts encompass 430,000 square feet, nearly 25% larger than the Forum in Inglewood.
The museum is housed in a 1922 warehouse, the remodeling of which took nearly two years, cost $550 million and includes bricks imported from Denmark to match the original ones.
Its entrance was the original building's train portal. Before entering, visitors gaze at two panels, each nearly 40 feet tall, displaying the first 80 verses of Genesis in Latin.
The letters are reversed, as on a printing plate, the museum website states, "to encourage guests to create their own souvenir rubbings … (and) serves as a tangible and dramatic introduction to what awaits guests inside."
In the Salt Lake tabernacle Brigham Young built, 360 voices blend with frontier history »
One of the more dramatic artifacts is a part of a Gilgamesh dream tablet, a piece of clay dating to 1500 B.C. in Iraq, with text in Akkadian, a language spoken in ancient Mesopotamia.
As you might expect, there are lots of Bibles — old ones and new ones in various languages, as well as a pile of simulated burned Bibles surrounded by explanations of historic events in which the book was banned.
The six-floor museum is the brainchild of board chair Steve Green, who is president of Hobby Lobby, the retail crafts giant based in Oklahoma City, the westernmost notch of America's Bible Belt.
Some scholars have criticized him and the museum as a means to promote American evangelical Protestantism. Indeed, one wonders why a Hindu or Buddhist, let alone an agnostic or atheist, would want to visit.
"The Museum of the Bible invites all people to engage with the history, narrative and impact of the Bible," said Ken McKenzie, the museum's chief executive. "It is nonsectarian, meaning it does not promote any particular religion. It is the hope that everyone, whether they have a faith or not, learns something new about the most popular book of all time by visiting the museum."
If you can set aside the criticism and controversy and have three to four hours to spare, a visitor is offered an engaging array of children's games, virtual reality experiences and actors portraying characters from Nazareth.
It's all designed to educate, enlighten and inspire people about the book Guinness World Records insists is the bestselling of all time.
Virtual exploring
Inspiring and enlightening describe "Explore!" a three-dimensional, 360-degree virtual reality tour of contemporary Jerusalem and more than 30 locations well-known to anyone with even a cursory knowledge of the Bible and Holy Land.
You climb the stairs to the Temple Mount, cross the Sea of Galilee in a wooden boat and stroll through the Garden of Gethsemane.
While walking along the narrow road to Jericho, I allowed myself to imagine being transported to the first century and coming across a Samaritan lifting another man, battered, beaten and left for dead, and helping him lead the victim to a nearby inn.
The nine-minute tour calmed me after enduring six minutes of the dizzying, gut-wrenching "Washington Revelations." This "flying theater" takes viewers on a tour of scriptural references in federal buildings and monuments, while soaring over trees and skimming the surface of the Lincoln Memorial Reflecting Pool.
I "flew" into the Capitol Rotunda and Union Station and stopped briefly at other well-known sites — as well as some obscure locations — to observe quotes from the Old and New Testaments. The experience is more hollow than hallowed and left me wondering about its relevance beyond sensory stimulation. OK, but so what?
Chapter and verse
That so-what cynicism dissipated when I entered the "Bible In the World," a section in which museum curators connect the Good Book with culture and the arts. First up is fashion and a Dolce & Gabbana dress emblazoned with a Byzantine image of the Virgin Mary. That outfit, once worn by singer Katy Perry, is complemented nicely by the nearby pair of "Crucifix Pumps" designed by Gianni Versace.
Just ahead is what appears to be a simple, black leather-bound Bible, until I read the the owner's name in gold-embossed lettering on the cover: "Elvis Aron Presley." (Legally, his middle name was spelled Aaron.")
Looking up, you cannot miss a wall of book covers, all containing explicit or implicit references to the Bible. Authors include Robert Heinlein ("Stranger in a Strange Land") and John Steinbeck ("East of Eden"), as well as a large display of quotes from Shakespeare's plays.
Nearby, various titles, such as Maya Angelou's "I Know Why the Caged Bird Sings," circulate across an oversize exhibit simulating a book. "As a writer, she kept the Bible close at hand to read aloud for inspiration," the inscription reads.
The solemnity of the moment is interrupted by the familiar voice of actor Steve Carell corralling animals onto an ark in a scene from the 2007 film "Evan Almighty." The clip from this "comedy of biblical proportions" is one of more than a dozen screened in a nearby theater.
There are, of course, the obvious selections: Charlton Heston in "The Ten Commandments" and Mel Brooks' "History of the World Part 1," Moments later, Brad Pitt and Shia LaBeouf appear in "Fury," cramped inside a World War II tank, quoting the Book of Isaiah.
Everyday life
Instead of Isaiah, it is Joshua, or rather an actor portraying a rabbi named after Moses' heir to lead the Israelites, you meet wandering into a synagogue. Dressed in a traditional dark robe and headscarf, he reads silently from a mock Torah scroll for inspiration, then beckons visitors inside with a "Shalom."
The scene is part of "The World of Jesus of Nazareth," a nearly 7,000-square-foot exhibit designed to present everyday life in the first century. Visitors are introduced to the social and political struggles Jews faced, seeking to practice and preserve their faith inspired by the Old Testament while dealing with the increasingly harsh Roman occupation.
The exhibit includes an olive mill where the fruit of one of the region's most ubiquitous trees would be crushed into oil used for healing, light and religious anointing. Nearby in a re-created residence, olives are placed prominently on the dining table in matching clay bowls — not a chip or crack to be seen. The scene is so inviting that I half-expected Martha Stewart or Ina Garten to appear offering freshly baked bread, a daily staple in biblical Palestine.
If you go
Museum of the Bible, 400 4th St. S.W., Washington, D.C.; (866) 430-6682. Open 10 a.m.-5 p.m. daily. Admission $19.99 ($24.99 at the door) for adults; $9.99 ($14.99 at the door) for children ages 7 to 17.
No on-site parking. Use the subway system and exit at the Federal Center S.W. Station one block from the museum.
---
Get inspired to get away.
Explore California, the West and beyond with the weekly Escapes newsletter.
You may occasionally receive promotional content from the Los Angeles Times.