Disney's Aulani helps elevate Ko Olina as a destination
Aulani is a Disney-owned resort and spa located in Ko Olina—a resort district on Oahu.
[For the record:
A previous version of this caption said that Aulani is on Maui. It is on Oahu.
]
(Hudson Henry)
A child plays in one of the water features at the resort, which is designed to celebrate Hawaiian culture, history and traditions.
(Hudson Henry)
Aulani has 359 rooms and 481 Vacation Club Villas, and every feature a resort could offer. Here, a child jumps into the water at the new Ka Maka Grotto, which opened in October.
(Hudson Henry)
The J.W. Marriott Ihilani is another hotel option in the area. The property completed a $30-million renovation in 2011.
(Hudson Henry)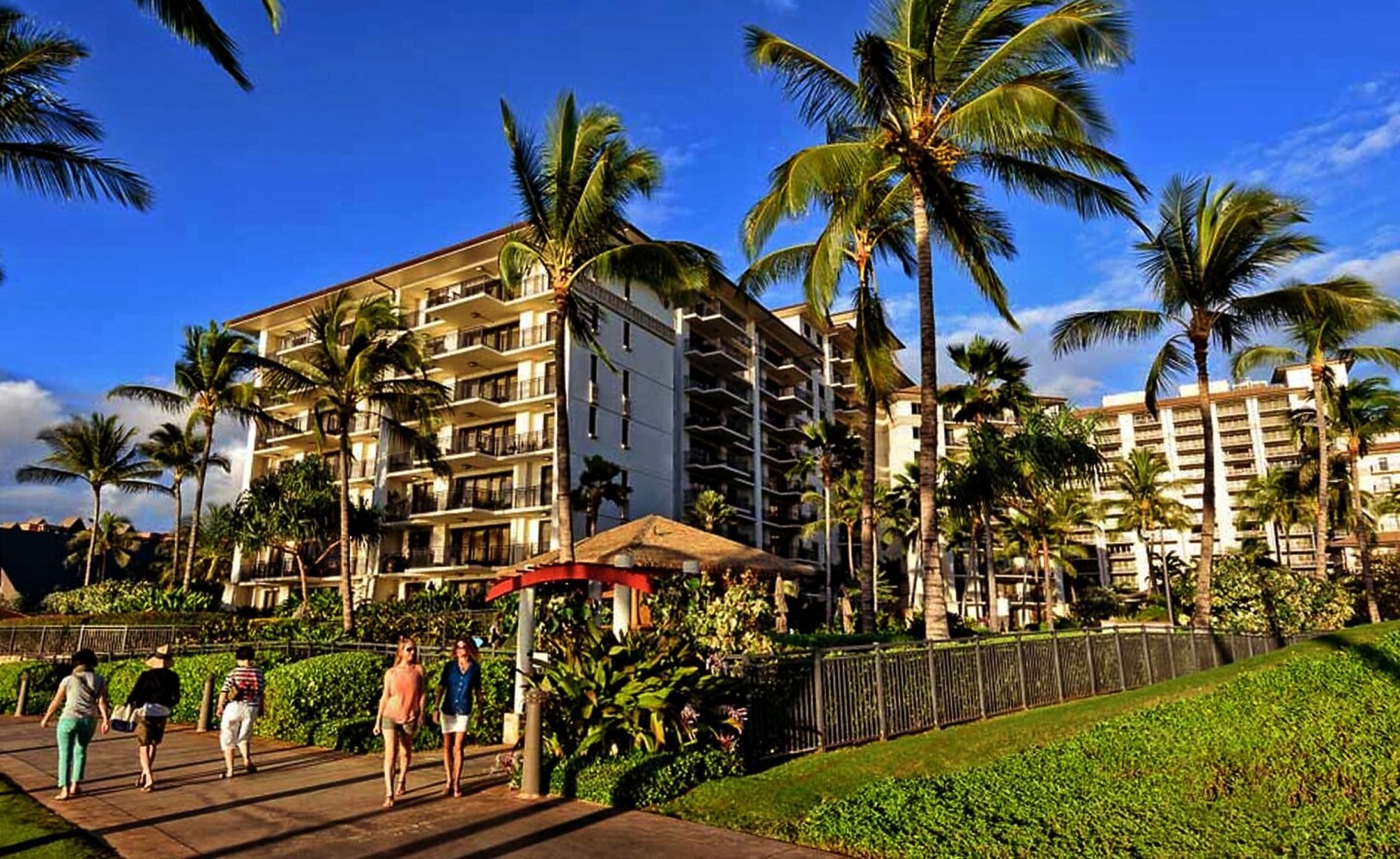 Villas at the Ko Olina Beach Villas Resort can be rented by the week. Try to secure a ground-floor unit, then open the sliding-glass pocket doors and let your living room and chef Roy Yamaguchi-designed kitchen spill into the pool area.
(Hudson Henry)
KO OLINA, Hawaii — Hang around the fire-pit fire long enough, watching Uncle Ito breathe life into Hawaiian legend, and those rascally little menehune inevitably clamber into the conversation.
Uncle Ito, one of the resident storytellers at Aulani, a Disney Resort & Spa, is blessed with an abundant sense of humor. In a recitation of the menehune people's favorite foods (banana, sweet potato, fish, poi), he's been known to insinuate a Disney reference to Mickey ice cream bars.
Similarly, the story of a new tourism boom on Oahu, Hawaii's most visited island, can't be told without bringing up Disney. Since opening in August 2011, Aulani has helped fuel visitorship and elevated its Ko Olina location on Oahu's west shore as an attractive alternative to Waikiki.
Once envisioned by developer Herbert K. Horita as Oahu's answer to the Kaanapali Beach Resort on Maui, Ko Olina and its four man-made lagoons remained all but unnoticed until a partnership headed by developer Jeff Stone took over the project in 1998. It had one full-scale resort (since rebranded as the J.W. Marriott Ihilani), a Ted Robinson-designed golf course and a whole lot of empty space fronting those scenic lagoons.
A luxury condo complex and two high-rise resorts have sprouted since then, the most recent being Aulani. The marina opened in 2000. Over the last decade, the golf course has welcomed a spate of new homes and a Roy's restaurant. Nearby, a modest commercial center is slowly filling with shops and casual eateries — notably a Monkeypod Kitchen from renowned Hawaii regional chef Peter Merriman.
Disney, which spared no expense in trying to create an "authentic" Hawaiian resort rather than the Polynesian playgrounds that typify the islands, has continued to keep construction crews busy.
In response to visitor comments, the resort has retooled its already-stunning Waikolohe Valley water-play area and added a new fast-food option. Ka Maka Grotto, which includes an infinity pool, a kiddie splash area and more poolside seating, debuted in October.
Ko Olina is no Kaanapali yet, but that's not a bad thing — especially with the high-rise jungle of Waikiki just 40 minutes down Interstate H-1. It's compact enough to offer a variety of on- and off-water activities and eateries within short walking distance, whether your goal is self-improvement or self-indulgence.
Aqua and other adventures
"I have a calling," fitness instructor Nita Ortiz told us. "It's to show life here the best it can be."
Four of us — two couples — had assembled on the golden sand of the lagoon fronting Aulani for an hour of aqua fitness with Ortiz.
We spent an hour traversing the lagoon using a mix of cross-country-skiing, running and swimming motions, pausing briefly for an errant couple on a standup paddle board and a turtle surfacing for air.
Aquatic life inside the lagoon proved relatively scarce on subsequent explorations, but a catamaran snorkeling sail from the Ko Olina marina to a spot nearby revealed reef life in all its glorious color: yellow milletseed butterflyfish nibbled food from our fingertips, Moorish idols and black durgon triggerfish jockeyed for scraps, and silver needlefish and broomfish shyly eyed the commotion.
Catamaran crew members with Ko Olina Ocean Adventures ([808] 396-2068, https://www.koolinaoceanadventures.com) were friendly and capable, keeping us hovering near — but not too near — a pod of spinner dolphins and, later, a migrating humpback whale pointed south toward Maui.
Both Aulani and the neighboring J.W. Marriott Ihilani bring the ocean — or a reasonable facsimile — right to their guests. Aulani is home to Rainbow Reef, a 3,800-foot snorkeling lagoon (basically a saltwater pool) inside the resort property itself, away from the beach. A one-day pass, including rental equipment, is $15 for adults and $10 for children 9 and younger.
Next door, the Ihilani's open-air lobby flows gracefully down to a series of ponds that are home to native fish, eagle and brown rays and scalloped hammerheads and sandbar sharks. The Reef and Ray Adventure costs $44.79 and allows guests to get up close and personal.
Aquarist Kim Fuller introduced us to the marine life. We also fed 5 pounds of clams, one by one, to the two eagle rays. Later, standing in the water behind a low portable fence, we tossed bloody mackerel chunks to the whirling, thrashing sharks.
Inspired by fitness instructor Ortiz, I resolved to continue my attempts at self-improvement.
Jerry Kraesig, an assistant tennis pro at the Ihilani, helped fine-tune my erratic forehand and wandering service toss. And Marcus Judge, director of player development at the Ko Olina Golf Club ([808] 676-5300, https://www.koolinagolf.com ), patiently diagnosed the shortcomings in my swing. Thankfully, the course manages to be both scenic and forgiving.
"If you're on vacation," Judge said, "you're not looking for a place that's going to beat you up."
Resort relaxation
Ko Olina, whose name means "fulfillment of joy," traces its roots as a relaxation spot back to Hawaiian royalty, who came here to fish. Unrecognizable as it would be to them now, it's still an idyllic spot to hang out, soak in the sun and indulge.
Starting with Aulani ([714] 520-7001, resorts.disney.go.com/aulani-hawaii-resort), we sampled three of Ko Olina's four mainstream resort/condo/timeshare options during our stay.
Not surprisingly, Aulani stands head and shoulders above its neighbors for families. Besides the magnificent pool area —with its two water slides, lazy river, water-play area and the just-added Ka Maka Landing — the resort rolls out a cruise-ship volume of daily activities for kids, teens and parents.
Service generally hits the high notes that Disney customers have come to expect.
"Any time you go to a Disney resort, it's like going home," said Sarah Everett, 27, of Arkansas, sunning in the new Ka Maka pool area with a friend.
As noted in The Times' original review of the resort in 2011, food pricing and variety continue to be an issue, despite the addition of the Ulu Café, the new fast-food choice in Ka Maka Landing.
The keiki (kids) meal offerings there and elsewhere in the resort constitute a bargain, however, at about $7. Chicken strips are a staple throughout Aulani, and a server confided the reason: Kids want them.
Aulani's premier dining spot, 'Ama 'Ama, offers spectacular beachfront views and artistic, locally sourced plates such as house-made cavatelli pasta cradling sweet and fresh prawns. Service can be inconsistent, however.
Both Monkeypod Kitchen ([808] 380-4086, https://www.monkeypodkitchen.com/ko-olina) and Roy's ([808] 676-7697, https://www.roysrestaurant.com) provide pleasant off-resort dining options for fresh seafood and more. Monkeypod is casual and fun, especially on the outdoor patio; Roy's, which has expanded to the West Coast and beyond, has a bargain fixed-price menu — by Hawaii standards — at $41.50. Servers are knowledgeable and attentive.
Our most romantic meal came at Azul, an Italian restaurant set amid the burning tiki torches at the Ihilani resort.
The Ihilani ([808] 679-0079, https://www.ihilani.com) is the area's grande dame, having been constructed in 1993. But the property completed a $30-million renovation in 2011, and it remains an open, classy resort that welcomes kids but is more suitable for a couples getaway. Its spa is an oasis of comfort.
The Ko Olina Beach Villas Resort ([877] 333-3808, https://www.koolinabeachvillasresort.com) is tranquillity itself. These condos can be rented by the week; try to secure a ground-floor unit, then open the sliding- glass pocket doors and let your living room and chef Roy Yamaguchi-designed kitchen spill into the pool area.
Glued to a lounge chair just outside, watching tropical birds flit from the tree branches, I couldn't help but compare myself to a Hawaiian monk seal we had seen the day before sunning itself on the sand near the Ihilani. Fulfillment of joy indeed.
---
Get inspired to get away.
Explore California, the West and beyond with the weekly Escapes newsletter.
You may occasionally receive promotional content from the Los Angeles Times.