Walk in detective Harry Bosch's footsteps on DTLA pop-up walking tour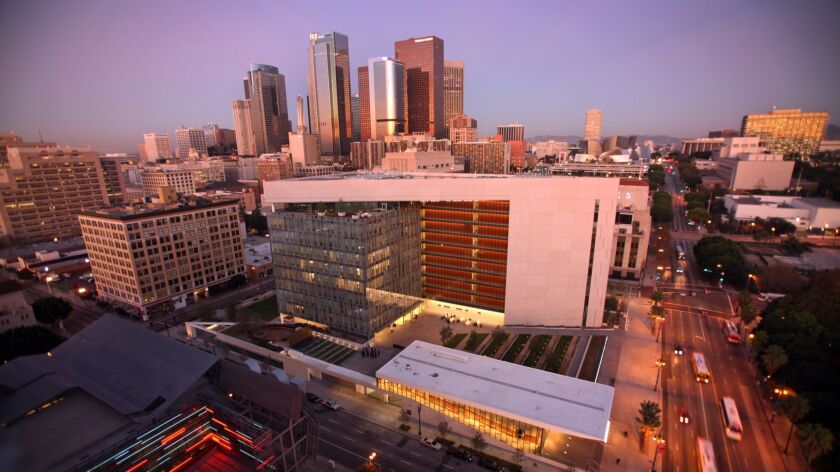 Harry Bosch gets around. The fictional Los Angeles homicide detective stars in 21 mystery novels by Michael Connelly and the Amazon Prime TV series "Bosch," which recently started a fourth season.
Now Harry (short for "Hieronymus") can lay claim to his own walking tour of downtown Los Angeles.
The pop-up tour by Downtown LA Walking Tours focuses on the Biltmore Hotel on Pershing Square, which opened in 1923; the Bradbury Building, built in 1893; and other landmarks that appear in Bosch books and the series.
In some cases, participants will be standing at key filming spots in the series and will learn the background of each stop. "We have photo stills from Amazon," tour operator Neel Sodha said.
Things have changed in the city since Harry made his fictional debut in 1992. Instead of visiting the Parker Center police headquarters, which has been shuttered since 2009, the tour (and the Amazon series) visits the new LAPD headquarters, a glass marvel at Spring and First streets.
The next Bosch tour meets at Pershing Square in downtown L.A. and runs from 3 to 5 p.m. on May 6. It costs $20 for adults, $5 for children 5 to 12 years old. Tours sell out quickly, and Neel said more Bosch tours likely will be added. Stay tuned by checking out Downtown LA Walking Tours on Facebook and Twitter.
The company also offers regularly scheduled historical, architectural and culture tours of downtown and recently added Hollywood as well.
ALSO
Hiking and history are on display on a weekend escape to Prescott, Ariz.
Not invited to Prince Harry and Meghan Markle's wedding? Here are five places where you can feel like a royal
In San Francisco, you simply don't need a car on Market Street and the waterfront. In fact, you'll be happier without one
---
Get inspired to get away.
Explore California, the West and beyond with the weekly Escapes newsletter.
You may occasionally receive promotional content from the Los Angeles Times.