Taking a green rental bike through DTLA? A tipsheet for first-timers
The green Metro rentals are easy to find and make for a breezy, affordable way to see the sights of downtown Los Angeles.
A bike tour of downtown Los Angeles — or DTLA — is a breezy way to skirt congestion and see city sights up close. The affordable green Metro bikes can be found in racks every few blocks, and are placed at such hot spots as Union Station and Grand Central Market. Zig-zag your way through the booming Arts District or pedal to the museums up the hill. The weather is usually good, and the midday traffic is relatively light. Beware of buses and car doors and always wear a helmet.
Where do I start? Anywhere, but here's a map to the bike rental locations.
How much does it cost? $3.50 for trips of 30 minutes or less. It's another $3.50 for each 30 minutes after the initial half-hour. If you're making a day of it, buy a $7 day pass for significant savings — but read the fine print since the total can add up to more than seven bucks. Note that you can get from Union Station to Staples Center in 15-20 minutes. Price options here.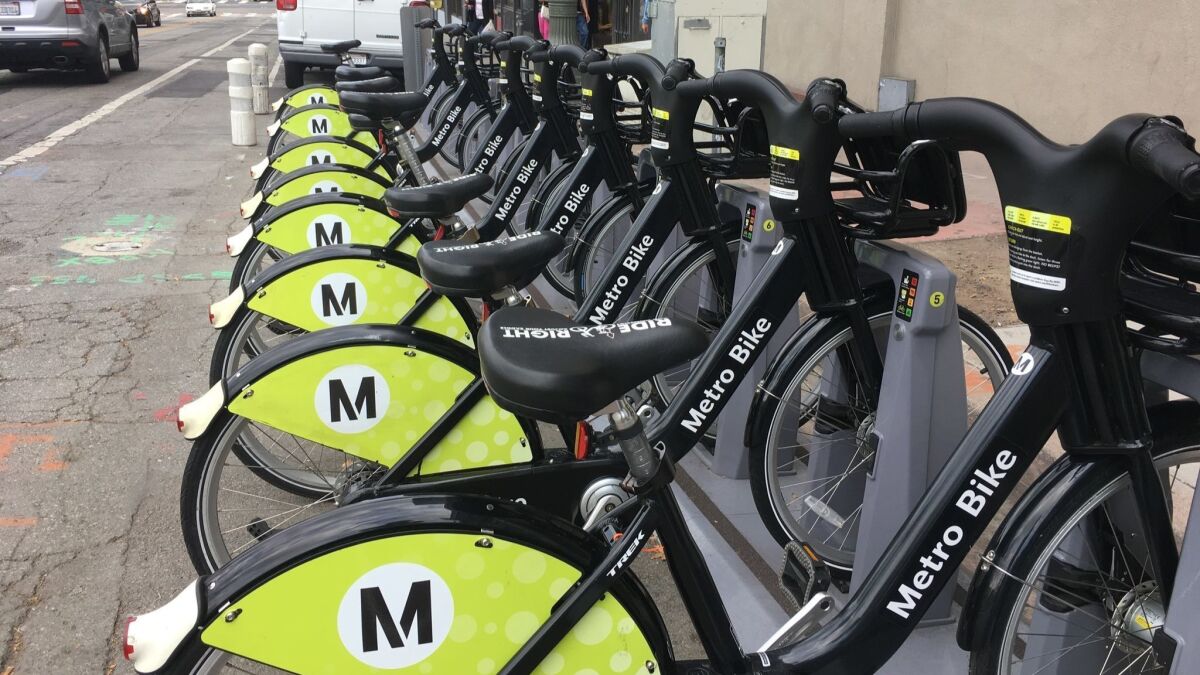 Where do I start? On arrival, pick out a bike after squeezing tires and hand brakes. Make a note of the bike number — you'll need this once you pay. Swipe a debit or credit card at the kiosk. Beware of sunny locations that make screens hard to read. The checkout process takes about 2 minutes. You can also prepay at the Metro Bike Share website.
Do TAP cards work? Yes, but you have to register it first.
What should I take? Sunscreen, for one. A bike helmet for another, though they are not required by law, unless you're under 18.
Is it safe? Ride with traffic, give buses plenty of room, keep your head on a swivel. You'll feel safer than you might expect. Legally, every lane is a bike lane, even those not designated as such. Don't count on every driver to know that. While not as congested as some big cities, downtown has its share of knucklehead drivers who leap before they look.
What's the age limit? Riders must be at least 16. Remember, those under 18 need a helmet.
Are the bikes different sizes? One size fits all (almost). Seats are adjustable, and the bikes are comfortable for most riders; one 5-foot-tall colleague found the bike a tad too tall.
Where do I put my laptop? A basket on the front of each bike holds a jacket, purse or modest backpack.
Are there lights? Yes, and the bikes are available at all times.
Where do I start? Think of the Arts District as the bunny hill of downtown cycling. It has the lightest traffic, most-relaxing rides and some off-the-beaten-path gems. There's the well-known Wurstküche, for some of the best sausages in town. Keep an eye out for Angel City Brewery and the lesser known Arts District Brewing Co., a 15-barrel brewhouse. Add Urth Caffé and the Hauser & Wirth Art Gallery, including a bookstore and a worthwhile restaurant called Manuela.
What else do you suggest? How about the rambling Cajun joint across from the Last Bookstore? Little Easy offers a courtyard that will bring flashbacks of the French Quarter. The new NoMad Hotel has a stunning Italianate lobby and great bar. Unless you can't resist the screaming good sandwiches at Howlin' Ray's, stay out of Chinatown. It's congested and a little scary, but the areas around nearby Olvera Street are open and fun, as is Union Station. The flower district on a bike is far better than the flower district by car. Another favorite haunt is the Redwood Bar, where the karaoke scene was filmed in "500 Days of Summer," a film that captured DTLA's rebirth. There's a bike rack right out front that usually has plenty of rides available.
Staples? Why not, at least when it's not suffering from the crush of a game or a major concert. By day, it is open and easy to navigate.
Is there an app? Of course. It helps you locate stations and lets you know if bikes and return slots are available. Info: bikeshare.metro.net/app/
What are the best streets? When going north-south, take Spring or Main, where bike lanes make the journey easier. When headed east or west, Second and Seventh streets have bike lanes and manageable levels of traffic.
How do I return the bike? Your rental bike can be returned to any Metro bike rack in town. Push the front tire into the docking port. Three beeps and a green light signal a successful landing. If a little extra push doesn't produce the beeps and light, try another dock.
Whom do I call if something doesn't work? Call or text (844) 857-BIKE for customer service.
Twitter: @erskinetimes
Get our L.A. Goes Out newsletter, with the week's best events, to help you explore and experience our city.
You may occasionally receive promotional content from the Los Angeles Times.