In old-world Croatia, here are four trendy towns worth visiting
A tram passes a historic office building in downtown Zagreb, Croatia's capital.
(Margo Pfeiff)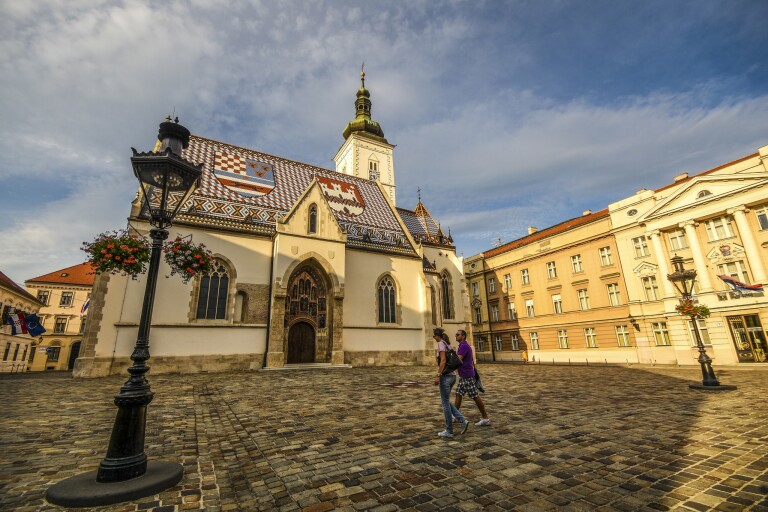 St. Mark's Church, a landmark in Zagreb, dates to the 13th century.
(Margo Pfeiff)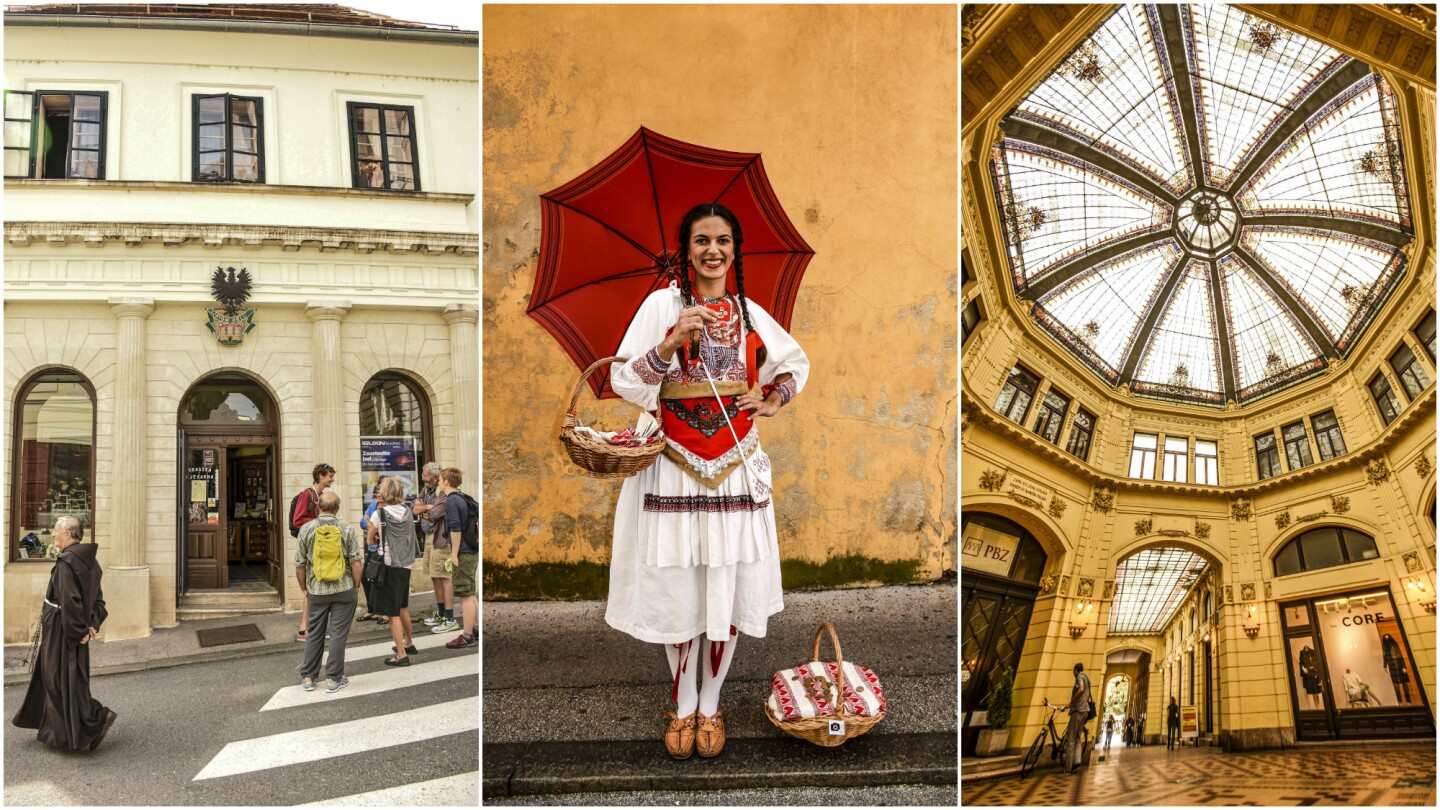 From left: A monk passes by the oldest pharmacy in Zagreb, a traditionally-clad woman sells iconic Zagreb souvenir hearts, the Oktogon shopping arcade in Central Zagreb, built in 1900.
(Margo Pfeiff )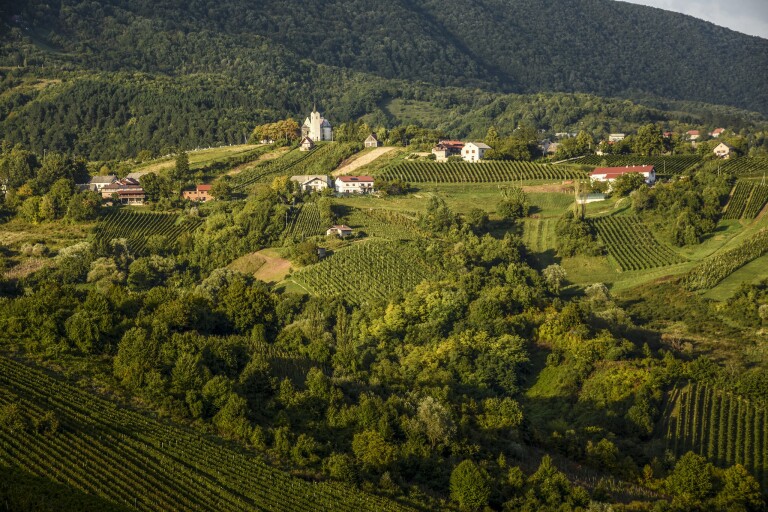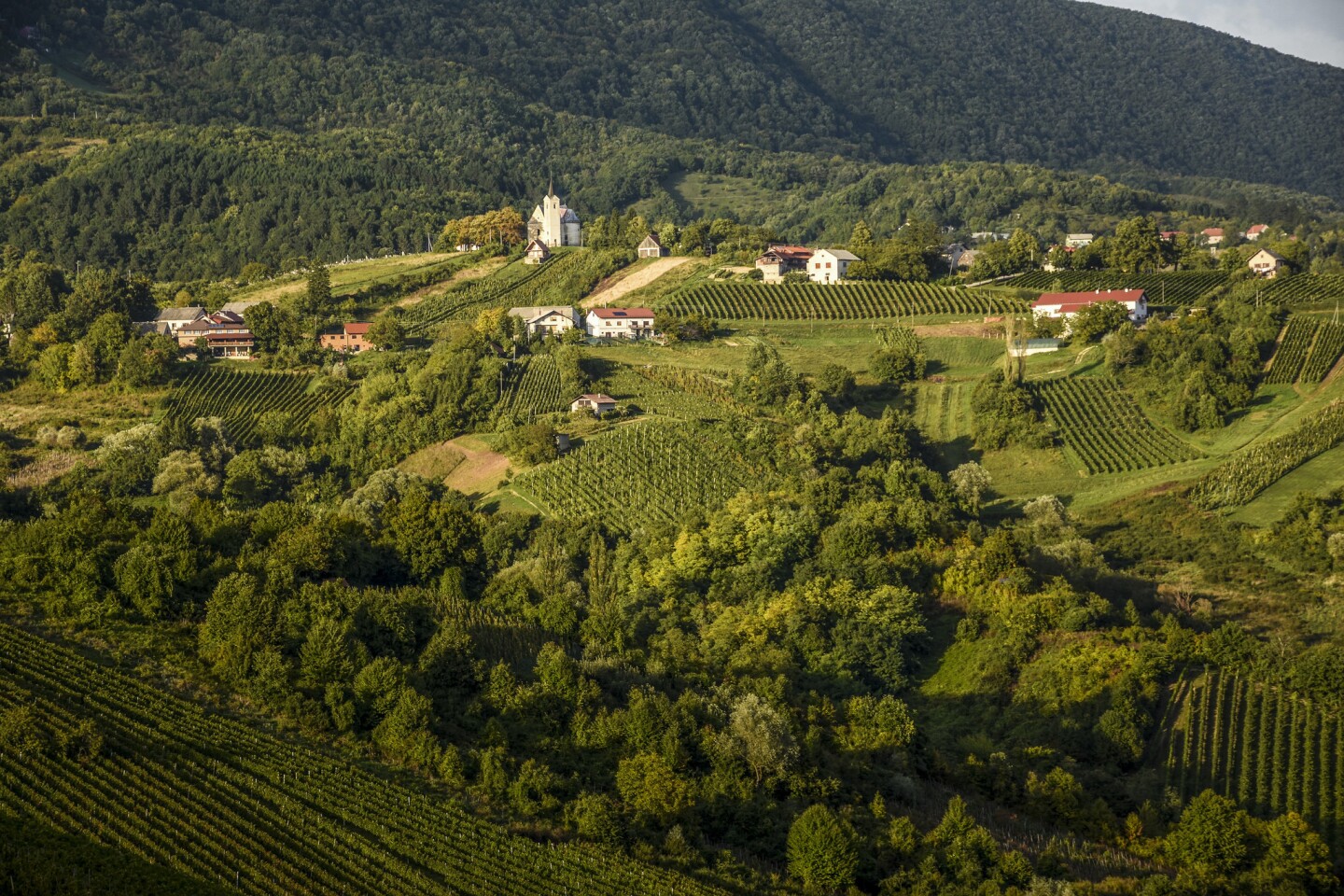 The rolling countryside of the Plesivica Wine Route outside Zagreb, near the Slovenian border.
(Margo Pfeiff)
The church in the rural town of Samobor.
(Margo Pfeiff )
Etno Kuca, a rural farmstay in the mountains outside the town of Samobor, left. The church in the rural town of Samobor.
(Margo Pfeiff )
A postman delivers mail by bicycle in Samobor.
(Margo Pfeiff)
Old-style wine stakes in the vineyard of the rural farmstay OPG Ciban, a winery near the city of Jastrebarsko.
(Margo Pfeiff )
White and black truffles at Karlic Tartufi, run by a truffle-hunting family near the village of Buzet in Istria.
(Margo Pfeiff )
Rovinj, on the coast of Croatia's Istrian peninsula, has a Venetian flavor.
(Margo Pfeiff)
Images from Istria: passageways in Venetian-influenced Rovinj, and wine and olive oil sampling at Ipsa, a producer in the mountainous inland area.
(Photographs by Margo Pfeiff)
Sampling wine and olive oils at Ipsa.
(Margo Pfeiff)
The fortified mountaintop town of Motovun in Istria.
(Margo Pfeiff)
Reporting from Croatia —
Pink rays from sunrise covered the rocky ruins of Okic castle on a peak outside Samobor and tinted the low-lying fog that snaked through valleys where cows grazed and grapes grew.
In contrast to that serene view, robust aromas swirled up from my breakfast spread — garlicky salami, pungent cheese, sweet berry jam and slabs of earthy rye bread, all freshly made by the Slakoper family, my Croatian hosts at the rustic Etno Kuca farmhouse outside Samobor, where I had just spent the night.
Country living doesn't get any more local, authentic or delightful than this.
Croatia, a ragged-shaped country on the Adriatic Sea opposite Italy, emerged from Communist Yugoslavia, then fought a four-year war for independence.
By the time peace came in 1995 it had missed the transition to fast-food and a modern lifestyle.
But Croatia, which had never abandoned its farm-to-table traditions, was now so old world it was trendy.
I had long wanted to explore and eat my way across this diverse country of cosmopolitan cities, wild mountain terrain and 1,000 miles of brilliant, convoluted coastline.
It's a place North Americans are just discovering but that Europeans have long treasured as a friendly and affordable destination with great food, wine, and a rich culture and history.
I planned a cross-country road trip with a vague itinerary so I could stop, poke around, U-turn and linger on back roads and race-track-like autobahns following routes created by ancient Romans.
For a week in September of last year, I wound through rural regions known for their vineyards and welcoming agri-tourism farms, headed for the Istria peninsula. Its hilly inland is a slow food haven and truffle heaven with hilltop medieval towns and rolling countryside ideal for cycling.
I ended on the coast where its Riviera atmosphere and Venetian-flavored seaside villages served up a roll call of legendary seafood.
Zagreb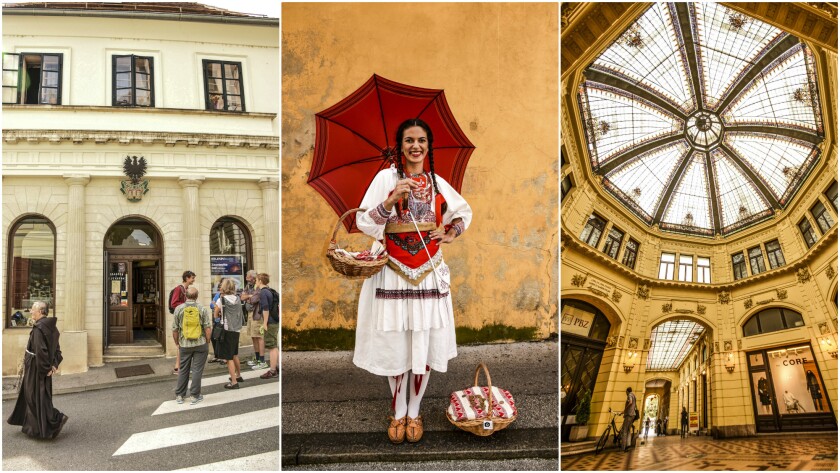 My rental car and I met in Zagreb in Croatia's northeast, a capital city whose surrounding countryside is home to more than 90 castles, many of them ruins accessible from a web of hiking trails.
On Sunday morning the aromas of coffee and warm pastry drifted through the streets, which are lined with sidewalk cafes bustling with Zagrebcani — locals — and students of this university town.
Sleek blue streetcars glided past grand manors, Baroque palaces and heritage buildings. Centuries of Hapsburg Empire rule left angels in the architecture and churches with onion-shaped towers across this metropolis founded by the Romans in the 1st century.
The old city is divided into Lower Town and Upper Town. Lower Town is the 19th century theater, restaurant and boutique district where shops sell stylish, locally designed and crafted clothes, shoes and bags.
The grandest place to shop is the Oktogon built in 1900, covered passageways with ornately tiled floors beneath an octagon-shaped, domed stained-glass ceiling. Nearby, at the lively, daily Dolac market, farmers, flower sellers and artisans hawked their goods beneath a sea of red umbrellas on a cobblestone square.
I ducked into the retro-chic Palace Hotel's charmingly Viennese-style restaurant for the city's signature dish of strukli, mouth-watering Croatian dumplings filled with sweet ricotta cheese. They appear on menus nearly everywhere, boiled and ladled into rich soups or stuffed with puréed seasonal vegetables such as pumpkin, bathed in cream, then baked until slightly browned.
Zagreb is adorned with sculptures, many by Croatian master Ivan Mestrovic, including several of local hero Nikola Tesla, after whom the electric car is named.
Sculptures are seemingly everywhere, from central Marshal Tito Square, honoring the former Communist president, to the series of parks and open spaces that form a relaxing green horseshoe around Old Town.
Though a funicular chugs up the cliff-side to the medieval Upper Town, I preferred wandering through a hilly labyrinth of stone and wooden stairways, past a jumble of fortress towers and tile-roofed residences where window boxes burst with red geraniums.
I eventually reached a maze of cobblestone streets and squares lighted by gas lamps and passed the presidential palace and parliament, the iconic 13th century St. Mark's Church, with the city's coat of arms displayed in colorful roof tiles, and the Zagreb Cathedral.
Zagreb has museums and galleries galore, but my quest was the Museum of Broken Relationships, a clever contemporary tribute to love gone wrong with an entertaining collection of stories and artifacts, including the "ex-ax" donated by a Berlin woman who used it to chop up her former lover's furniture.
In 2011 the quirky collection won an award as Europe's most innovative museum.
Samobor
Urban Zagreb quickly unspooled into farms and fields, and by the time I reached small medieval Samobor, surrounded by forested hills, I felt as though I had gone much farther than the 15 miles I drove.
After prowling the town's local museum that explores the area's history back to woolly mammoth days, I settled into a café on the main square for cremeschnitte, a square of light and luscious vanilla and custard cream between sheets of puff pastry.
"In Croatia you don't find these local specialties all over the country," the waitress told me. "People travel specifically to enjoy the foods that a certain region or town is famous for."
Croatians mostly come to the Samobor region near the Slovenian border for a nature getaway, doing easy day hikes to the castle ruins overlooking the town or multi-day treks to mountainside cabins. Some have simple restaurants to feed hungry hikers.
Jastrebarsko
From Samobor south to Jastrebarsko is a verdant region of hills and valleys draped in vineyards with Alpine-style chalets, wineries and family farms adorning the ridges. This is the Plesivica wineregionwith 30 wineries along an official wine route that is a winding road barely two lanes wide.
I stopped for tastings at the Korak Winery, where I left with remarkable Chardonnays and French-style fruity Pinot Noirs.
At the Tomac Winery, I wrapped my tongue around rich, lusty Chardonnays and Rieslings aged underground in large terra-cotta amphorae.
At most wineries I was told me they would prepare meals if notified in advance; some also offered accommodations.
The restaurant Karlo, overlooking the vineyard in Jastrebarsko, serves exquisite all-local cuisine paired with local wines.
Chef-owner Karlo Navoj, whose résumé includes a Michelin-starred restaurant in Switzerland, is at the helm with his wife, Marijana, who creates a fresh 6-foot-long strudel daily as a mind-boggling dessert demonstration for guests.
I spent the second night in the area at another rustic farmhouse outside Jastrebarsko, this one with a winery called Ciban, built in 1855 and owned by the Ciban family.
After a meal harvested from their garden and barnyard, the husband took me through his wine-making operation and showed off the antique wine press from the villa of Josip Tito, the former president of Yugoslavia.
"It's like Tuscany," I said, gazing at the 360-degree view of rolling, vine-covered hillsides and chapels.
"True," he said, "except for the Turks and the Russians…." That night as I drifted to sleep amid the heady aroma of fermenting grapes, my head swirled with Croatia's complex past.
Rovinj
Slipping onto the E65, a sleek freeway whose 80 mph speed limit is largely ignored, was a jarring reintroduction to the 21st century.
Two hours of whizzing through wild, forested mountains brought me to my exit and the spectacular medieval hilltop town of Buzet on the Istria peninsula.
It was here, in prime truffle country, that the world's biggest white truffle at the time was found, weighing in at 2 pounds, 14 ounces. Because it was fall — and truffle season — I met the Karlic family at their farm in Buzet for a decadent breakfast of scrambled eggs served with grated white truffles and cheeses drizzled with truffle honey.
I joined one of their two-hour tours, heading into the oak and hazelnut forests with their son and two charming mutts to sniff out treasured white tartufi that sell for about $3,600 a pound.
Though the Istria peninsula is known for its lovely seaside and towns, it is the inland that grabs my heart — and stomach.
As in most of Croatia, seemingly everyone makes almost everything: Wineries press rich olive oil, keep a dog or two if they're in truffle country, churn their own butter and make killer cheeses and charcuterie.
It was delightful to road trip here, with bicyclists also enjoying the country roads through one ancient hilltop town after another.
Groznjan is an artistic hive of galleries and studios with a popular annual jazz festival, and Motovun is famed for its summer film festival with movies viewed outdoors among the castle and fortress walls.
I wound through hamlets of stone houses that sometimes harbor world-class slow food havens such as New York Times-acclaimed Toklarija, a 17-seat restaurant where I spent an afternoon savoring one of the best meals of my life, created by self-taught chef Nevio Sirotic in his 600-year-old olive oil mill. There wasn't even a sign outside.
At last I reached the coast with its mellow Riviera ambiance and towns that dazzled with Venetian architecture, a legacy of four centuries of Venetian rule.
I finished my trip by strolling the car-less maze of Rovinj, whose hilly cobblestone lanes worn smooth by centuries of passers-by.
Then I settled in at a seaside café for one more bit of tradition — fresh fish served with the area's signature polenta colored black with squid ink.
IIf you go