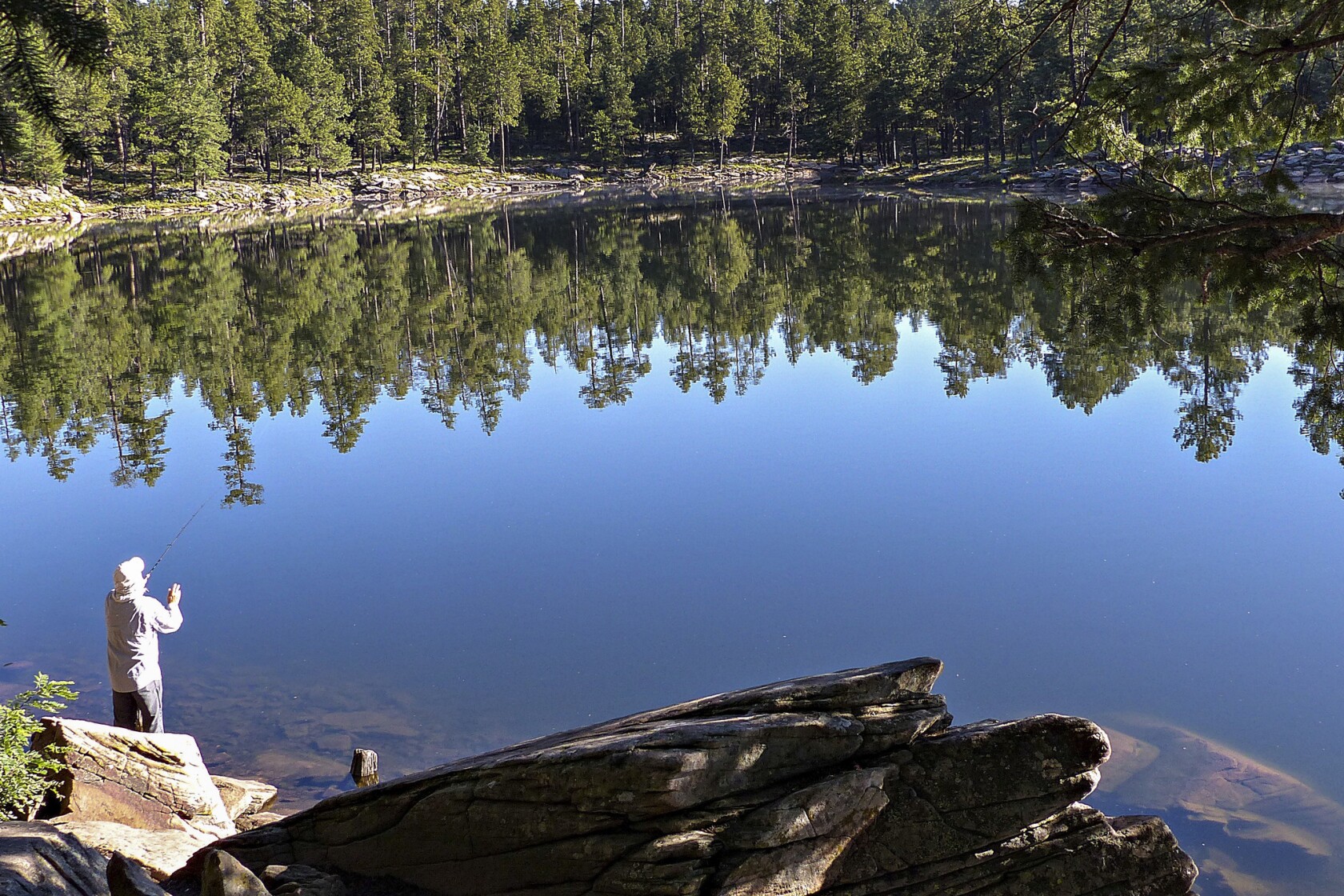 Early-morning fishermen hardly disturb the mirror-still Woods Canyon Lake in Rim Country, Ariz.
(Sara Lessley)
Stand-up paddlers check out the quiet coves at Woods Canyon Lake in Rim Country, Ariz.
(Sara Lessley)
Afternoon clouds paint the sky at the mountain lakes in Rim Country, Ariz.
(Sara Lessley)
Tired of the lake scene? There's a pleasant 5-mile hike around Woods Canyon Lake, with helpful blue trail markers along the way.
(Sara Lessley)
The Woods Canyon Lake trail passes through forests, meadows and fields of flowers replete with butterflies.
(Sara Lessley)
Down a forest road, a bull elk warily eyes some two-legged visitors while watching over his herd.
(Sara Lessley)
From the edge of the Mogollon Rim, a big-sky sunset paints a glorious picture.
(Sara Lessley)
It was August, and we were visiting relatives in Phoenix. And it was hot. Really hot. We needed to escape for a few days. But where? On a 90-minute drive north, we encountered clear mountain lakes, Ponderosa pine forests and afternoon monsoons. My husband, Paul, college son, Ben, and I settled into a long holiday weekend in the Rim Country, a rolling green-foliage-and-red-earth swath midway between high-plateau Flagstaff and hot-desert Phoenix. At the updated Kohl's Ranch Lodge, about 15 miles east of Payson in the Tonto National Forest, we lucked into a cabin and multiple sparkling lakes nearby. The tab: We paid $903 for four nights in our spacious cabin. We also spent $245 for meals and drinks, and $280 for boat and kayak rentals.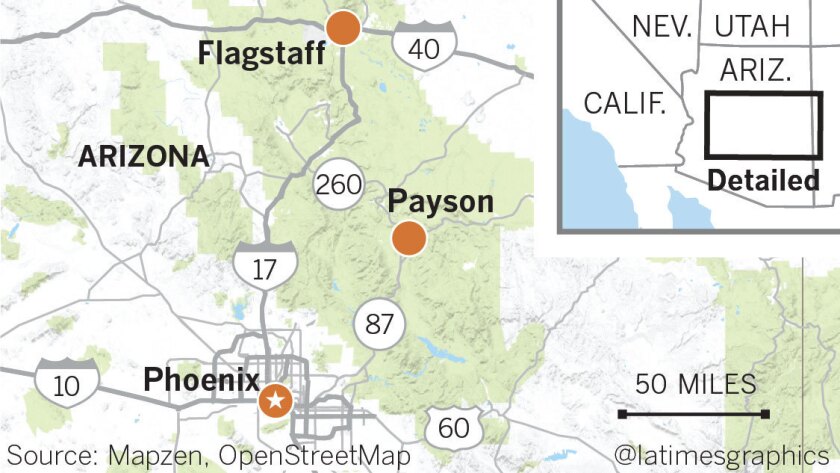 THE BED
Kohl's Ranch is a comfortable, family-oriented, backcountry lodge that draws loyal repeat visitors. Our pleasant two-bedroom, two-bath cabin came with a full kitchen, a living area, and a cozy front porch where we watched the towering clouds. Sure, if we were home in L.A., we could have driven about the same distance to Lake Tahoe, but Kohl's felt more backwoods-y and remote. Diamond Resorts International now runs the lodge (there's a $10 daily fee to use the facilities, including a pool) and offers plenty of unwired activities: boccie ball, horseshoes and "s'more cones" in the evenings. Land-line calls are free because the Wi-Fi /cell services are spotty; the unplug-and-get-away bit is real.
THE MEAL
Relish the hearty fare: brisket for breakfast, lunch (brisket chili) and dinner (big brisket platter we shared) at the lodge's Zane Grey Country Barbecue. (Grey, the author of Western adventures, helped popularize this region in the early 1900s.) We found more upscale eats at the Creekside Steakhouse and Tavern. Our server recommended local trout almondine and top sirloin with Zane's mashed potatoes and entertained us with stories about the horseback falconry nearby.
THE FIND
The water. I kayaked into the far nooks and crannies of Woods Canyon Lake, mesmerized by the blue sky, soaring birds and fish distinct in the clear shallows. Then steadily building clouds and a lightning strike shattered my reverie, and I paddled pell-mell to escape the monsoon Ben had warned me about. ("See that wall of high puffy clouds? First drops of rain? You've got two minutes to find shelter.") After the brief deluge, the fisherfolk were back on the lake, casting and catching in these well-stocked trout waters almost as successfully as the competing birds. Need to stretch your legs? There's a partly paved, five-mile, wildflower-and butterfly-filled walk around the lake with bird's-eye views of ospreys diving into the water.
THE LESSON LEARNED
Timing is everything. April and May are the start of the season here (fishing, camping, kayaking), minus the crowds. Come summer, avoid the Woods Canyon and Willow Springs lakes on Saturdays and holidays, when seemingly half of lower Arizona arrives to escape the triple-digit temps. By Sunday morning, though, crowds had dispersed and Woods Canyon Lake was peaceful again.
Kohl's Ranch Lodge, 202 S. Kohl's Ranch Lodge Road, Payson, Ariz.; (800) 438-2929. From $129 a night during the week to $249 a night on weekends.
Creekside Steakhouse & Tavern, 1520 E. Christopher Creek Loop, Payson, Ariz.; (928) 478-4557
---