Home on the Central Coast range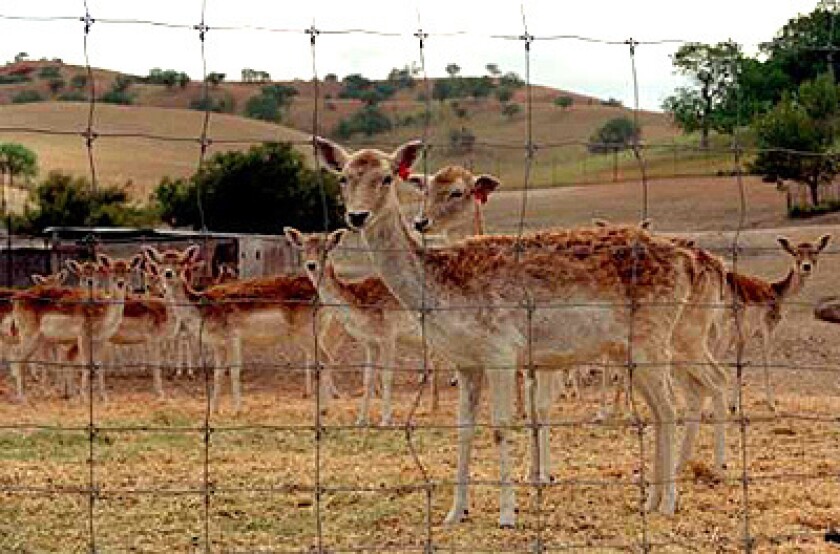 Times Staff Writer
SAN LUIS OBISPO —
The first surprise came at 5:45 a.m. Saturday, when a rooster announced sunrise a good half-hour before the official break of day.

Shrieking peacocks followed. After three hours of what sounded like a cat losing all nine lives in one swoop, I surrendered any hope of sleep and shuffled into the kitchen of our rental home, the TLC — not short for Tender Loving Care but an acronym for The Log Cabin, though it really wasn't a cabin but a mobile home sheathed in log paneling.

The sunshine streaming through the windows turned out not to be sunshine in its fullest sense but rather a sunburst — a dot of light breaking through an ominous, domino-shaded sky.

Was nothing as it seemed?

The biggest surprise, I'm happy to report, is that this weekend of foul fowl, confusing acronyms and bad weather near San Luis Obispo turned out just fine in the end.

My partner and I had simply wanted to escape from L.A. and relax in the country a few weekends ago. A family-run operation called Lazy Arrow Outdoor Adventures caught my ear. Lazy? Outdoor? Adventures? Sounded right up our alley.

Turns out Todd and I aren't alone in seeking a quiet corner of California. The state Division of Tourism says guest ranches, farm stays, dairy tours and the like are increasingly popular. Concerns about the economy and terrorism have many Californians eschewing faraway destinations in favor of a simple, rural place near home. Who knew herding cattle, picking produce and feeding chickens would become chic recreation?

Lazy Arrow does its bit on the 32,000-acre Camatta Ranch, 30 miles northeast of San Luis Obispo. Camatta is huge — 4 square miles larger than San Francisco — and it contains a working cattle ranch, hills tinged orange and blue by poppies and lupine, ancient fossil fields and dozens of exotic animals, all owned by the Morrison family.

My favorite critters were bashful. Skittish Sika deer hopped away as if on four pogo sticks set in unison, and scimitar-horned oryx acted ridiculously shy for creatures with spears on their heads. Tours led by Felicia Morrison also pass by Asian water buffalo and four-horned Navajo sheep.

The menagerie is the 15-year hobby of Felicia's husband, Mark, the son of a veterinarian father and a zoologist mother. Some animals, such as a zebra-donkey mix called the zonkey, were orphans the Morrisons adopted. Others, Felicia said, come from the Department of Fish and Game, which asks the ranch to raise sick or injured animals that wouldn't survive if released back into the wild. Their vast pens overlook grassy hills punctuated with oak trees and artesian springs.

Humans settle for more modest accommodations. Unlike guest ranches that re-create some Laura Ashley-Ralph Lauren vision of the country, Lazy Arrow's five guest units deliver an authentic slice of ranch life, which means a place where cobwebs appear overnight.

Ours had water stains on the ceiling and a sliding door off its track in the kitchen. To be fair, the TLC is the oldest and least expensive of the guest units ($75 a night plus tax, cash or check only), and others were more promising. The two-bedroom Buffalo Bungalow has modest rustic charm for $100 a night.

After two days, the rough-around-the-edges ambience grew more welcoming, and the experience felt less like a motel stay and more akin to staying at friends' well-lived-in home.

"It's not for everyone. Some people really want that upscale stuff," Felicia said in a phone interview after my visit, adding that the accommodations purposely lack frills. The Morrisons assume guests will spend their time hiking, smelling flowers and warming by a campfire. During our stay, we settled into a groove where mismatched bath towels and peacock poop on the deck didn't matter. What stuck with us was the hospitality of our hosts and the peace the landscape imparted. (The ranch experience will be at its best during Lazy Arrow's first cattle drives, set for May 23 to 26 and May 29 to June 1.)

Saturday morning I watched a nanny goat nurse her kids as a light mist fell. A tour bus rumbled into the ranch carrying 34 local day-trippers. For $25 each, Todd and I joined them for a barbecue and a three-hour ranch tour in open-air wagons.

We headed out past hills of goldfields and tidy tips, blue chia and scarlet bugler. The wagons stopped at a sandy escarpment, and tourgoers got off with glacial speed to look for fossilized sand dollars, sharks' teeth and shells — scallop, oyster and clam, some as big as my hand — relics from when a bay covered the region 6 millenniums ago.

Our last stop was for a feast in a meadow with picnic tables. I'm always amazed how civilized adults like myself can turn wild when confronted with a buffet. Tour members who had been walking with an arthritic lurch descended like wolves on bowls of chips and salsa, then attacked side dishes of French bread and petite sausage wedges, entrees of barbecued chicken and steak.

I used peer pressure as an excuse to go back for seconds.

"You don't even like baked beans," Todd said, looking at my plate. I didn't respond. I was too busy eating.

A cold wind kicked up, so after lunch I huddled around a fire pit with a dozen chatty seniors as the Morrison kids served "buffalo bars," a chocolate-caramel-coconut heart-clogger topped with vanilla ice cream. When I jokingly suggested that we pass on dessert because the roaring fire would turn the ice cream into a melted mess, a woman with a kind face suddenly frowned and barked to the kids, "Bring the dessert. We'll drink it."

We bid the pack goodbye and drove off to winery-lined Highway 46 near Templeton. Inspired by the buffalo bars, we made our first stop Cider Creek, where Mother Nature's fresh produce is lovingly corrupted into deliciously fattening gourmet fare.

We loaded up on apple flips (apples, buttery pastry, sugar) and jars of cinnamon cider jelly (apples, pectin, more sugar) and barbecue glaze (apples, ketchup, still more sugar).

On a pilgrimage for edibles

With a sweet aftertaste lingering on the palate, we moved on to the Bonny Doon Vineyard down the road at Sycamore Farms in Paso Robles. While Todd perused Sycamore's organic herbs, I sidled up to the wine counter. For $2 I sampled California Viognier, Critique of Pure Riesling and Malvasia Bianca.

An epic two hours had passed since we had last eaten, so Todd pointed the car toward more food in downtown Templeton, less than 10 minutes away, where, again, all was not as it seemed.

On Main Street we encountered a crazy-looking fellow who turned out to be just a happy guy in a white lab coat and rainbow-colored beanie, circling his bike in the rain. Fritz Herrmann is his name, a.k.a. Dr. Fritz von Herrmann Stein, owner of Herrmann's Chocolate Lab and Ice Cream Parlor and self-anointed "doctor of choctology."

He prescribed a 1-pound box of chocolates, and we moseyed along, looking for dinner to go with dessert and finally settling on McPhee's Grill.

Having just admired cute angus roaming the Camatta Ranch, Todd humanely ordered a vegetarian entree, shiitake ravioli with sun-dried tomatoes and Parmesan. I protested the senseless slaughter of mushrooms by ordering top sirloin. We left content and guilt free.

Rain preempted plans for an evening around the TLC's fire ring, so Todd perused the Morrisons' video library and came back with that 1999 mistake "The Out-of-Towners," the Steve Martin-Goldie Hawn remake of a 1970 Jack Lemmon-Sandy Dennis movie. The movie retells the fish-out-of-water story of rural heartland residents who find a surprise around every corner while visiting the big city. The choice proved apropos for big-city residents who found a surprise around every corner while visiting California's heartland.

I dozed off frequently but woke in time for the scene in which Goldie, robbed of her money and desperate for a bite to eat, sneaks into a hotel and makes a dinner out of free nuts and maraschino cherries at the bar. I actually laughed — final proof that a weekend that at first seems like a bust can be full of pleasant surprises.
---
Get inspired to get away.
Explore California, the West and beyond with the weekly Escapes newsletter.
You may occasionally receive promotional content from the Los Angeles Times.