Bargain hunters have many options to get to their destination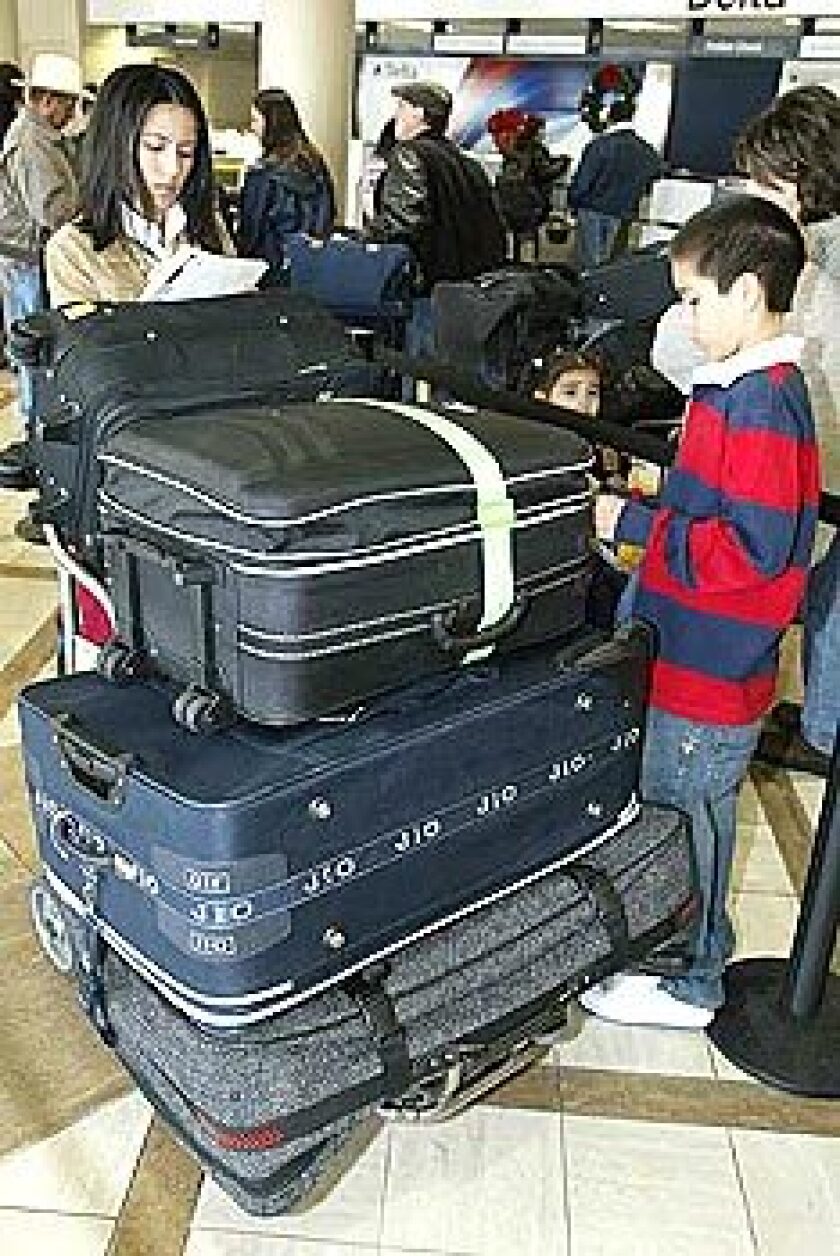 The Internet is generally the best way to find deals on air fares, but there are other ways to save on that ticket to London or Hawaii. They take time, and you may have to make several calls to ferret out the best price. Your savings will vary from a few bucks to a couple of hundred. Generally, the more flexibility and time you have, the more money you save.
Here are selected strategies and companies that may help:
CONSOLIDATORS
Airlines fill unsold seats by selling them at discounts to a wholesaler, which passes some of the savings to consumers. Discounts can vary by route, season and flight time, among other factors. You usually will save the most if you are looking for a seat at the last minute or in high season. Many consolidators specialize in a destination, say Latin America or India.
The discounts come at a steep price: Tickets often can't be returned, changed or exchanged, and in some cases you won't get frequent-flier miles. Customer service can also be a problem. Often you can find consolidators' ads in newspaper travel sections. To make sure you are dealing with a reputable company, look for a California Seller of Travel number or check if the company is a member of the American Society of Travel Agents, which lists members at https://www.astanet.com. Here are a few:
Air Brokers International, 685 Market St., Suite 400, San Francisco, CA 94105; (800) 883-3273, fax (415) 836-8719, https://www.airbrokers.com. Sells international tickets only, excluding Mexico, the Caribbean and Canada. Specializes in around-the-world and circle-Pacific tickets.
Cheap Seats Travel, 19351 Londelius St., Northridge, CA 91324; (818) 717-8490, fax (818) 717-8873, https://cheapseatstravel.com. Specializes in last-minute fares to major cities in the United States, Canada, Latin America, the Caribbean, Europe and Asia. Part of the Leisure Vacation Store.
Flight Centre, various locations in the Los Angeles area; (877) 967-5347, https://www.flightcentre.com.
TFI Tours International, 34 W. 32nd St., 12th Floor, New York, NY 10001; (800) 745-8000 or (212) 736-1140, fax (212) 564-4081, https://www.lowestairprice.com.
COURIER FLIGHTS
These are best for solo fliers and those flexible with their time. The number of companies offering courier flights has dwindled, and the deals aren't as good as they once were. In some cases, consolidators can meet or beat courier prices.
The system usually works like this: A cargo company buys a passenger seat to send a shipment overseas as checked baggage because it can clear customs faster. Then the company sells the seat at a discount to a passenger willing to give up his or her baggage allotment and fly only with carry-on luggage. The discount depends on routes, time of year and how quickly the cargo needs to arrive.
Some organizations with a line on available flights and other discount services for dues-paying members:
Air Courier Assn., 350 Indiana St., Suite 300, Golden, CO 80401; (800) 282-1202, fax (303) 278-1293, https://www.aircourier.org or https://www.cheaptrips.com. Offers several forms of discount air travel, including courier, consolidator and space-available fares. Membership is $24 a year; apply on the Internet.
Courier Travel Inc., P.O. Box 3051, Nederland, CO 80466; (866) 470-3061, fax (313) 625-6106, https://www.couriertravel.org. Offers courier, consolidator and space-available flights. Membership is $50 a year.
International Assn. of Air Travel Couriers, P.O. Box 847, Scottsbluff, NE 69363; (308) 632-3273, fax (308) 632-8267, https://www.courier.org. Tracks firms offering courier flights. Membership is $45 a year.
Jupiter Global, Suite 3002, 30/F, Tower Six, the Gateway, Harbour City, Tsim Sha Tsui, Kowloon, Hong Kong; in the Bay Area, (650) 635-1700, Ext. 216; fax (650) 635-7363, https://www.jupiterair.com/courierflgt.htm. Sells courier flights from Los Angeles, New York and San Francisco.
SPACE-AVAILABLE FLIGHTS
This is like flying standby. You buy a voucher for a flight between two regions during a time period you specify, often between three and five days. In return for the steeply discounted price, you may not be able to specify a departure airport or your arrival airport, and you may have to wait at the airport for a seat to open up. But the company will get you from, say, Southern California to Hawaii or from the Northeastern U.S. to Europe.
Under another category, called "space available confirmed," you can reserve a seat 24 to 48 hours before your departure.
Among the companies specializing in space-available flights:
AirHitch, 481 8th Ave., Suite 1771, New York, NY 10001; (212) 736-0505, fax (212) 736-2062, https://www.air-hitch.org.
Air-Tech, 588 Broadway, Suite 204, New York, NY 10012; (212) 219-7000, fax (212) 219-0066, https://www.airtech.com.
---
Get inspired to get away.
Explore California, the West and beyond with the weekly Escapes newsletter.
You may occasionally receive promotional content from the Los Angeles Times.