Half-cruise, half-cargo ships provide authenticity in place of cocktails and casinos
The pros and cons of taking one way to Alaska's Inside Passage or Bora Bora
No one would call the Aranui 5 a thing of beauty. Half cruise ship and half freighter, it has a cockeyed profile that only its maker could love.
It may not look like much, but it manages to sail to some of the most beautiful islands in the world.
The Aranui navigates the waters of French Polynesia, delivering cargo and passengers to places such as Bora Bora, the Tuamotu Atolls and the Marquesas Islands. Its itinerary offers a daydreamer's voyage to the dazzling shores of paradise.
It's not the kind of cruise that would appeal to most people who hop on a ship for a week's vacation. No midnight buffets. No casino. No stage shows.
But if you're a Walter Mitty type who fantasizes about jumping on a freighter to see the world, this type of ship might make your dream come true.
Call it Freighter Lite. These ships are more workhorse than thoroughbred, capable of doing an honest day's work as well as carrying passengers. Surprisingly, some also offer a high level of comfort, given their hard-working nature.
They can be found, among other places, in Alaska, where the Marine Highway System ferries cars, supplies and tourists through the dramatic scenery of the Inside Passage or along the stunning coast of Norway, where Hurtigruten ferries carry freight and passengers year-round.
A crewman pulls a line on Hiva Oa, one of the Marquesas Islands. The Aranui 5 is a half cargo, half cruise ship.
(Daniel A. Anderson / Zumapress.com)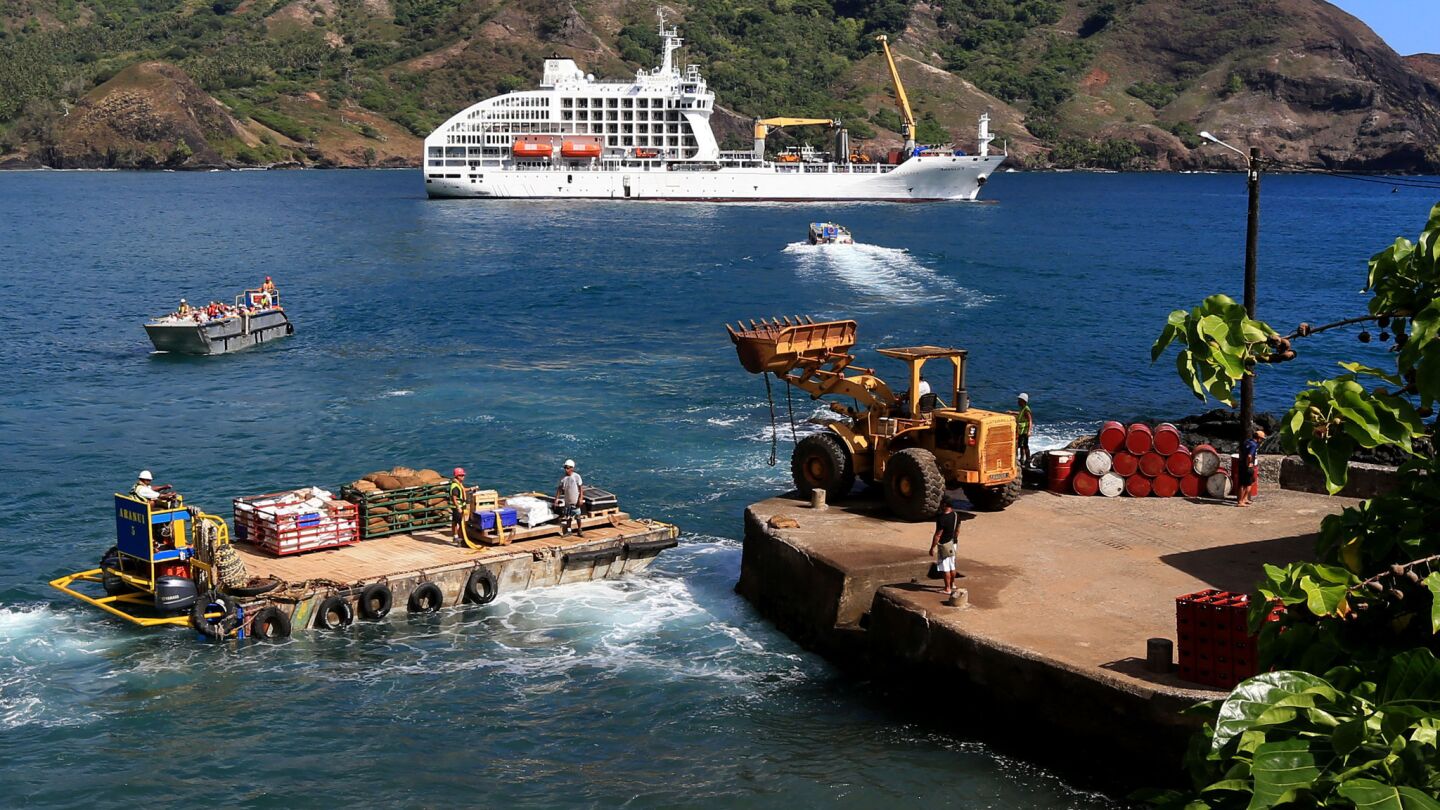 The Aranui 5 unloads passengers and cargo via tender boats on the island of Hiva Oa as it tours the Marquesas Islands.
(Daniel A. Anderson / Zumapress.com)
A morning exercise class aboard the Aranui 5 ship during the cruise in the Marquesas.
(Daniel A. Anderson / Zumapress.com)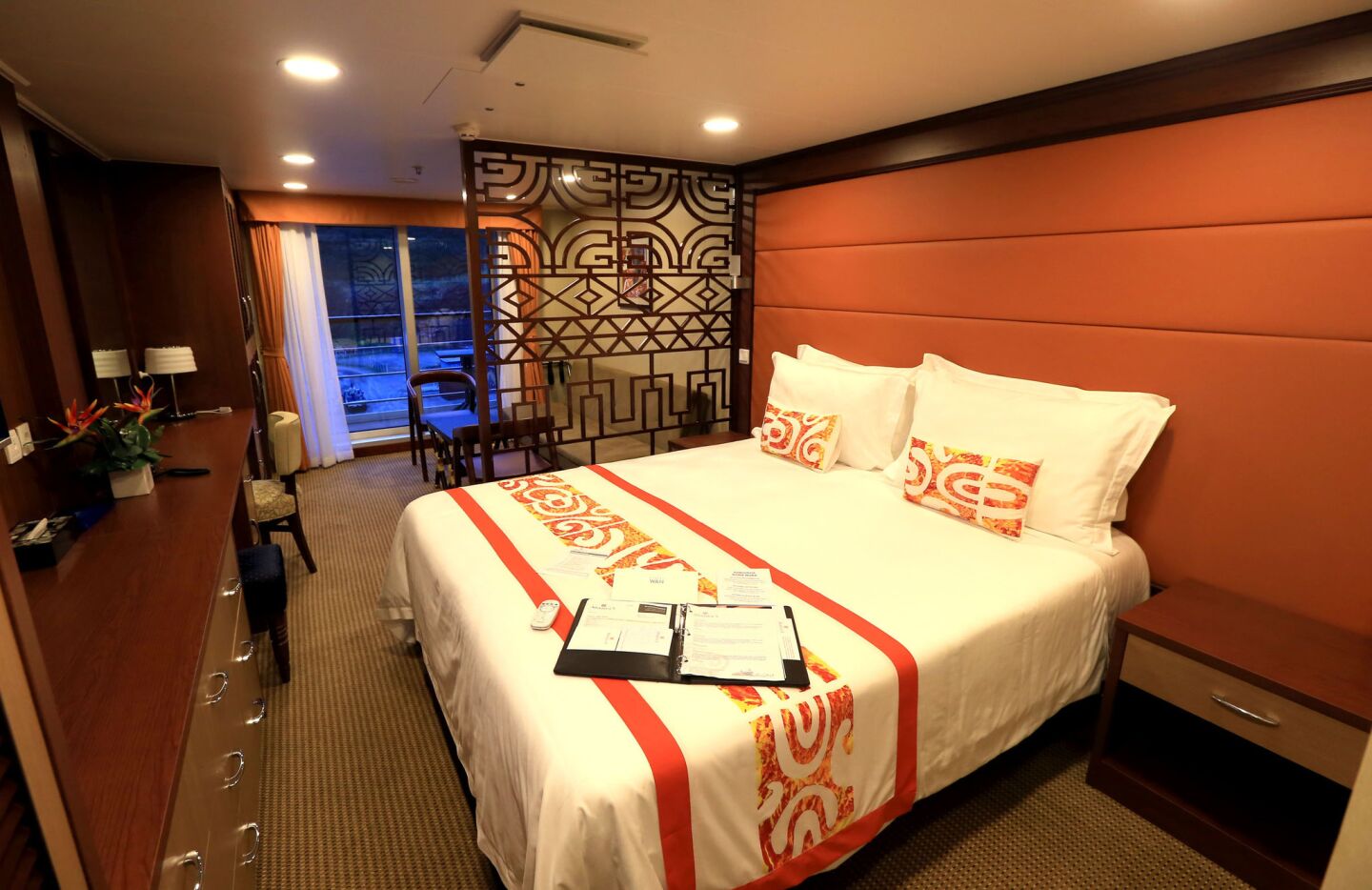 A suite on the Aranui 5 ship.
(Daniel A. Anderson / Zumapress.com)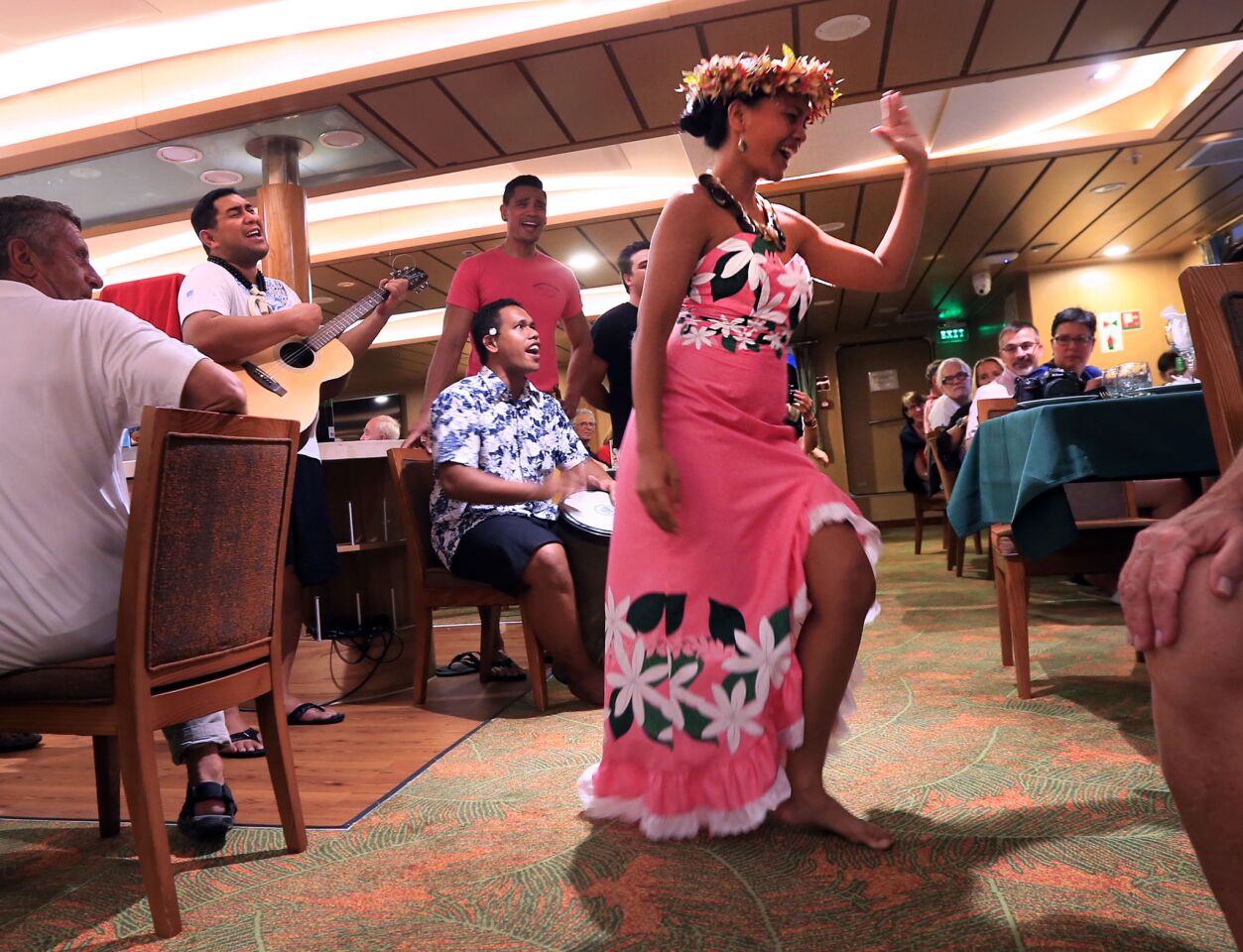 Often meal time would include entertainment from the ships crew aboard the Aranui 5 ship.
(Daniel A. Anderson / Zumapress.com)
As the tender that brings ship passengers to shore pulls in, local girls sing a traditional song of greeting to the passengers in the Marquesas Islands.
(Daniel A. Anderson / Zumapress.com)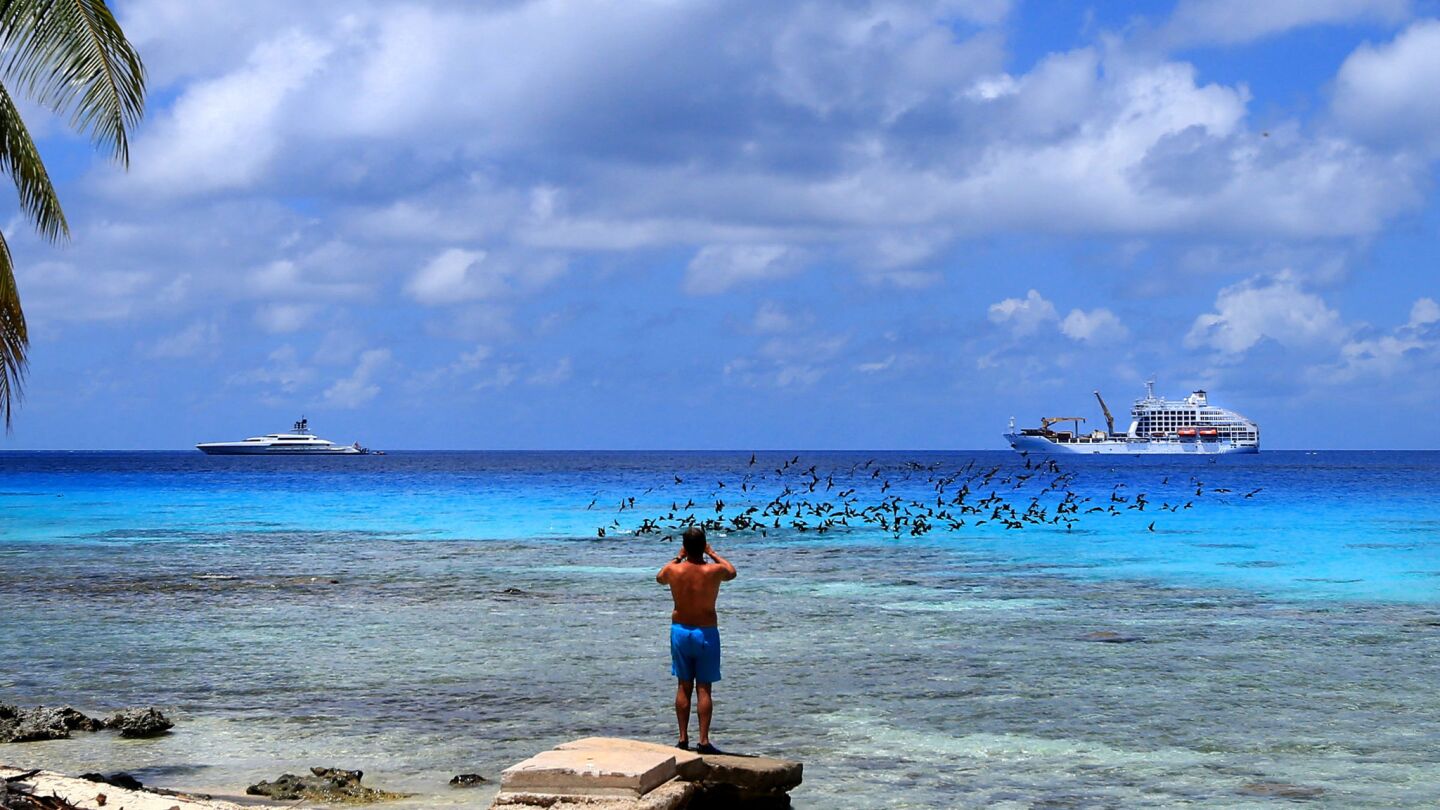 On Rangiroa, one of the largest atolls in the world, an Aranui 5 passenger uses binoculars to look at the birds and the Aranui 5 ship, background, before the translucent lagoon.
(Daniel A. Anderson / Zumapress.com)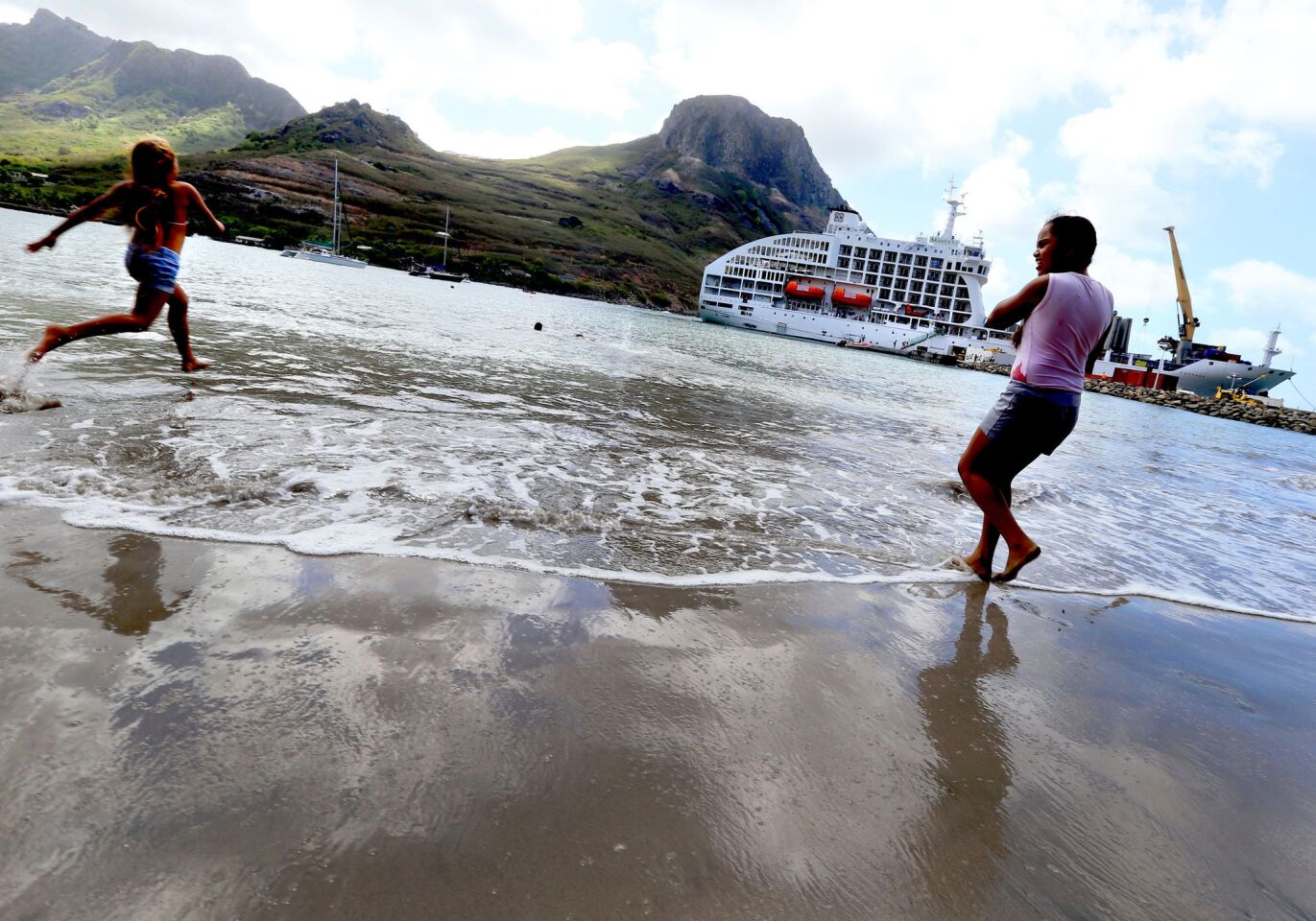 On Ua Pou, a local girl, left, runs into the ocean as she and her friend play in the gentle waves as the Aranui 5 unloads its cargo, background.
(Daniel A. Anderson / Zumapress.com)
On the island of Fatu Hiva, in the the village of Omoa, handmade dyed cloth is for sale to tourists visiting the Marquesas Islands aboard the Aranui 5 ship.
(Daniel A. Anderson / Zumapress.com)
A local Hiva Oa Island family plays in a natural ocean pool as the Aranui 5 ship anchors, background. Hiva Oa is part of the Marquesas chain of Islands.
(Daniel A. Anderson / Zumapress.com)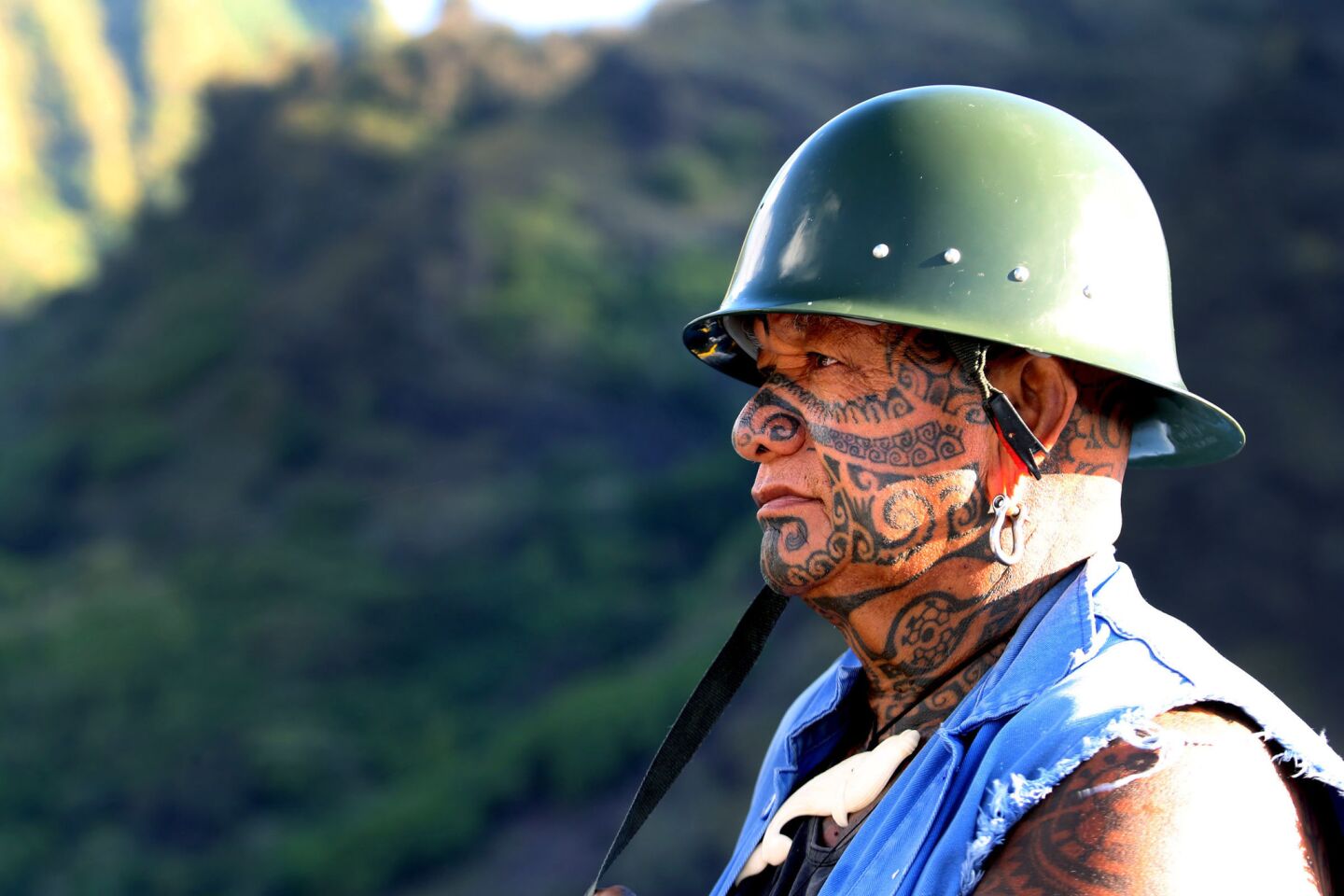 Aboard the Aranui 5.
(Daniel A. Anderson / Zumapress.com)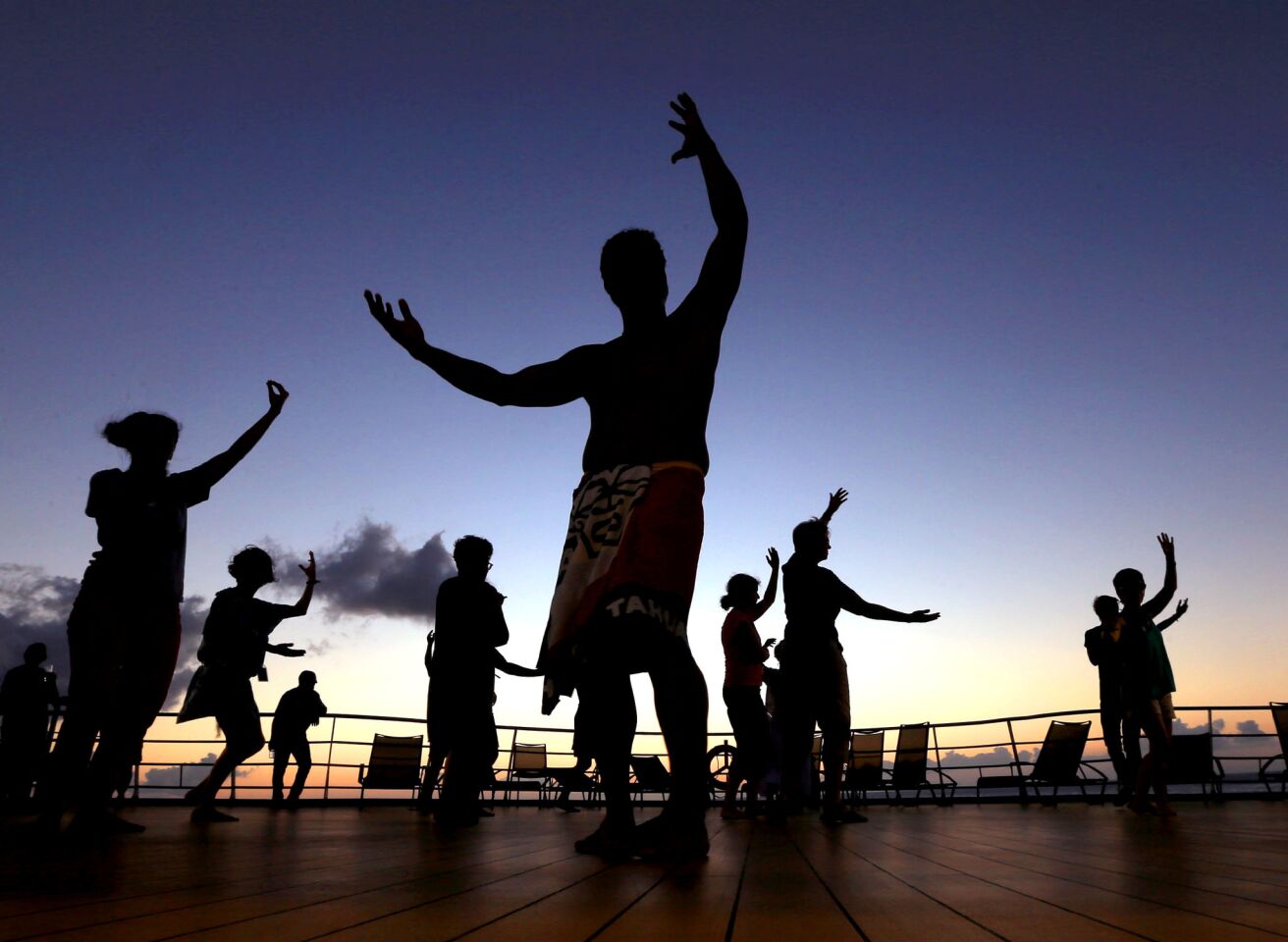 People on the Aranui 5 participate in a dance lesson at sunset during a tour of the Marquesas Islands.
(Daniel A. Anderson / Zumapress.com)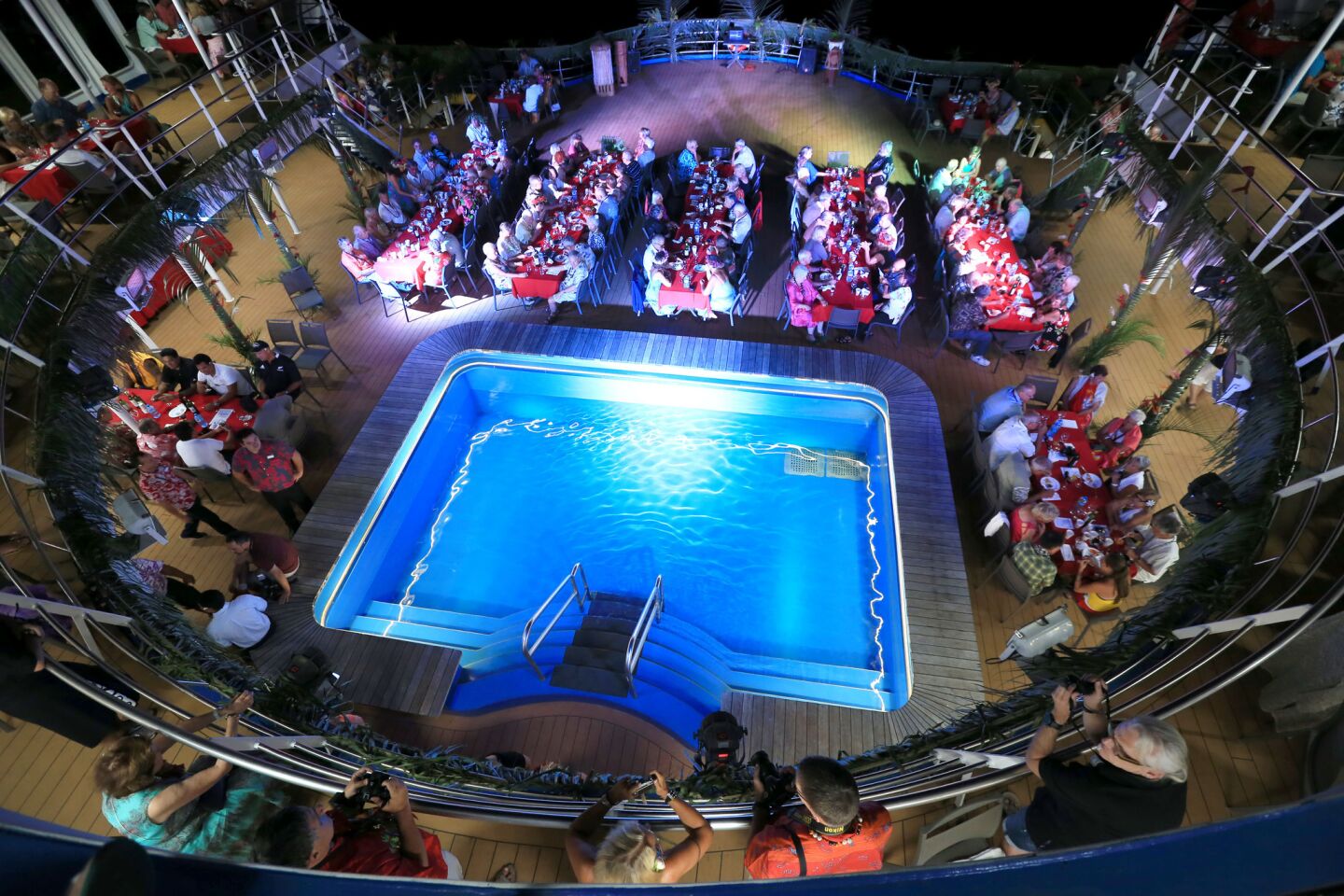 A festive dinner on the pool deck of the Aranui 5 during the cruise.
(Daniel A. Anderson / Zumapress.com)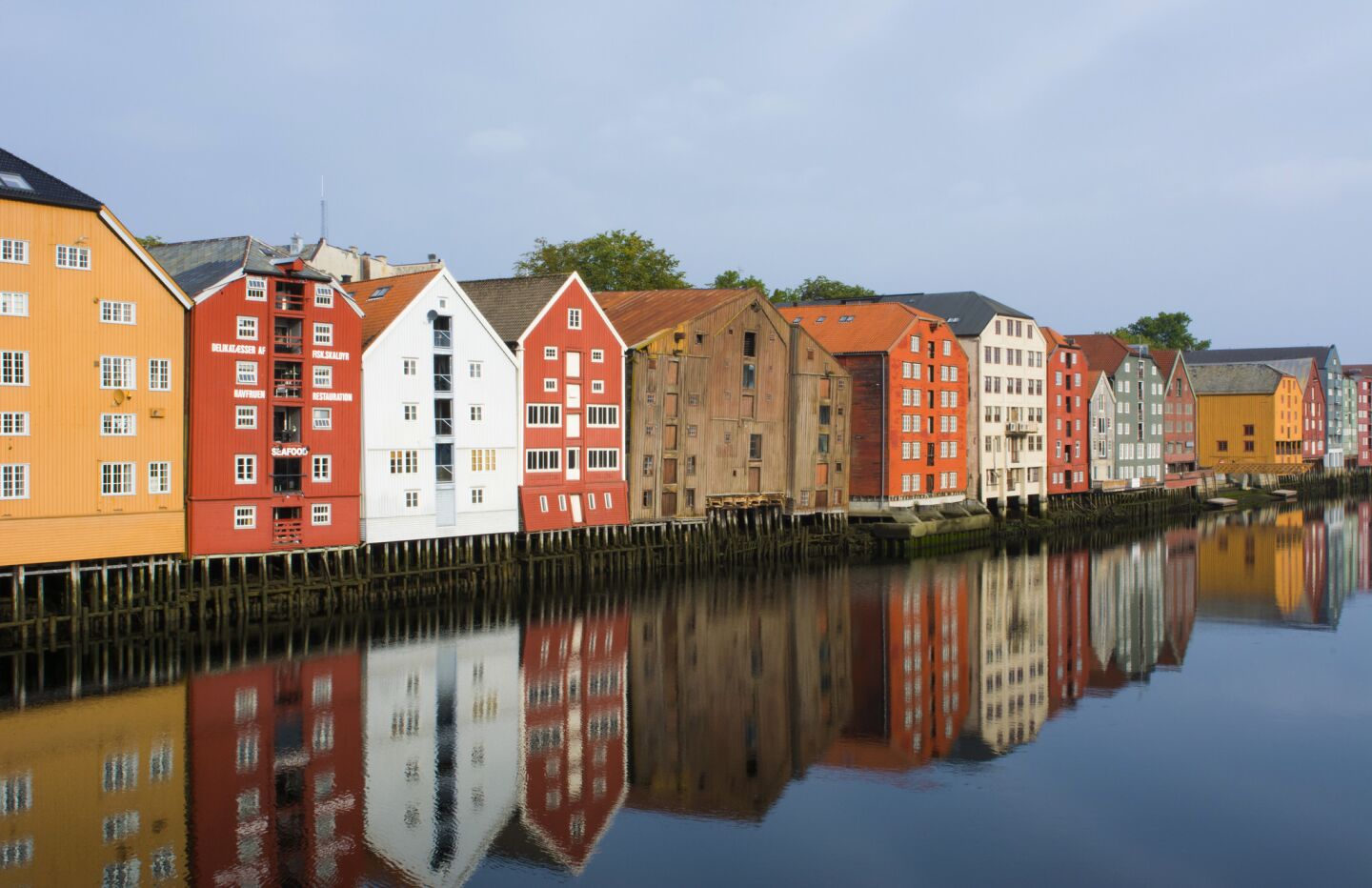 Hurtigruten passes Trondheim, Norway.
(Universal Images Group / Getty Images/Universal Images Gr)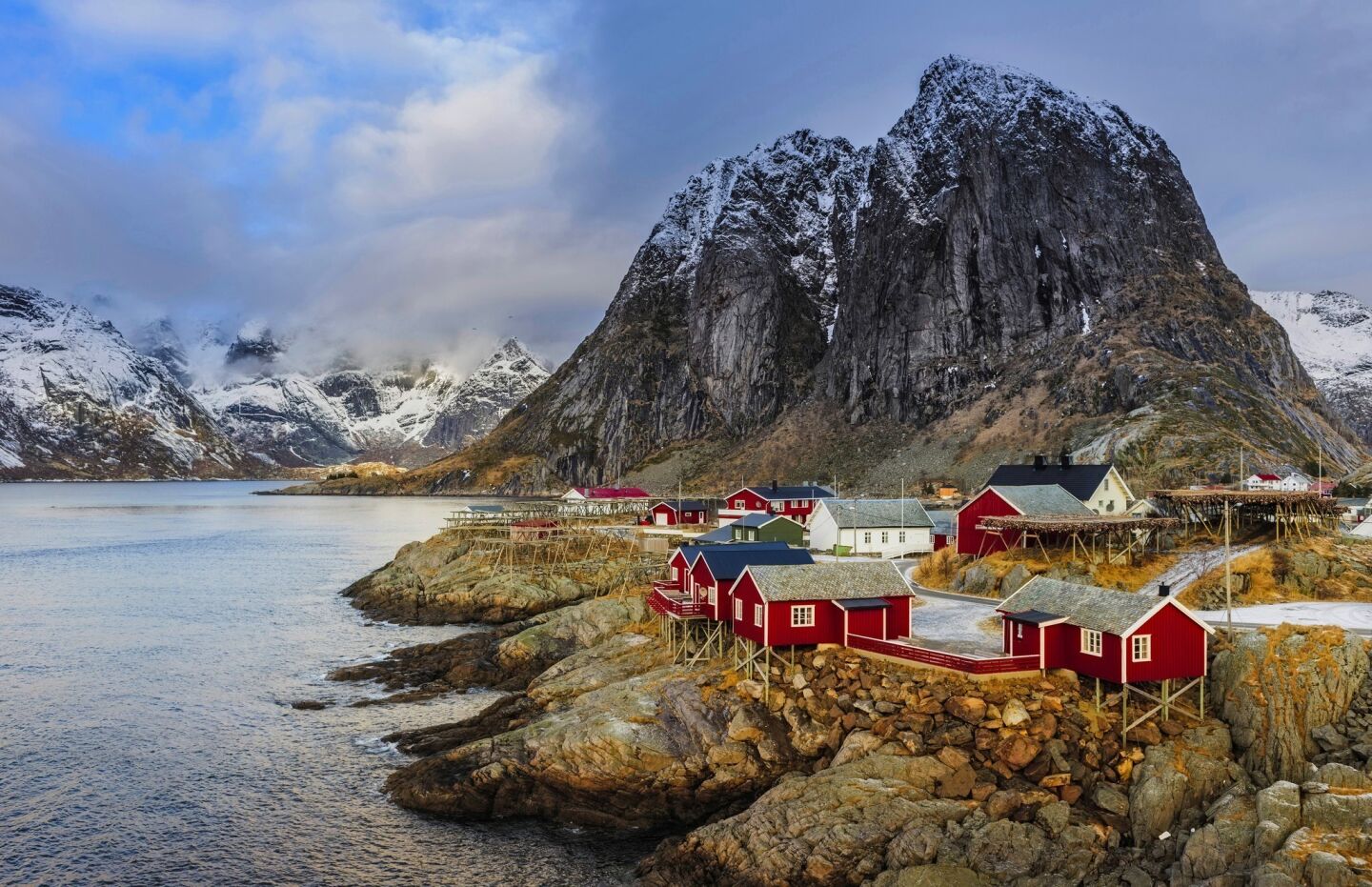 Hamnoy, Lofoten Islands
(Dave Moorhouse / Getty Images/Moment RM)
In French Polynesia, the Aranui 5 visits South Pacific isles carrying a couple of hundred passengers who delight in watching the ship off-load cars, fuel, pallets of toilet paper and other supplies and onload bananas, coconuts, citrus and fish.
"These ships offer an incredibly authentic experience," said Carolyn Spencer Brown, editor of CruiseCritic.com. "You won't find bingo or any of the other trappings.
"I'm not denigrating these activities, but there are travelers who want more than that. They want to travel with locals and get to know the people, not just see the scenery."
Those are the big pluses on these ships. You not only travel with vacationers like yourself, but you also are getting to know the single mother who has boarded the ship or ferry for a weekend visit with family members in a nearby village. You're rubbing shoulders on the tender with a tattooed seaman who's going ashore to visit his wife and kids.
When you go ashore, you'll meet villagers who turn out to greet the ship, not because they want to sell you something but because they're friendly.
"These ports are nothing like the ones you visit on cruise ships," said Calabasas resident Mathy Simon, who sailed the Norwegian coast on a Hurtigruten ferry. "You're not going to get off the ship and see a row of jewelry stores that open whenever a ship is in the harbor."
For the most part, her ship visited tiny communities where the residents' only access to the outside world was the ship.
"They use it like a bus or a train: They get on and get off at the next village. It's their only mode of transportation," said Simon, who traveled with Kyle, her college-age son.
The bottom line: "The trip was amazing. I'd do it again in a heartbeat."
Aboard the Aranui 5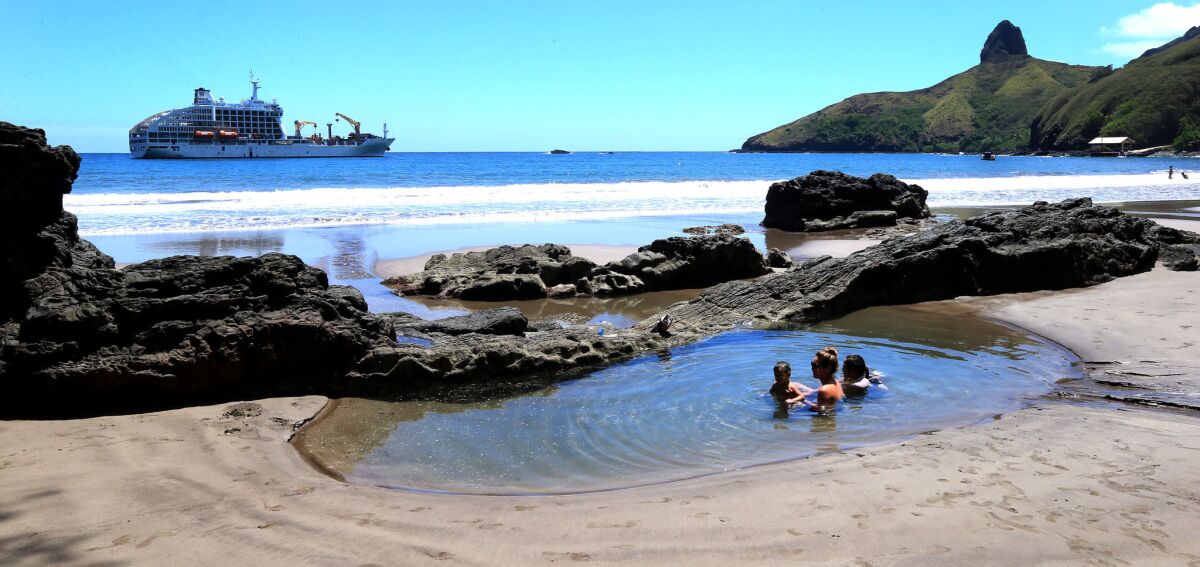 Hiva Oa, Ua Pou, Nuku Hiva, Fatu Hiva.
The words don't exactly roll off the tongue. But that's not surprising. They're the names of some of the most remote islands in the world; all are part of the Marquesas Archipelago, 852 miles northeast of Tahiti and about 3,000 miles from the west coast of Mexico, the nearest continental land mass.
I visited them in the fall aboard the freighter-cum-cruise ship Aranui 5 (the word means "the great highway"), which carries cargo and passengers on 14-day, 2,200-mile round trips from Papeete, Tahiti, the capital of French Polynesia.
The ship came online in winter 2015, when it replaced earlier versions. Although it lacks some of the perks of large cruise ships, it makes up for it in the access it provides to a beautiful place that's off the radar for most people.
We visited six Marquesas islands, plus Bora Bora and two islands in the Tuamotu Archipelago. At each stop, I thought I had discovered Eden. But then on the next stop, I'd feel that way again.
All of the ports were tiny; at some, virtually every resident turned out to greet us, dancing, singing and playing instruments.
They were our entertainment, and we were theirs.
Excursions were limited; for the most part, we took strenuous hikes each day.
Then we dined in whatever village we were visiting, with our international group of travelers broken into language groups: Australians, New Zealanders, Brits and Americans made up one group, French speakers (the largest group) were another and Germans made up a third group.
My fellow passengers seemed a hardy lot; they loved the daily hikes that took us to the top of volcanic mountainsides for inspiring views.
One day, our tender dropped us off at an isolated beach where we played in the water. Another day, some of the passengers chose an excursion by horseback. Snorkeling was available on some islands.
Cabins ranged from tiny, four- to eight-bed dorms — most of which were used by locals traveling from one island to another — to luxe penthouse suites.
Most cabins featured balconies and 55-inch flat-screen TVs. Unless you speak French, however, you'll have only one oldies-movies station and CNN.
But the inconveniences are minor compared with the pluses, most travelers said.
"This trip introduced us to an incredibly beautiful area of the world," said Catherine Cheshire, of Palm Springs.
"It was money well spent."
Info: Aranui 5, (800) 972-7268, www.aranui.com. Fourteen-day round-trip cruises from Papeete to the Marquesas Islands, including Bora Bora and Rangiroa: dorm rates, per person, from $2,920 (sharing room and bath); deluxe balcony rooms, per person, from $5,642. Rates include accommodations, meals and excursions.
Sailing the Inside Passage
Many people see Alaska's Inside Passage from the deck of a plush, comfy cruise ship while holding a cocktail in one hand and binoculars in the other.
I saw it from the deck of a ferry. Not plush. Not comfy. No cocktails.
But I had binoculars, and that was all I needed to appreciate a combination of land and sea that stretches from Vancouver, British Columbia, to Skagway, Alaska.
The inland waterway snakes past magnificent fiords, mountains and islands, where bears roam and bald eagles soar.
The ferry system is called the Alaska Marine Highway because it's the closest thing the state has to a freeway in the coastal regions.
When the ferry network launched more than 50 years ago, it opened the state's isolated coastal towns to tourism and gave residents easier access to the outside world.
Today, it also gives tourists an alternative to exploring the state by cruise ship.
You can hop on a ferry — with or without a vehicle — in Bellingham, Wash., about 90 miles north of Seattle, and get off 1,437 miles later in Whittier, Alaska, near Anchorage.
Eleven ferries sail various sections of the 3,500-mile route. Most have food service, but there's little else in the way of amenities.
Unlike a cruise ship, the ferry allows passengers to hop on and hop off. You can stay a few days in a pretty port such as Ketchikan or Juneau in Alaska, meet the locals, go exploring at an unhurried pace, and get on a later vessel.
You can choose your level of comfort. You can rent a simple cabin furnished with bunks and a shower, sack out on a chair in the lounge, or set up a pup tent on the deck. (But don't forget the duct tape to fasten down the tent. It's a ferry, not a luxury liner.)
Info: Alaska Marine Highway, (800) 642-0066.
Sample fares:
Valdez to Whittier, Alaska: (six hours): $215 for one adult fare, including a 19-foot vehicle.
Prince Rupert, British Columbia, to Skagway, Alaska (1 1/2 days): $890 for one adult fare, including a two-berth cabin and a 19-foot vehicle.
Bellingham, Wash., to Skagway, Alaska (three days): $2,096 for one adult fare, including a two-berth cabin and a 19-foot vehicle.
Norwegian thrills without frills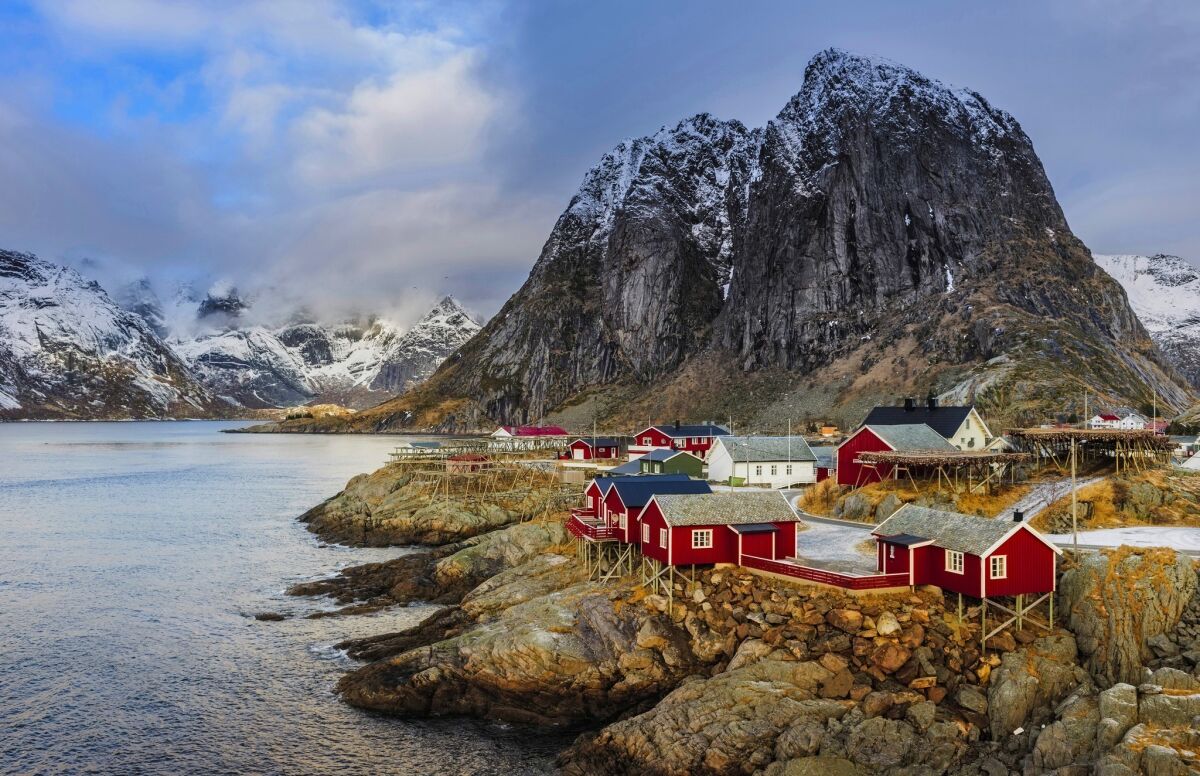 Fiords, mountains and beautiful scenery aren't limited to Alaska. Many people rank Norway as the most beautiful country in the world, primarily because of those attributes and its magical coastline.
Enter Hurtigruten (literally "swift route"), which has provided a lifeline for isolated Norwegian communities for more than 120 years.
From a traveler's standpoint, the line's 12-ship coastal fleet also provides a healthy dose of Mother Nature's finest along more than 1,000 miles of Norway's pristine coastal waterway.
More than 10,000 Americans sail the route annually, many taking a six-day sailing from Bergen to Tromso that will take them above the Arctic Circle.
Calabasas resident Mathy Simon and her son made the trip in February.
"We wanted to explore the Arctic in winter, see the Northern Lights and stay at a snow hotel."
They met those goals while also learning about the communities they visited.
"It's amazing how these ships deliver not just people but goods along the route," she said. "The ship delivers an authenticity you don't get when you're just stopping in a port."
Simon, who sails frequently, said that the Hurtigruten rooms are simpler than those on cruise ships but that the food far exceeded that on a big ship.
"The food was over the top," she said. She described dining on cheeses and other products collected from farmers along the coast, and on giant fresh crab delivered to the ship early in the day.
She'll go back, she said: "Next time, I'll see the verdant hills of Norway in the summer."
Info: Hurtigruten, (888) 412-3059, www.hurtigruten.com. Daily departures for trips of six, seven and 12 days.
Seven-Day Classic Voyage North summer cruise: Rates begin at $2,036 per person, double occupancy, including accommodations and meals.
Should you go?
These vessels are cruise ships for people who don't like cruise ships. Should you set sail on one? Here's the nitty-gritty:
Don't go if you enjoy:
► Large-scale entertainment such as stage shows
► All-you-can-eat buffets
► Dressing up for dinner
► Exploring large cities on port stops
► Hitting the casino
► Spending a day in the ship's spa
Go if you enjoy:
► Low-key activities on board
► Cultural and historical activities (lecturers often add perspective about upcoming stops)
► Visiting people in their environment
► Hiking ashore
► Learning about local lifestyles
► Seeing magnificent scenery
Twitter: @latimestravel
ALSO
Taking the kids on a cruise for spring or summer break
Catch cruise deals during 'wave season'
Free cruise upgrade coming soon: A wearable device to meet your every need
---
Get our L.A. Goes Out newsletter, with the week's best events, to help you explore and experience our city.
You may occasionally receive promotional content from the Los Angeles Times.