Who wouldn't welcome some extra comfort and security on the go? We've found cozy sheepskin soles, telescoping hiking poles, a palm-size door security device and a mister to spritz.
Bears a look
Honey Soles, makers of the molded cork insoles designed to replace the thin flat insoles that line most regular shoes, has introduced a toasty model called Bear Soles. These add a sheepskin topper to regular Honey Soles, which have a cork top layer with a heel cup and arch support, a mid-layer of shock-absorbing foam and a molded cork composite foot bed with a grooved bottom for heel support.
Cost, info: Bear Soles and Honey Soles cost about $40 a pair.
Going steady
A pair of lightweight trekking poles can reduce pressure on joints and support balance on challenging terrain. The new Ultra Strong Trekking Poles are an especially good fit for travelers. The sturdy three-section aluminum-shaft poles, which weigh less than 10 ounces each, telescope from 53 inches to a stashable 24 inches for users from 4 to 6½ feet tall. The poles support up to 350 pounds. Adjustable padded nylon straps and EVA foam pole grips cushion hands from tension strains and chafing. Carbide spike tips provide traction on rocky turf and ice. The poles come in nine colors.
Cost, info: The poles cost about $60 pair.
Do not enter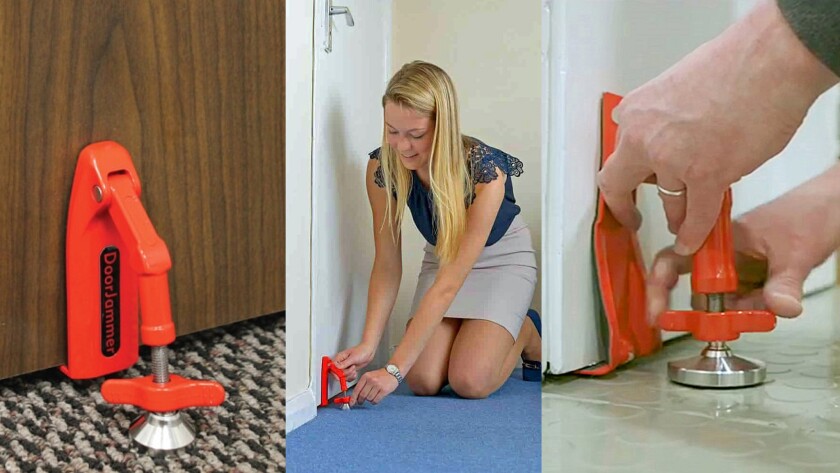 You need more than a flimsy chain or bolt for your hotel room. One solution: the DoorJammer, a metal door buttress that fits in the palm of your hand. (Note: It works only on doors that open inward.) Hinges and angles anchor it to the floor and against the door, exerting bracing force against pressure from the outside. Slide the flange of the vertical door-hugging section into the space under the door, then "bolt" the connected hinged leg end firmly against the floor by screwing the big wing nut tightly down over the round gripping foot. An included molded neoprene extension foot provides extra grip on slippery, uneven or thickly carpeted floors. The Jammer is 5 inches tall, 3 inches wide and weighs about half a pound. It's not proof against every tough force, but it can be a great little security device for some portable peace of mind.
Cost, info: DoorJammer costs about $30.
Chill out
Many swanky beach resorts place misting fans alongside their lounge chairs to cool guests soaking up the rays. The O2COOL hand-held Deluxe Misting Fan can't compete with big misting systems, but it does take the heat off. The battery-operated fan apparatus screws onto the top of a brightly colored ergonomically shaped plastic bottle. You get a spritz of mist by squeezing the pump trigger. The 10½-inch-tall by 4-inch-wide bottle holds about a pint of water, and the opening is wide enough to slip in ice cubes. (The flexible rubber fan blades are recessed within a circular plastic casing, so they're safe for kids.) The fan runs on two replaceable AA batteries (not included).
Cost, info: The fan costs about $10
---